By Dario Poli
"As the stars twinkle in a still summer's night, and suddenly the moon spreads its full, clear glory, before all his fellow artists. So deep, so clear, so all embracing, so rich in invention was his noble mind…" Johann Schenk.
Novelists such as Jim Marrs, John Grisham and Dan Brown have reflected and exploited society's increscent fascination with intrigue and corruption to such a point that the lives and deaths of almost all eminent figures seem to now be subjected to the fine-tooth combs of conspiracy theorists.
As the rest of the world celebrates the 250th anniversary of the birth of Wolfgang 'Amadeus' Mozart, Dario Poli explains why it is the great composer's death that prominent academics are still discussing.
The night of his death, a dark and gloomy weather front seized Vienna firmly in its grasp. At the funeral, too, it began to rage and storm with increased intensity as snow and rain fell together, turning the ground into a slippery sludge. It was as if nature was displaying her anger and indignation with the man's contemporaries, who had turned out sparsely for his burial, by relentlessly lashing them with a cold penetrating wind.
A handful of friends and three women accompanied the corpse; even his devoted wife Constanze stayed at home. Those that did attend stood around the black-draped briar, huddled under umbrellas held in frozen hands, shivering in wet cloaks, and stamping their cold feet for warmth. Following the short funeral service at St. Stephen's Cathedral, the body was taken to St Marx Cemetery.
As the storm grew more violent and the sky darkened, even those few devoted friends turned back at the Stuben Gate, heading for the sanctuary of the Silver Snake tavern. The bagged body was then dumped and interred in an unmarked grave by indifferent gravediggers who, due to the miserable weather, were impatient to be paid and get home.
The body that had nurtured and protected the energy of a priceless spirit, responsible for the exquisite harmonies and melodic inspiration of euphoria, pathos, and architectural elegance, was hastily covered by clods of snow-hardened earth. The date – December 7, 1791. The burial was that of a poor man; a third-class funeral and his wife chose not to erect any cross or marking to his memory.
The hordes of aristocrats, dignitaries, generals, Burgmeisters, businessmen, publishers, Freemasons, singers, actresses, and lovers who had all previously lavished plaudits and benefits upon his golden head were nowhere to be seen at his final resting place. Not even, a family member attended. The only exception was Salieri his teacher and benefactor who stood and wept.
In that common unmarked grave was buried Johannes Chrysostomus Wolfgangus Theophilus Mozart, known affectionately to his family as Amadeus ('loved by God'). Arguably the greatest musician of all time and Austria's most distinguished son, he ranks today alongside such acclaimed intellectual giants as Leonardo da Vinci, Michelangelo, Shakespeare and Galileo.
The composer Haydn wrote, "I could not believe that Providence should so soon summon an irreplaceable man to the other world. He was truly a great musician. I have been often flattered by my friends with having some genius; but he was much superior:'  
Every music connoisseur considered Mozart irreplaceable and, in life, he had many friends and a loving family. That in death he was abandoned by almost all of society is scandalous and, as with the assassinations of John F. Kennedy, John Lennon and the recently disputed passing of Diana, Princess of Wales, the bizarre circumstances of Mozart's death have led to conspiracy theories abound.
There are more than 150 hypotheses of how Mozart met his end. In his biography, Georg Von Nissen states that Mozart's illness lasted for 15 days, ending with his death around midnight of December 5, 1791. Neither of Mozart's attending physicians prepared a death certificate with the cause of death stated. Numerous medical experts suggest that it was simply ill health, caused by exhaustion, an unhealthy lifestyle and various infections.
The illnesses suggested range from typhoid fever and tuberculosis to hepatitis and rheumatic fever. A strong contender, however, is infective endocarditis – an inflammation of the interior surfaces of the heart and valves. It could even have been his favourite food, pork, which killed him, as 'trichinosis' – a disease spread by improperly cooked meat – was rife at the time. A notorious womaniser, other academics believe he had been suffering from syphilis and he miscalculated the dose of mercury required and, thus, killed himself.
Some conspiracy theorists believe that Mozart was poisoned by his enemies because, according to witnesses, his body swelled up after death. One version tells that Mozart had an affair with Magdalena Hofdemel, the 23-year-old wife of a fellow Masonic Lodge brother, Franz Hofdemel. Beethoven alleged the two were lovers and her husband found out. On discovering the affair, Franz poisoned Mozart before attempting to kill his wife and commit suicide.
There are reports that the day after Mozart's funeral, Hofdemel savagely attacked Magdalena during an argument, leaving her in a pool of blood, and then cut his own throat with the same razor. Magdalena. who was pregnant, survived the attack and gave birth to a boy whom she named after both Mozart and her husband.
This incredible series of events would appear to lend credence to that theory, however, in the days following Mozart's burial, rumours rapidly spread around Vienna that he had, in fact, been poisoned by the Italian maestro Salieri. Advocates of this theory skillfully and determinedly spread the rumour that Salieri had been jealous of Mozart's genius and wanted him removed from the scene.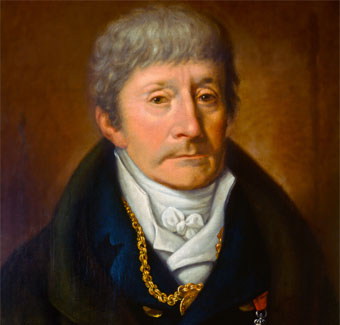 Antonio Salieri born 18 August 1750– 7 May 1825, was an Italian composer, conductor and teacher born in Legnago, south of Verona, in the Republic of Venice, who spent his adult life and career as a subject of the Habsburg Monarchy.
At a performance of Beethoven's Ninth Symphony a leaflet was distributed amongst concertgoers containing a poem, depicting Salieri as Mozart's rival "standing by his side with the poisoned cup."
It is puzzling that Salieri has long been the prime suspect and depicted as the perfect perpetrator. Peter Shaffer's powerful play Amadeus and the subsequent movie by Milos Foreman put the blame squarely at Salieri's door, yet evidence points to the contrary.
Salieri was the Kapellmeister to the court and held a position of power as Emperor Joseph II's chief musician. In addition to possessing a far greater wealth than Mozart, he was a composer of the highest reputation, an important teacher of composition, and renowned in his own right. His pupils, who included Mozart, Beethoven, Czerny, Schubert, Liszt, Hummel, Siissmayr, Sechter, Meyerbeer and Moscheles, loved and respected him, even the notoriously difficult Beethoven.
According to Anselm Huttenbrenner, another composer, Salieri always spoke of Mozart "with exceptional respect," and often loaned Mozart scores from the court library. Beethoven never accepted Salieri's culpability and even Mozart's wife insisted that Salieri taught their son Franz. In 1807, he gave the boy a written testimonial, which secured his first musical appointment. Salieri denied murdering Mozart until his dying day.
That is not to say that Mozart did not have enemies in high places and various authors allege that the Freemasons orchestrated his final demise. The Masons were reluctantly tolerated but placed under constant scrutiny by the Catholic Church.
In 1781, Mozart was dismissed from the service of the Archbishop of Salzburg, becoming a Mason three years later at the age of 28. As a member of the New Crown Freemason Lodge, he wrote works for Lodges, including the Masonic Funeral Music in C minor.
It is claimed that, because of his involvement with the Masons, Mozart had become a suspect to the Austrian Emperor and his oafish behaviour, often insulting other esteemed musicians, did not help his cause. He once publicly said to Haydn, "I will make an exception of you, but all the other composers are veritable asses!" Later, in front of Emperor Joseph, he pointed to the Italo-German orchestra and loudly complained, "How on earth can I do anything with this collection of invalids?"
Mozart was invariably the object of plots, which he provoked by his careless manner, mimicking and thumbing his nose at the aristocracy, such as when he bought six small Polish ponies for his carriage. By law, only princes were allowed to have six horses, but Mozart boasted that he was within his rights to be drawn by ponies.
A passionate but poor billiard-player, he gambled for high stakes, often losing and owing money; he was much more interested in meeting the famous billiard players that visited Vienna than any eminent musicians.
In 1861, the German researcher Georg F. Daumcr presented the Masonic murder theory. Daumcr suggested that the Freemasons had killed Mozart as punishment for The Magic Flute, his last opera. Rich in Freemasonry symbolism and numerology, the brothers feared that the opera disclosed their secret rituals and challenged their doctrines and, therefore, Mozart had broken the Masonic Oath of Secrecy.
Other Germans, notably General Erich Ludendorrf and his wife Mathilde, elaborated on Daumer's work and, in their writings, claim that the 'grey messenger' who ordered the Requiem was not the agent of Count von Walsegg, as previously suggested, but actually an emissary of the Masons who announced Mozart's death sentence.
Rehearsals for The Magic Flute had already begun when Mozart received a visit from that tall, solemn stranger dressed completely in grey. The grave visitor presented an anonymous letter commissioning Mozart to compose a Requiem as soon as possible at whatever price. Scared of the man, he did not want the job but reluctandy agreed. Mozart fuelled these rumours by telling Constanze "I am only too conscious my end will not be long in coming; for sure, someone has poisoned me!" Six months before his death, he confided to a friend that "someone has given me acqua toffana and has calculated the precise time of my death:'
He often wept over the composition of the elegy, and would say "That is my own Requiem…" When looked at all together, these seem like more than the ramblings of a paranoid hypochondriac.
The musicologist Igor Boelza considered the strange circumstances that surrounded Mozart's funeral and burial – referred to by German writers as 'the burial question' – to be proof of this murder conspiracy. That so few people attended the funeral of a major celebrity suggests that something was amiss. Boelza also asserted that the number 18 is foremost in the music and libretto of The Magic Flute and, by a deliberate association with the eighteenth degree of Masonry, Mozart's death was registered so as to make it conspicuous to those in the know.
In 1967, the German physician Dr. Dieter Kerner and his colleagues discovered that on November 18,1791, Mozart's Masonic cantata was performed – exactly eighteen days before his death. They point out that a 'Hermes stele' on an engraving on the frontispiece of the first libretto of The Magic Flute, made by the Freemason Ignatz Alberti, shows eight allegories of Mercury, the Roman God who gave his name to the poison that Kerner hints killed Mozart. In alchemy, the colour grey and the number eight also represent the planet Mercury, another illusion to the 'Grey Messenger' that Mozart feared. These inferences to Mercury insinuate that several people knew about the 'murder'.
The truth will never be known; without a forensic examination of the body using DNA technology his demise will forever remain a mystery as intriguing as Wolfgang Amadeus Mozart himself. Born in Salzburg, Austria, on January 28, 1756 he was the seventh child of Leopold and Anna Maria Mozart. His father, though born in Salzburg, was actually an Ausburg citizen and was an excellent violinist and orchestra leader.
Discovering his son's amazing talent for music, he began teaching him. The little boy learned complicated compositions in minutes, and it was not long before Wolfgang gave his first public performance in Linz on October 1, 1762. From that date, he was launched into a series of tours, which made the young prodigy and the entire family internationally famous. After seeing the young Mozart perform, the poet Meschini wrote: "If Orpheus enraptured the forests, if Tartarus he moved, now thou stealest men's hearts, child, and movest the stars."
The blond 'wonderchild' stunned royalty and public alike, gifted with an ability of composing incredible feats of music in impossibly short periods of time, and composing symphonies by the time he was six years old. "Able in his infancy to do anything he pleased in music, from the simplest sonata to the most elaborate symphony from the subtlest comic or tragic opera to frugal settings of the Mass," as Bernard Shaw once wrote.
However, the constant touring and study had its downside, as Mozart's health was affected and, from time to time, he suffered from various ailments. It is almost as amazing as his talent itself that the young boy survived a series of diseases and his father's irregular cures. As he matured, his desire and ability to compose more complex and demanding works increased along with his popularity in all the capitals of Europe.
His largest opera composed for Munich was Idomeneus and then followed the popular works Cosi Fan Tutte, Figaro and Titus. Surprisingly, all his operas were failures in Vienna except his last, The Magic Flute.
He was the first composer to promote and perform opera in German, instead of the Italian 'language of music' which was predominant and the fashion. He predated Richard Wagner as the first nationalist in German music. In 1783 he wrote to his father,"Each nation has its opera… why shouldn't we Germans have it?" With The Magic Flute, he achieved the perfect synthesis of music and the German language that Wagner loved and considered the first German opera. In today's politically correct, multicultural world, Mozart would undoubtedly be condemned for his nationalistic views.
The 250th anniversary of Mozart's birth is now being celebrated in his native Austria and around the world. CDs of his 'greatest hits' are being repackaged and promoted by slick record company executives, as Mozart-themed music boxes, chocolates, perfumes, umbrellas and an array of cheap memorabilia keep the tills filled with cash.
Isaiah Berlin's enduring quote, "When the angels play for God they play Bach; but if they play for themselves they play Mozart" is once again being dusted off and recited by the elite figures that attend glamorous champagne-soaked gatherings and proclaim their profound devotion to the memory of the illustrious man and his music.
It is a peculiar trait of society that, as was the case during Mozart's lifetime, we feel comfortable basking in the reflected glory of the genius that brought tourism, prestige and money to Salzburg. And, just as on that dark and gloomy day in 1791, few if any will mention the ignominious manner of his death and burial.
Mozart's phenomenal devotion to his work remained with him throughout his life and elevated him above his contemporaries. He gave hundreds of brilliant performances as a pianist and conductor, scoring musical arrangements and giving lessons to key pupils.
Mozart composed: 20 staged operas, including Don Giovanni (composed in just six weeks),
17 Masses
One requiem;
Nine Litanies;
Seven Oratorios;
five ballets;
127 variations for Piano ;
49 scenas with orchestra
41 symphonies, 28 concertos for piano and orchestra
26 songs and Canons
36 minuets
25 country dances
49 German dances
16 concertos for string and wind instruments
31 sonatas for piano violin and flute;
36 minuets
18 variations for piano and violin
17 piano sonatas
27 string quartet works as well as hundreds of other unspecified pieces.