Photography by Bait Muzna Gallery
By Baron Henri Estramant.
The Sultanate of Oman's very first privately owned gallery, Bait Muzna, celebrated 15 years of existence with an exhibition of Iraqi-British artist Sabah Arbilli on 28 January 2015.
Bait Muzna was founded in 2000 at the initiative of Their Highnesses the late Sayyid Kais bin Tariq Al Said and his US-born spouse Sayyida Susan Al Said after the former inherited the property where the gallery now stands from his aunt the late Sayyida Muzna bint Nader Al Said. Henceforth Her Highness Sayyida Susan and her staff have diligently promoted Omani artists, and brought renowned international ones to exhibit their work in Muscat where the art scene is still underdeveloped.
 For more pictures please open: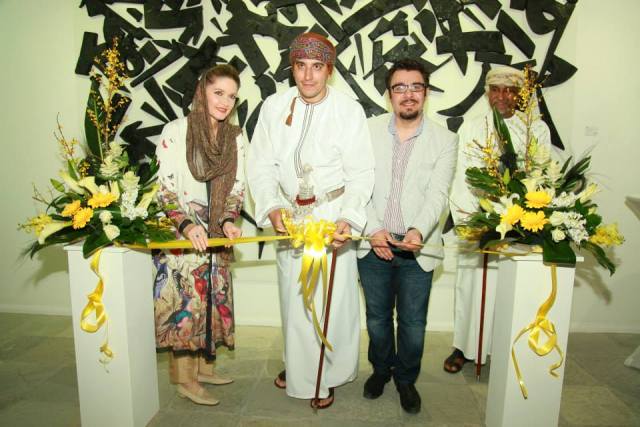 The gallery has contributed greatly to the timid Omani arts community often in conjunction with the Omani Society for Fine Arts as well as other art galleries worldwide; particularly pursuing Sayyida Susan's commitment to aid local artists through foreign expertise.
Sabah Arbilli is an Iraqi-born, British visual artist currently based in Qatar, and managed by British artist Shahida Ahmed. His œuvre includes sculptures, calligraphy, digital art, murals and abstract painting. He holds an art degree from the University of Wales.  
To celebrate the gallery's fifteenth anniversary a high-ranking member of the Sultanic House was at hand, His Highness Sayyid Kamil bin Fahd bin Mahmoud Al Said, Assistant Secretary-General of the Office of the Deputy Prime Minister for Cabinet Affairs, Member of the Board – Royal Opera House Muscat, who ceremoniously opened the exhibiton. Several ambassadors, corporate sponsors, art collectors, local and expatriate artists attended the event to buttress up Bait Muzna's solid position in Oman's still developing art scene.
Arbilli's exhibition shall continue till 23 February 2015 at Bait Muzna, located in Muscat's Old Town just a stone's throw away from Al Alam Palace, official residence of the country's ruler, His Majesty Sultan Qaboos bin Said.
For more information:
https://www.qatarcollections.com/589/sabah-arbilli.html
http://sabaharbilli.tumblr.com/