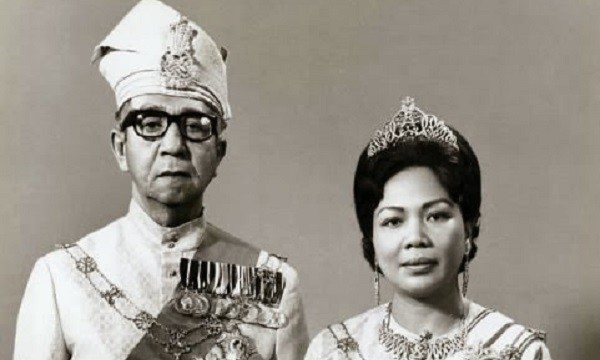 By Baron Henri Estramant.
The Malay federal state of Terengganu Durul-Iman is in mourning till 4 March 2015 (40 days in total); a mourning which began on 24 January after the passing away of the Sultan of Terengganu's grandmother, the late Tengku Ampuan Intan Zaharah binti Tengku Omar. 
Born in Singapore on 13 April 1928, Tengku Intan Zaharah married the late Tuanku Ismail Nasiruddin Shah (15th Sultan and Yang di-Pertuan Terengganu Besar Durul-Iman) on 3 April 1944, and was crowned "Tengku Ampuan Terengganu" (Sultana Consort) on June 6, 1949.
She was the fourth "Raja Permaisuri Agong" (Queen Consort of Malaysia) from 1965 and 1970 when her husband rotated in the office of "Yang di-Pertuan Agong" (Paramount Ruler of Malaysia, or simply King). 
Terengganu is known by the Arabic honorific "Durul-Iman", or "Abode of Faith". These designations are common for Malay, Muslim-majority states. The state used to be relatively poor but fate has been more auspicious since the discovery of oil and gas resources. The land constitutes one of the thirteen states (Negeri) and three federal territories (Wilayah Persekutuan) forming the Federation of Malaysia. Its capital is Kuala Terengganu. 
Since the early XVIII century the country is ruled by a junior branch of the Bendahara Dynasty along with Pahang and the dynasty's cradle of Johor. The incumbent seventeenth monarch is His Royal Highness Paduka Sri Tuanku Sultan Mizan Zainal Abidin al-Wathiqu Billah, Sultan and Yang di-Pertuan Besar Terengganu Darul-Iman since 15 May 1998. As required by Malaysia's constitution he is an ethnic Malay, and professes Sunni Islam. He is married to HRH Sultana Nur Zahirah (née Rozita Adil Bakeri). In addition, he is married to a Thai lady who plays no public role. 
The sultanate's current Menteri Besar (Chief Minister) is Datuk Ahmad Razif Abdul Rahman since 13 May 2014.