By Roy Lie Tjam.
ASA, the Ambassadors' Spouses' Association of The Hague, in collaboration with Diplomat Magazine organized a Gouda Stroopwafel workshop on Tuesday May 26, 2015.
A stroopwafel is a waffle made of two thin layers of baked dough with caramel-like syrup filling in the middle. In fact, stroopwafels are so widely loved that the Association of Stroopwafel Addicts (ASA) was founded. The stroopwafel originates from Gouda in the Netherlands. It was first made during the late 18th/early 19th century by a baker using leftovers from the bakery, such as bread crumbs, which were sweetened with syrup.
For a photo album on ASA activity together with Diplomat Magazine, please click here: https://www.flickr.com/photos/121611753@N07/sets/72157653931553322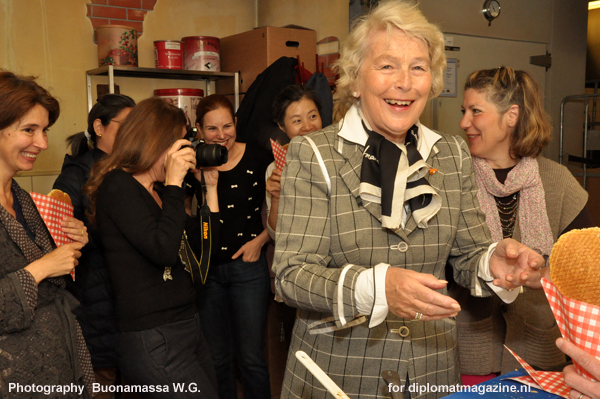 The ASA members looked behind the screens of Banketbakkerij en Party Service Van den Berg and were given some historical details of the stroopwafel by Mr. Frank de Koning. The group was then taken to the "show bakery" in order to bake their own stroopwafel.
With many laughs and smiles, the group completed their personal hand-made stroopwafels. After the stroopwafel experience the members visited the Markt and the centuries old City Hall. The St. Jan church, with its breathtaking stained glass windows, was also visited.  All in all, the event was an informative, revealing, and successful excursion.
At the same event, the wife of the Ambassador of Sudan who soon will be leaving the Netherlands was offered a goodbye gift.