H. E. Sheikh Mohammed Belal Ambassador of Bagladesh.
By Roy Lie A Tjam.
"We must do, all we can, to save our mother tongues, cultures and our unity in diversity".  Hundreds of children, men and women, from as many as ten countries, joined in a solemn pledge at Zuiderpark in The Hague, while celebrating International Mother Language Day 2016 and Immortal Ekushe organized by the Embassy of Bangladesh in the Netherlands.
It all started in1952, when members of the Language Movement raised against the occupying Pakistani authorities that wanted to impose the Urdu language on a Bangla speaking nation. A high price has been paid to retain the mother language. It was Prime Minister Sheikh Hasina government that convinced the UN to declare 21 February as International Mother Language Day.
Video by Diplomat Video Productions:
The Ambassador of the People's Republic of Bangladesh in The Hague, Sheikh Mohammed Belal invited kindred spirit to join in the 2016 celebration of the 2016 International Mother Language Day. In the morning, the national flag was hoisted at half-mast at the Chancery premises by Ambassador Sheikh Mohammed Belal. The Messages of the President, the Prime Minister, the Foreign Minister and the State Minister for Foreign Affairs issued on this occasion were read out to the audience.
India, Indonesia, Malaysia, Sri Lanka, Vietnam, Thailand and Nepal Embassies joined Embassy of Bangladesh to celebrate the International Mother Language Day.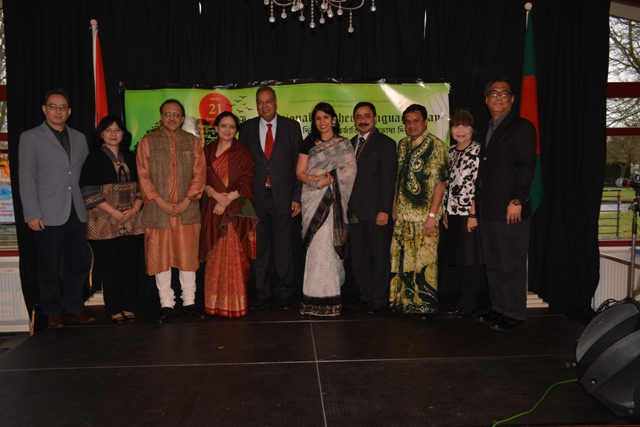 Bangladesh Ambassador to the Netherlands Sheikh Mohammed Belal urged to celebrate humanity in the spirit of International Mother Language Day. The Ambassador highlighted the evolution and richness of Bangla language. His Excellency also spoke on the significance of the International Mother Language encouraged spreading of linguistic diversity and cultural traditions to inspire solidarity based on understanding, tolerance and dialogue.
The afternoon part of the programme took place at the Zuiderpark Pavilion on the grounds of the Zuiderpark Den Haag. Members of the participating Embassies and communities, including many children, put on a splendid cultural show.
Speeches and remarks by Ambassadors and deputy Ambassadors were an integral part of the programme. Deputy Mayor of The Hague Mr. Rabin Baldewsingh, Ambassador of India Mr. J. S. Mukul, Ambassador of Sri Lanka Mr. A. M. Sadiq, Ambassador of Thailand Mr. Ittiporn Boonpracong, Minister & Deputy Chief of Mission of Indonesia Mr. Ibnu Wahyutomo, and President of Holland Awami League Mr. Mayeed Farque took part in the discussion session.
By all means the International Mother Language day 2016 celebration was a tremendous success.
As the spouse of Ambassador Sheikh Bela, Dr. Dilruba Nasrin remarked, history has been written at the Zuiderpak Pavilion on 21 February 2016 .Mother Language Day has been taken to an elevated level.
The programme ended with a reception attended by over 300 guests from all over the Netherlands and other parts of Europe.