Hamburg's First Mayor, Olaf Scholz and Ambassador Anthony Gardner – Picture by Hamburg.de
15 June 2016, Hanseatic City of Hamburg, Germany: US Head of Mission to the EU, Ambassador Anthony L. Gardner, paid a business visit to Hamburg in order to discuss details of the ongoing negotiations towards the Transatlantic Trade and Investment Partnership (TTIP) with German partners in Hamburg.
During the visit Ambassador Gardner paid a visit to the city's First Mayor Olaf Scholz, and met the Senate's Plenipotentiary Counsellor for Foreign Affairs, Wolfgang Schmidt. Hamburg is known for its long hanseatic tradition of promoting unhindered global trade.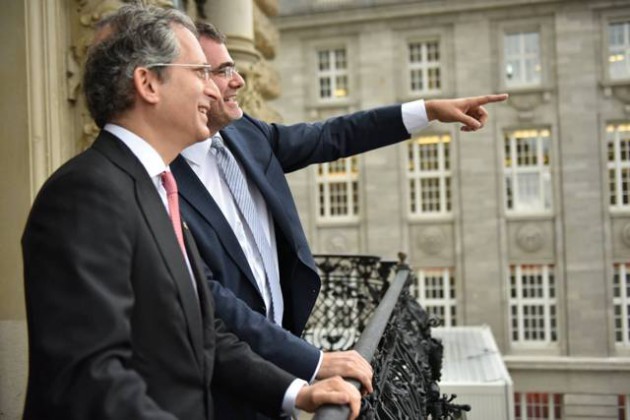 Ambassador Gardner likewise met with the élite of Hamburg's business community including the Managing Director of Berenberg Bank, Silke Krüger or the Executive Partner of E.H. Worlée & Co. GmbH & Co., Reinhold von Eben-Worlée. 
For more information: 
US Mission to the EU (The Hon. Ambassador Anthony L. Gardner): http://useu.usmission.gov
First Mayor of Hamburg (The Hon Olaf Scholz): http://www.hamburg.de/senat/2815136/olaf-scholz/
TTIP: http://ec.europa.eu/trade/policy/in-focus/ttip/
Hanse Office to the EU (Director Claus Müller): http://www.hanse-office.de