Sharon Stone at the Peace, Justice and Security Foundation Launch.
By Roy Lie A Tjam.
September 5th 2016 is a momentous day for the Peace, Justice and Security foundation in The Hague, the city famed for being called the city of peace and justice.
The inauguration day started with an interactive panel discussion moderated by HagueTalks at the Humanity House, later in the day an inaugural gala followed at the Hotel Hilton in The Hague. A large number of international celebrities contributed to the various activities on "Peace Monday".
For additional Kim Vernaart's pictures, please open the following link: https://www.flickr.com/photos/121611753@N07/albums/72157670464188404 
To mention a few:
Prince Zeid Ra'ad Al Hussein, the UN High Commissioner for Human Rights Judge Silvia Fernandez, president of the International Criminal Court, Victor Ochen, founder of the African Youth Initiative Network, last year's Nobel Prize candidate, Dr. Mary Aiken, professor and author of "The Cyber Effect", American Actress and film producer, Sharon Stone.
Awareness
Setting Peace and justice in motion
The Foundation aims to raise awareness of pressing events in the field of law, justice, peace and security around the world. This is done by means of concrete actions. For example, a soccer tournament: "Children know football clubs and football stars", the young players in the tournament are given special playing shirts, including the foundation's logo and on the top on the back: Goal 16.
Goal 16 is the 16th Development Goal of the United Nations, aimed at a just, peaceful and inclusive society.
H.E. Zeid Ra'ad Al Hussein, the UN High Commissioner for Human Rights in his address slammed populist approaches in Europe and across the Atlantic. In short, here is what he addressed:
'I wish to address this short statement to Mr. Geert Wilders, his acolytes, indeed to all those like him – the populists, demagogues and political fantasists. 
To them, I must be a sort of nightmare.  I am the global voice on human rights, universal rights; elected by all governments, and now critic of almost all governments.  I defend and promote the human rights of each individual, everywhere: the rights of migrants, asylum seekers and immigrants; the rights of the LGBT community; the rights of women and children in all countries; minorities; indigenous persons; people with disabilities, and any and all who are discriminated against, disadvantaged, persecuted or tortured – whether by governments, political movements or by terrorists.'
H.E. Zeid Ra'ad Al Hussein recounts the fearless attitude of the youth in general and in particular those youngsters he met on his visit to eastern Congo.
These youngsters spoke out fearlessly about injustice and highlighted how peace and justice should be as one.
Sharon Stone, posed the question, 'What is peace? Could peace be an economic machine?' she asked. 'Peace is action, peace is a force, peace is a solution. We should try to find peaceful jobs within the armed forces' Sharon then briefly turned to phenomenal corporate spending.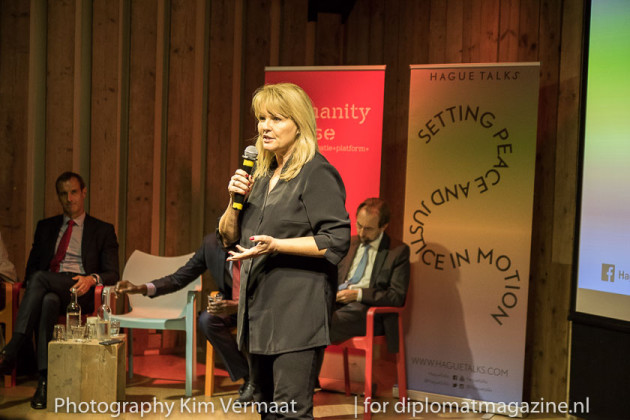 According to the director of EUROPOL Rob Wainwright, his organization is developing a greater number of security strategies to combat terrorism and crime. Exchange of information takes place daily, which has come to highlight how refugees are the consequence of criminal activity.
Mr. Victor Ochen, Ambassador for peace and justice noted how, to much peace is a distant reality. The world is concerned about the thousands of refugees dabbling in the Mediterranean Sea. They should rather be concerned when these people are still on dry land. This would prevent human catastrophe. Victor Ochen calls for a role for the so called local leaders in the villages and for local diplomacy. Too often local problems are outsourced to the UN=USA.
Prof Mary Aiken, a cyber psychologist delivered an excellent expose having the audience listening attentively to what she had to say about our behavior on the web. She mentioned cyber stalking and its massive negative impact on multiple people around the world. Aiken further elaborated on the risks involved in exposing children less than two years old to screens. According to an American pediatric institution:
– Children under 6 should not posses their own smart phone. Remember, in cyber land no one is in charge
Aiken proposed a review of the right of children which is currently out dated, as it was last reviewed in 1989 with no mention of technology.
A Dazzling Gala Dinner
An evening full of activities: remitting of awards, music auction, speeches, documentaries and testimonials. The Peace, Justice and security Foundation (PJSF) is here to stay.
The dinner was attended by internationally renowned celebrities such as:
H.E. Zeid Ra'ad Al Hussein High Commissioner for Human rights, President ICC Silvia Fernandez de Gurmendi, Rob Wainwright, Europol director, Sharon stone, Victor Ochen, Freddy Mutanguha, Van Velzen sisters and scores of other individuals.
A sublime ambiance reigned at the Hilton; every one wished the Peace, Justice and Security Foundation a long and prosperous life.
http://www.peaceandjusticefoundation.net/
http://www.ohchr.org/EN/NewsEvents/Pages/Media.aspx