Despite restrictions arising from the measures aimed at curbing the pandemic, the US Embassy in The Netherlands managed to properly celebrate the 244th birthday of the United States of America. The celebrations involved a visit to US troops in Volkel airbase, a commemoration at a WWII museum near Opijnen, and an exclusive film premiere in The Hague.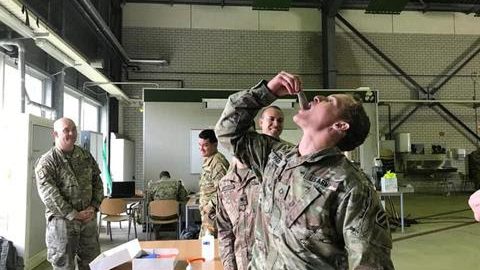 The celebration started on Friday July 3rd, when the Embassy staff visited Volkel airbase, between Eindhoven and Nijmegen. There, US diplomats thanked their country's soldiers for their service and sacrifice. The US servicemen – who are currently preparing to return to the US after their deployment in support of Operation Atlantic Resolve – also enjoyed a traditional BBQ with their Dutch colleagues at the airbase.
The Embassy staff moved on with the celebration on Saturday July 4th, the actual date of Independence, when they paid a visit to the Sky of Hope WWII and Airmen Museum in Vuren Fortress, near Opijnen. There, they attended a moving ceremony in which US service members folded – according to the traditional military protocol – a flag donated to the museum by the family of Staff Sergeant Robert Martin, a US airman who died while fighting during World War II.
Finally, the celebration ended with an exclusive screening of Hamilton, a historical remix of the life of the United States' Founding Fathers. The movie – an original Broadway production presented by Disney – was exclusively screened for 320 guests at Pathé Buitenhof in The Hague, where the social distancing measures were rigorously respected.
The measures aimed at fighting the pandemic might have imposed some constraints, but the willingness of the US Embassy staff to celebrate the 244th birthday of their country still prevailed.