On 18 March 2021, H.E. Kevin Kelly, Ambassador of Ireland to The Netherlands, and ICC President Judge Piotr Hofmański unveiled a new artwork donation to the International Criminal Court (ICC) in The Hague, the Netherlands.  
The artwork is a sculpture by Irish artist Fergus Martin titled "Oak". The piece was designed and commissioned for the Court. It consists of two green benches made of glass fibre reinforced concrete. The sculpture reflects the landscape around the Court and represents the strength of the mighty Oak tree, a traditional Irish symbol of truth, justice, courage and wisdom.
"In presenting this artistic work to the Court, Ireland wishes to highlight both our ancient past wherein wisdom, the prerequisite of justice, is reflected, while also representing modernity and endurance through the choice of material," H.E. Ambassador Kevin Kelly said in his remarks at the ceremony.
"Ireland continues to stand firmly in support of the ICC. Our support for the Rome Statute and the continuing development of the ICC is based on our commitment to ending impunity for those most responsible for war crimes, crimes against humanity and genocide, and is in line with Ireland's clear understanding that justice is a prerequisite for lasting peace, stability and equitable development," the Ambassador added.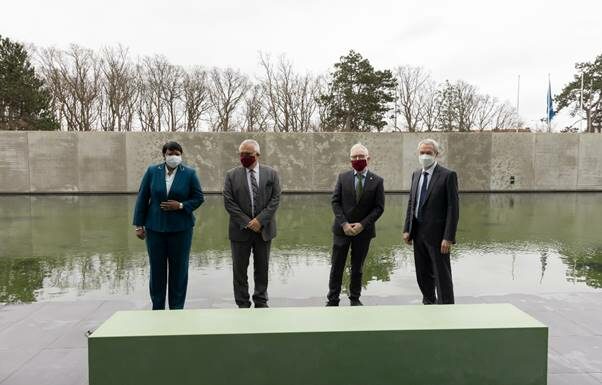 Expressing the Court's gratitude to the government of Ireland for "this generous and thoughtful donation", ICC President Judge Piotr Hofmański stated that "Ireland was one of the ICC's founding States Parties and has been consistent in its support of the Court ever since. Of particular note are Ireland's recurring voluntary contributions to the Trust Fund for Victims, totalling more than 1.3 million euros since 2004. Ireland has also stood up to add its voice to those of other States Parties at a time when the Court has been faced with unprecedented threats and challenges."
Ireland signed the Rome Statute – the Court's founding treaty – on 7 October 1998 and deposited its instrument of ratification on 11 April 2002. This donation highlights Ireland's support to the Court and the joint efforts deployed in the fight against the impunity of those who perpetrate the most serious crimes that affect the international community as a whole.
Since the move to its new permanent premises in December 2015, the ICC received artwork donations from the Governments of Belgium, Canada, Cyprus, Denmark, Japan, Republic of Korea, Liechtenstein, Mexico, The Netherlands, Portugal, Romania, Senegal, Slovenia, and Tunisia, representing their cultural heritage as well as reflecting the mandate of the Court.