The Office of the Prosecutor of the International Criminal Court (ICC) in The Hague will become a participant in the joint investigation team (JIT) on alleged core international crimes committed in Ukraine. The JIT, which was set up with Eurojust support on 25 March by Lithuania, Poland and Ukraine, aims to facilitate investigations and prosecutions in the concerned states as well as those that could be taken forward before the ICC. 
ICC Prosecutor Mr Karim A.A. Khan QC and the Prosecutors General of the three countries involved signed an agreement on the first-ever participation of the Office of the Prosecutor in a JIT, today. With this agreement, the JIT parties and the Office of the Prosecutor are sending a clear message that all efforts will be undertaken to effectively gather evidence on core international crimes committed in Ukraine and bring those responsible to justice.
The main purpose of the JIT is to facilitate investigations and international judicial cooperation. The agreement with the Office of the Prosecutor (OTP) of the ICC will enable rapid and real-time coordination and cooperation with the JIT partner countries, in connection with investigations conducted by the OTP and competent national authorities.
The OTP is an independent prosecutorial and investigative office established by the Rome Statute of the ICC. On 2 March 2022, following the referral of the situation in Ukraine to the Prosecutor of the ICC by an unprecedented 39 States Parties, Prosecutor Khan announced the opening of an active investigation.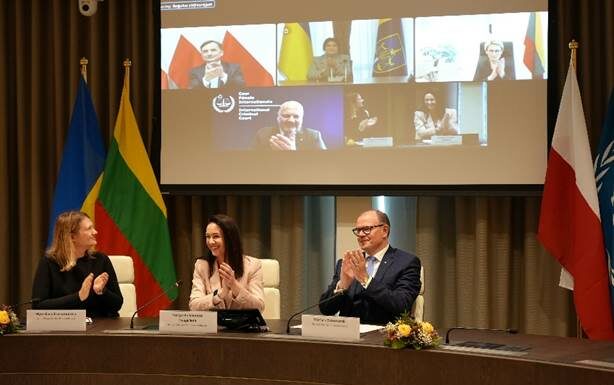 The need for closer cooperation on investigations into alleged core international crimes committed in Ukraine was underlined last week during a coordination meeting at Eurojust between the JIT partners, the ICC, National Members of EU countries at the Agency and third states with Liaison Prosecutors at the Agency. Since 2018, Ukraine has been one of the 10 non-EU Member States that has a Liaison Prosecutor at Eurojust.
The Agency will support the JIT partners in the entire process with operational, analytical, legal and financial assistance. Eurojust also accommodates the coordination and cooperation between all national investigating and prosecuting authorities that have initiated investigations into core international crimes.