Algeria celebrate every July 5th, the double anniversary of the Independence and Youth. In the wake of the celebration of the 60th anniversary of Algeria's Independence Day, this year, the Embassy of Algeria in The Hague held on July 03rd 2022 a commemorative ceremony in presence of a sizable number of Algerian nationals living in the Netherlands.
After flag-raising and wreath-laying ceremonies in remembrance of Algerian Martyrs, H.E. Ambassador Salima Abdelhak gave an address in which she paid tribute to heroism ad abnegation of martyrs and veterans during liberation war. In this regard, she pointed out the necessity of perpetuating ideals and values that guided our ancestors throughout their longstanding fight for freedom and emancipation.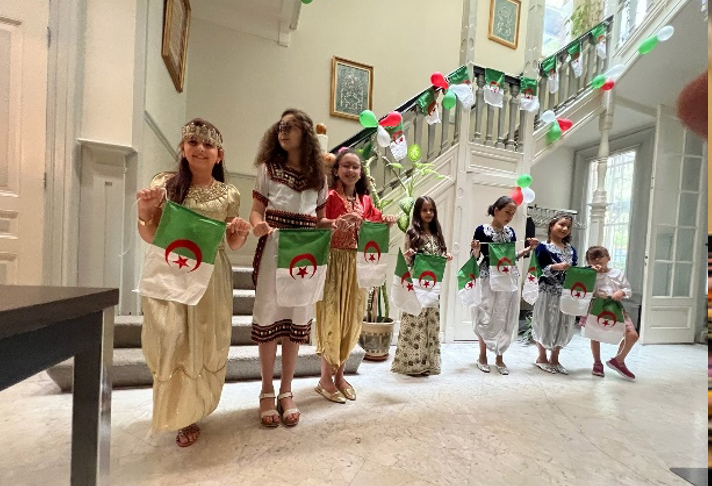 Moreover, Ambassador Abdelhak lauded the deep-rooted attachment of Algerian diaspora overseas including Nationals in The Netherlands to their homeland and their contribution in the economic and political progress of Algeria and its cultural radiance in today's world.
In this context, she renewed her commitment alongside with entire embassy staff to serve the Algerian community living in The Netherlands and employ all legal means to safeguard their interests in compliance with the President of the Republic's guidelines.
Afterwards, an entertaining competition dubbed "Algeria Quiz" which consisted of series of questions related to the culture, geography and history of Algeria was convened, with a remarkable participation of 22 Algerian children. Despite its playful and enjoyable aspect, this contest enabled us to teach participants many relevant information about Algeria.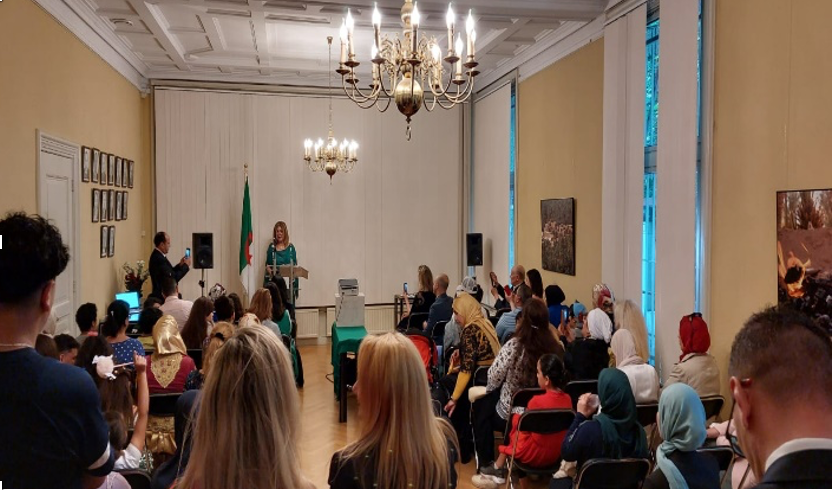 Later on, nine young girls took part in a traditional dress show, during which they come onto the stage wearing national dresses of the various regions of Algeria, to display richness and diversity of local culture.
Eventually, medals and gifts were offered to the young participants whereas two big pies and savoury snacks were served to the general public amid a friendly atmosphere.