From an early age Ayuna Asalkhanova had a passion for fashion. She knew that one day she wanted to own her own business. ALIDA, her newly launched fashion brand, was born out of the realisation that the pandemic would forever change the way we look at our wardrobe. The budding designer grew up in different parts of Russia, China, Spain and Germany but she spent her teenage, and formative years in Brussels.
Ayuna enjoyed an upbringing where science and education was central, but unfortunately where creativity wasn't really encouraged.  Everytime she brought up her desire to work in the fashion industry, she was met with the same sentence; 'Fashion is a business'. This stuck with her and essentially influenced her future choices in life. After she graduated from high school in Brussels she scored herself an internship at Chanel. She went on to study Economics at Solvay Brussels School of Economics and Digital Business Management at IE Business School in Madrid.
Like many of us, 2020 was a year of reflection for Ayuna. She quickly realised there was a gap in the market when it comes to versatile garments. To find a piece of clothing that works as loungewear as well as for a night now (albeit with the right accessoires) is near to impossible. The fashion industry is an ever-innovating one. The brick-and-mortar approach is outdated and the market has moved almost primarily online for up and comers. Traditional stores and boutiques are using more and more social media as a channel to sell the garments. The digital age has been truly brought upon the fashion industry, and is here to stay. After thoroughly analysing the market it became quite clear that putting everything together, the vision she had for her own brand, was spot-on. Innovation is key, but Ayuna decided to stay true to her own vision, hence why production was kept local and why the pieces are so easy to style to one's personal taste.
The brand's moniker is derived from Ayuna's own name and the name of her beloved grandmother. Her grandmother Lydia, a Medical Doctor & Professor of Oncology, instilled in her granddaughter a love for sourcing noble materials. She taught her granddaughter that to dress well is to elevate one's experience on a daily basis. This was the main inspiration for the brand; sharing with other women the feeling of intimate luxury without compromising on quality. Putting no time to waste, Ayuna started sketching her designs by hand. One palazzo trousers and a kimono later, and Alida was born.
ALIDA is entirely handcrafted in Belgium. The choice to produce in Belgium was not a particular hard one. The country's long standing tradition in the textile industry is well-known. Thanks to its impeccable reputation, Belgium has attracted a lot of attention for their local fashion scene that emerged in the 20th century (e.g. the Antwerp Five). This resulted into a thriving place to create haute couture. This is where ALIDA fits in perfectly. Haute Couture is ingrained in our brand DNA.
ALIDA combines a strong aesthetic identity with high-end production values and artisanal manufacturing, inviting the person wearing our garments to experience the finest of custom high-end luxury, whilst exuding a refreshing, modern spirit. The timeless design of our sets ensures longevity, these are intergenerational garments to be worn and loved forever. Production takes place entirely in Belgium. Our production was carefully chosen for their reputation within the Belgian fashion industry. These exceptional local artisans work with Belgian Royal Court Suppliers, international fashion brands and celebrated designers like NATAN, Carine Gilson and Jean-Paul Lespagnard to name a few.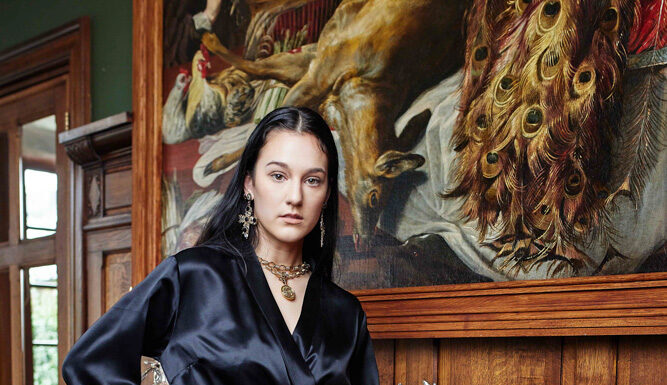 All the designs are  hand-drawn by Ayuna who knows every seam and pattern by heart. We pride ourselves in our production house's craftsmanship. The pieces produced are limited in stock and are made-to-order to prevent overproduction, in aims of preserving the environment by limiting textile waste. In production, we use natural, toxin-free dyes on our biodegradable silk as we stand firm in our commitment to be kind to the earth.
Understandably, a lot of designer houses have opted to move their production overseas. Ayuna consciously chooses to keep everything local. She stands firm behind her decision. She believes in supporting her hometown's local economy and keeping resources within her community. It also makes it easier to control the quality of the finished garments. Every piece is made from naturally sourced silk (OEKO-TEX standard 100). Being called the queen of textiles, silk compliments all bodies as it lays organically on the skin. Our true silk is smooth to touch. ALIDA opted for a 22 mommes design, which means the silk is heavier and firmer than what other brands bring to the public.
Wearing ALIDA is an invitation to unleash one's creativity and empower women to take control of their own personal style. All of the brand's colours are interchangeable and styled by the right accessoires, right for every occasion.