Friday, 24 February 2023, Berlin, Germany: Within the framework of cooperation with the Heydar Aliyev Foundation, the Embassy of the Republic of Azerbaijan in Germany held a commemorative event on the occasion of the 31st anniversary of the Khojaly genocide at the Azerbaijan Cultural Center located in Berlin-Tiergarten.
An exhibition dedicated to the Khojaly genocide was also organized for the visitors.
At the beginning of the event, the memory of the martyrs of the Khojaly genocide was commemorated with a minute of silence. Subsequently a short film prepared by the Embassy of Azerbaijan in Germany about the Khojaly genocide was shown.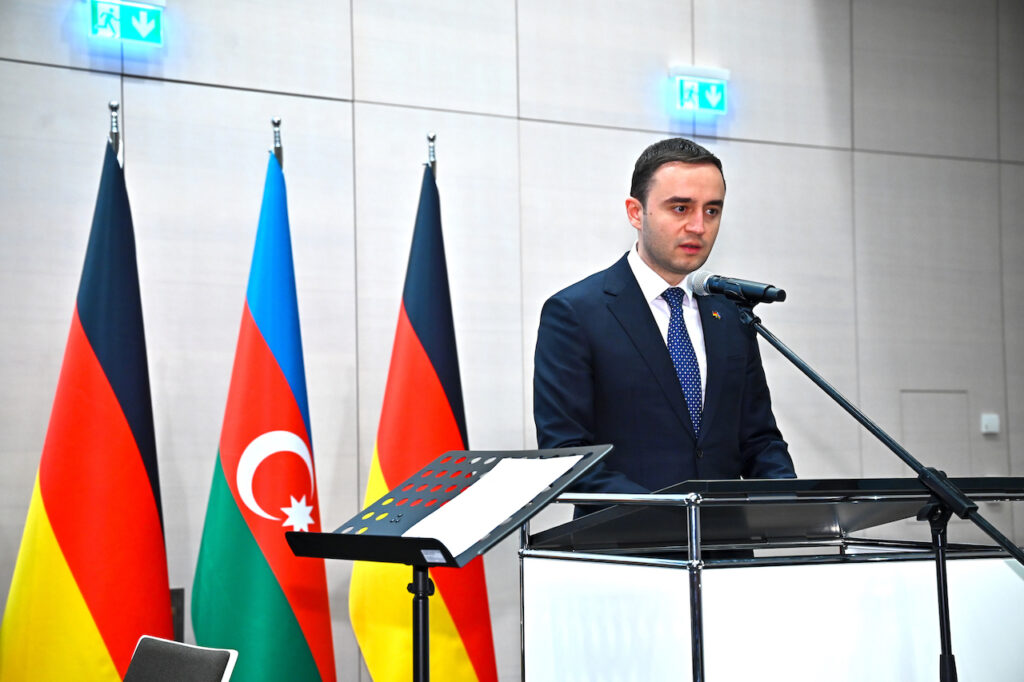 Azerbaijan's ambassador to Germany, Nasimi Agayev, said during his speech that the Khojaly genocide was the first genocide that took place in Europe after the end of the Cold War. The ambassador highlighted that the perpetrators of this crime against humanity have not yet been brought to justice. Ambassador Agayev went on to mention that as a result of the "Justice to Khojaly" campaign launched by Leyla Aliyeva, the vice-president of the Heydar Aliyev Foundation, great progress has been made in the recognition of the Khojaly genocide in the international arena, and many countries, including more than 20 US states, have officially condemned this massacre.
Noting that in 2020, Azerbaijan freed its territories from occupation and restored international law, the ambassador said that Major Polad Rzayev, major of the Red Army, who showed great bravery in liberating Jabrayil, Khojavand and Gubadli regions and the Murovdag peak, and lost both legs after falling into a mine, participated in the event. It was also noted tthat Major Rzayev was treated at the German army hospital in Berlin, and provided with prostheses. Major Rzayev was the event's special guest.
Also partaking was MP Dr. Nurlan Hasanov. In his speech, Nurlan Hasanov, the head of the Working Group on Azerbaijan-Germany inter-parliamentary relations of the Milli Majlis (National Assembly) of the Republic of Azerbaijan, spoke about the deep mark left by the Khojaly genocide in the memory of the Azerbaijani people, and talked about the efforts to spread the truth about the genocide in the world through the parliament.
After the speeches, a commemorative concert was held.
For further information
Embassy of Azerbaijan in Germany (HE Ambassador Nasimi Agayev): https://berlin.mfa.gov.az/en/news/3970/berlin-gedenkt-des-31-jahrestages-des-volkermordes-in-chodschali
The concert: https://www.youtube.com/watch?v=FFC-VpkgyVU
——
Photography by Embassy of Azerbaijan in Germany