By Alexandra Paucescu
I perfectly remember when I saw her for the first time. It was in 2004, at the MAE CUP, an annual sports competition between diplomats from the various embassies accredited to Bucharest, which her husband, then the Foreign Minister of Romania, today the Deputy Secretary General of NATO, had initiated.
I was there supporting my soon to be husband, at that time a young diplomat at the beginning of his career, she was supporting hers, along with the couple's two small children. That image stayed in my mind because I was impressed by a certain sophistication and style that she exuded, without being ostentatious in any way. Later, over the years, I found the same elegance in other great ladies, from all over the world, who initially became my mentors, and then my friends, in this diplomatic journey.
Mihaela Geoana, an architect with an MBA in Marketing, is certainly a woman that you can learn a lot from. She is a perfect example that you can do important things if you really want to, regardless of how life goes up or down. Tenacity and perseverance are the keys.
On a sunny winter morning we sat down over a cup of tea and she graciously took the time to tell me her life story…
She remembered about her first years of profession as an architect in Bucharest and then Paris. Little did she know that the life, how she thought it would be, would change completely when her husband was appointed ambassador to the US. 'We moved to Washington when I was only 32, with a toddler and a baby in my arms. We were so young and had to learn a lot along the way. We tried to make ourselves known, as a family, but especially as diplomatic representatives of a country that, at the time, did not seem very interesting over the Atlantic'.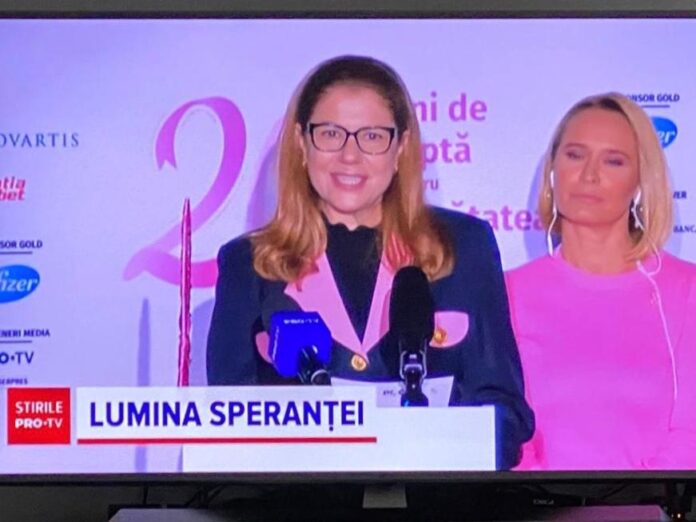 She shows me pictures with the family meeting president Clinton and I recognize the same attitude that had once impressed me. 'In Washington, we hosted lots of events and charity galas and this was how we basically came to know many influential people. We opened the doors to our residence and supported different causes that we believed in but, in the meantime, we made the necessary connections for a successful diplomatic posting abroad'.
After returning to Bucharest, she wisely tried to replicate what she had learned overseas. She organized the first Charity International Christmas Bazaar in the Romanian capital (together with the International Women Association of Bucharest), she initiated recurring meetings with diplomatic spouses and started to think about what else she could do, as social involvement, in a Romania that was still emerging on its democratic path.
Inspired by a personal incident (which luckily turned out to be a false alarm), she founded 'Renasterea' (meaning 'Renaissance' in Romanian) in 2001, an NGO meant to bring to attention, for the first time in Romania, the major importance of breast cancer prevention actions.
'The beginning was very hard because nobody talked about prevention, about cancer, this word was taboo. Many tried then to discourage me. But I knew I had to do it. Romania had only a 30 percent survival rate in breast cancer cases, totally opposite to the situation I had left in America'.
22 years later, countless humanitarian awareness campaigns and initiatives, a free phone line which provided answers to more than 100,000 calls, but also an intelligent communication strategy involving influential people from the media, business and the Romanian artistic sector, have brought unparalleled notoriety at national level. 'Today, we have two diagnostic centers; we organize mobile medical units throughout the country, where we offer free of charge breast investigations and Pap Smear Tests to vulnerable women. Also, in partnership with Susan G. Komen US, which had launched in 1983 the Race for the Cure, world's largest and most successful education and fundraising event regarding breast cancer, we initiated in 2015 our own national 'Race for the cure', a 5 km run event which gathers over 5000 participants each year and helps funding our campaigns. Also, on our initiative, October 1st was officially declared National Breast Cancer Day and on this day, each year, as it happens in more than other 80 countries, emblematic buildings are illuminated in pink, as a symbol of the fight against breast cancer'.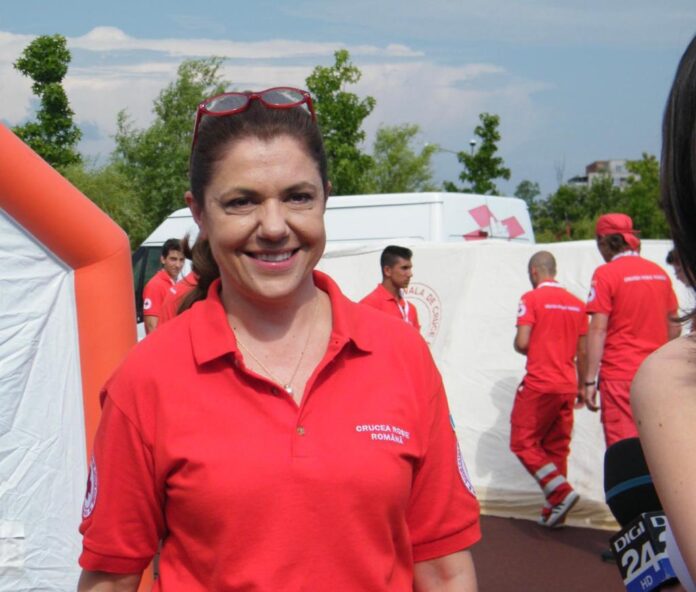 Starting in 2004, she has organized 'Art for Life', fundraising galas hosted by diplomatic residences in the city, where art was exhibited and then auctioned.
She was for 8 years president of the 'Red Cross Romania' and also the president of Brussels based 'Think Pink Europe'. 'During my tenure at Red Cross, I started, for the first time in Romania, the 'Food Bank' project and helped attract funds for the creation of regional centers to teach First Aid techniques'.
She tells me about these accomplishments in a soft and reserved voice, with the modesty and openness of a woman who knows well who she is and what she can do. She has nothing more to prove and the facts recommend her above her notorious name. She got here following her own path and ambitions. She tells me, also as an advice to all young diplomatic spouses out there, that regardless of whether or not you have to leave your career behind, you need to create a new universe for yourself, to put to work the knowledge you have acquired, to build a new identity, compatible with your partner's status and diplomatic path. 'Explore new options, learn from what is happening around you, get new ideas and use them to your advantage', she says.
'Regardless of conditions, status, financial possibilities, you must have the right attitude, know your own value and try to assert yourself, to create your own, unique profile. Be smart! Be creative; do good, help yourself and others!'
About the author:
Alexandra Paucescu- Author of "Just a Diplomatic Spouse" Romanian, management graduate with a Master in business, cultural diplomacy and international relations studies.
She speaks Romanian, English, French, German and Italian, gives lectures on intercultural communication and is an active NGO volunteer.