Hurry up, there are only a few tables left
Once again, the Tunisian embassy presents the best of its gastronomy in a continuation of the successful program that every year manages to enchant the public with the flavors and colors of Tunisia. The Ambassador of Tunisia, His Excellency Slim Ghariani, has taken care of every detail to make this event a major brand of presentation of its gastronomy.
The Embassy of Tunisia in the Hague is co-organizing with the Tunisian National Tourist Office (ONTT), the 2023 edition of the ''Tunisian Gastronomic Days''.
The Event will take place on 12 and 13 May 2023, at Leonardo Royal Hotel Amsterdam, starting from 06.30PM.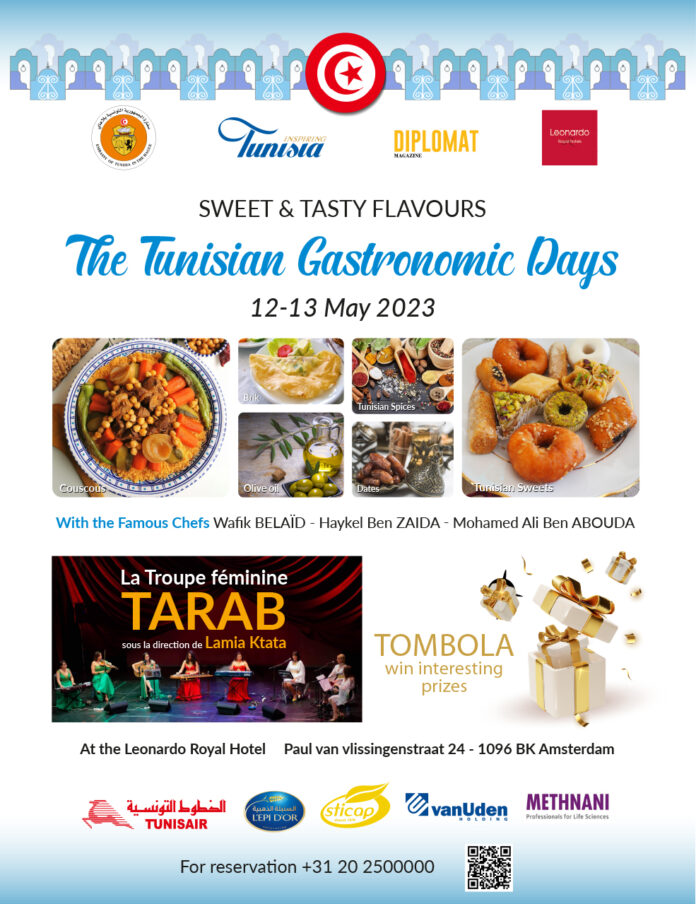 "The Tunisian Gastronomic Days will take you on a journey to savor the rich culinary art of Tunisia and to discover the Tunisian classic music. It aims to promote Tunisia as an important tourist and cultural destination. It will be attended by Dutch officials, Head of Diplomatic Missions, Businessman, Tour Operators, bloggers, journalists as well as the large public" explained Ambassador Ghariani.
"During the event, internationally renowned Tunisian Chefs Wafik Belaid, Haykel Ben Zayda, and Mohamed Ali Ben Abouda, will prepare a special menu full of authentic flavors arraying from savory specialties to delicacies as well as terroir products." said the ambassador. 
The three Chefs are members of the Tunisian Association of Culinary Arts Professionals. They have participated in several international culinary competitions. They also run famous cooking TV shows in Tunisia.
Four artists from the musical troupe "TARAB" will perform classic pieces from the Tunisian heritage. Their orchestra is well known for its traditional and contemporary music and has performed shows in Europe on several occasions.
In addition, a Tombola will be held, where people participating can win valuable prizes.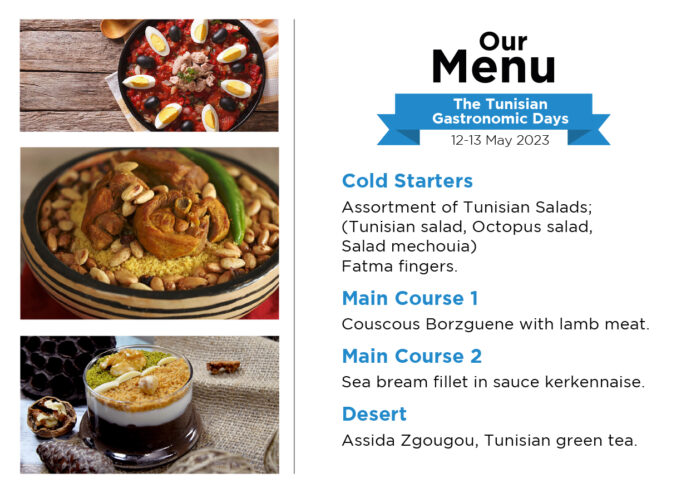 Reservations via:
Price : 45 euros
NB: To create a reservation, they just need to click on "Book a table", and it will show the Food Festival immediately.