Exploring Business and Investment Opportunities In Nigeria
By Roy Lie Atjam
On the initiative of H.E. Dr Eniola Ajayi, Ambassador of the Federal Republic of Nigeria in the Netherlands, a second Business and Investment Forum was held in The Hague. The prestigious Grand Hotel Amrath Kurhaus served as a backdrop, on the bright spring afternoon of 20 April 2023.
As observed by the Ambassador, the event was short but loaded with opportunities and information.
Business people, diplomats, a banker and many others attended the Business and Investment Forum. The Forum also hosted the launching of the publication Nigeria at a Glance, featuring a unique and diverse Nigeria.
Simultaneous with her welcome address, H.E. Ambassador Eniola Ajayi gave a breakdown of the day's program.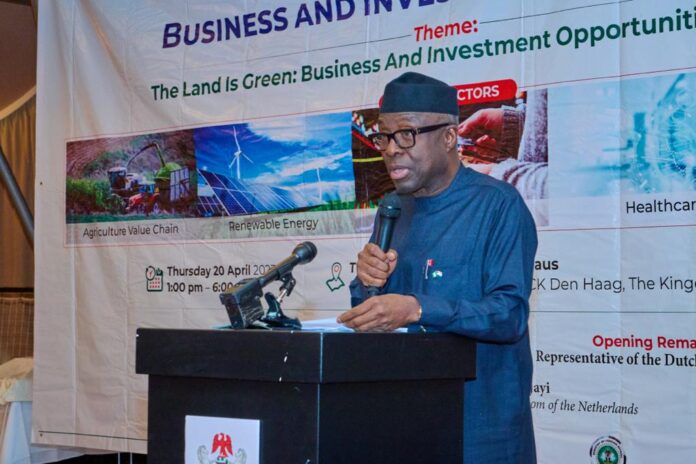 "It is an honour and a great privilege for me to welcome this august gathering to the second Business and Investment forum in The Hague. The first one held during a period of COVID restrictions in November 2021 here in the Netherlands, hence there was limited participation to only those who were resident here at the time.
Today I am happy to welcome both the Dutch delegation and the delegation from Nigeria to this networking event which would hopefully be mutually beneficial to both countries.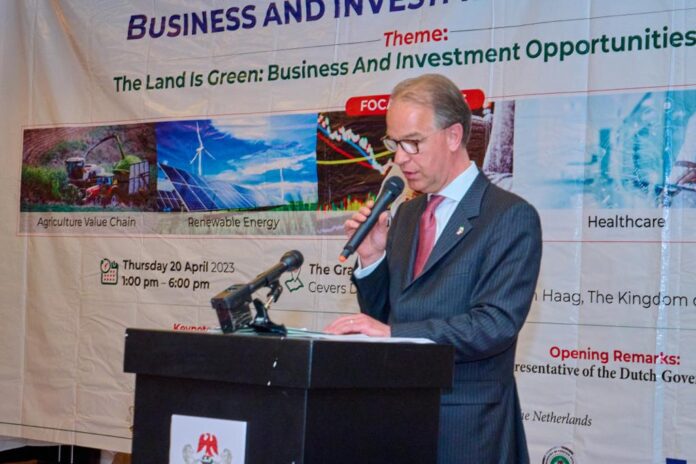 It is particularly heartwarming to have as our keynote speaker the Hon. Minister of Industry Trade and Investments, H.E. Mr. Otunba Niyi Adebayo and his spouse H.E. Ms. Erelu Angela Adebayo with us. She is an investment guru in her own right. The Minister will speak on the Business opportunities in Nigeria. We are also privileged to have the Governor, Central Bank of Nigeria (CBN), Mr. Godwin Emefiele with us. He will be throwing more light on Nigeria's fiscal and monetary policies and everything you need to know about repatriation of funds after investments.

We also welcome, Ambassador Peter Potman, the Deputy Director-General Foreign Economic Affairs, Ministry of Foreign Affairs of the Netherlands, who will speak to us about the Dutch perspective.

I am sincerely honoured to welcome my Ambassadors of Nigeria colleagues from Germany, France, Hungary, Switzerland, Poland, Belgium, and the Czech Republic. I am sure they will be quite happy to engage on issues of investments as well. Also here with us are some of my African Ambassador colleagues accredited to the Kingdom of the Netherlands. Ambassadors of Angola, Algeria, Cameroon, Ghana, Egypt, Morocco, Tanzania, Rwanda and South-Africa. Thank you for the usual solidarity, dear brothers and sisters.

I am truly delighted to announce that the Embassy had been working on another publication before I left my previous posting in Hungary over two years ago and we finally just produced another publication called NIGERIA AT A GLANCE. It is a publication for navigating Nigeria as a country, the Nigerian people, our uniqueness and our cultures. Her Excellency, Ms. Erelu Bisi Fayemi, the Former First Lady of Ekiti State in Nigeria, a renowned author is here to do us the honour of presenting the publication today. Thank you for making out time Madam.

The other speakers are officials of the Ministry of Industry Trade and Investments as well as the Nigeria Export Promotion Council. There are also officials from relevant agencies on hand to answer your questions. This will be rounded up by a segment on testimonials from Dutch companies who already do business in Nigeria and are successful at it.

This is a short but loaded event. We shall wrap up this exploration by the Nigerian delegation with factory visits tomorrow. Although the sectors under focus are: Agriculture Value Chain, Renewable Energy, Circular Economy, Healthcare, ICT and Fintech. We shall be having the factory visits to only the Agriculture and Renewable Energy sectors.

This Business and Investment Forum is geared towards showcasing the fact that Nigeria is worth every dime of your investment especially when you consider our population of over 230 million people. Everything sells in Nigeria. Nigeria being the heart of Africa makes Nigeria the natural connector to other parts of Africa. With the Africa Continental Free Trade Agreement (AfCFTA), the opportunities are limitless within the Continent.
Netherlands on the other hand is a country that anyone serious about business and investments would take seriously. The Minister of Foreign Affairs, H.E. Wopke Hoekstra recently said, 'Netherlands is a Merchant Nation'. I totally agree. Netherlands goes where others fear to tread. This explains why many Dutch companies have been household names in Nigeria for nearly a century.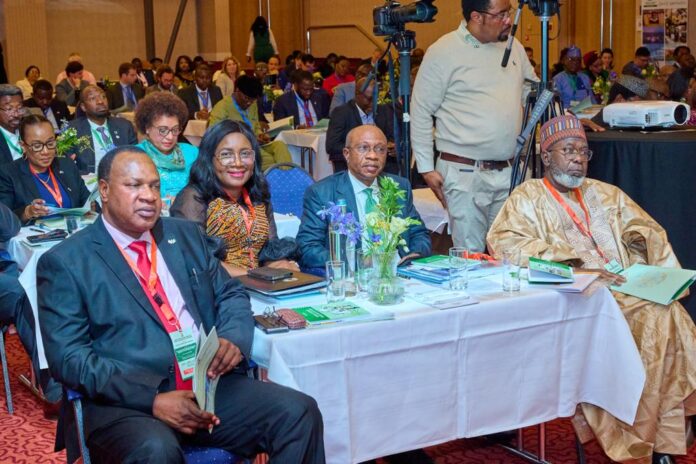 Netherlands has mastered the golden triangle strategy of creating a synergy between Government, Research / Educational Institutions and the Private sector Entrepreneurs for business development.
How else can you explain that a country with just a population of 17.8 million people and a geographical land space of 41,543 square kilometres being the second largest producer of food in the world? Netherlands has learnt how to get the optimal yield from their land.

Although Netherlands is the number four trading partner of Nigeria in the world and number one in Europe, I am sure you will agree with me that there is still much room for growth. There are a lot more grounds to cover especially in the area of non-oil sectors of Nigeria.
Nigeria has a land space of 923,769 square kilometres and a very youthful population with an average age of 18.5 years. I know you will agree that the potential for investment is limitless.
Welcome to this exploration and networking event. We trust that you will have a rewarding time . "The Land Is Green"."
The expectation is that the Business and Investment Forum will contribute to a better understanding of Nigeria's strategic economic potential in encouraging stronger collaboration, especially in the investment and trade sector between Nigeria and the Netherlands.
Good to mention. Booming Nigeria, the largest economy in Africa. Further growth is expected in the coming years. By 2050 Nigeria will become the 3rd largest economy in the world!
The imperative for investors is the NIPC. A one-stop shop for prospective investors. The Nigerian Investment Promotion Commission (NIPC) is a specialized agency of the Federal Government of Nigeria. Aimed at encouraging, promoting, and coordinating all investments in Nigeria. Bank of Industries BOI, is lending to entrepreneurs at less than 9%. Women are encouraged to go into export. The Governor of the Central Bank of Nigeria is fondly referred to as the Governor with money.
Also featured on the program, testimonials by Shell, Invest International, Friesland Campina, CBI, and Tunga. A relaxed atmosphere resigned during the conference. The break was a fabulous networking opportunity.
Pictures are a courtesy of the Embassy of Nigeria in the Netherlands.