By Roy Lie Atjam
The Ceremony of Merit, hosted by Diplomat Magazine, is a distinguished event that recognizes the exceptional work of departing Ambassadors. Their outstanding contributions to fostering strong bilateral relations between the Netherlands and their respective countries are lauded, along with their efforts in promoting the objectives of multilateral institutions. Diplomat Magazine also extends its appreciation for their support. On July 13, 2023, The Hague bade farewell to the ambassadors representing the Socialist Republic of Vietnam, the Kingdom of Thailand, and the Republic of Tunisia.

Hence, Diplomat Magazine organized a valedictory ceremony to recognise what these three highly esteemed ambassadors have achieved during their stint in the Netherlands.
It was a proper inter-continental gathering, Asia (ASEAN) and Africa at the Leonardo Royal Hotel in The Hague.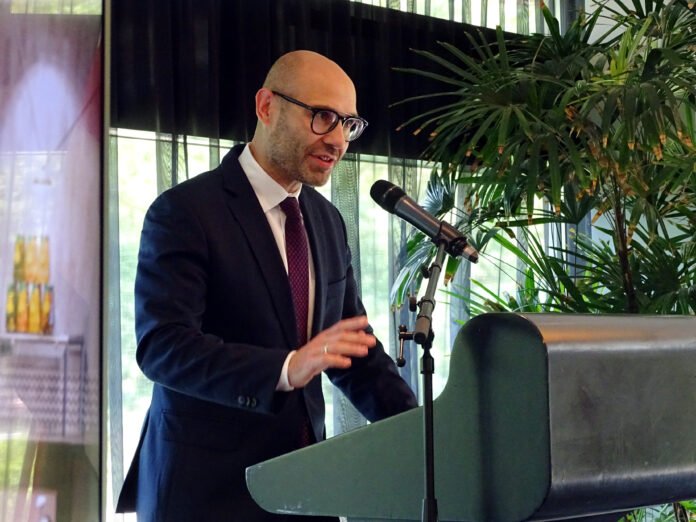 The spotlight illuminated three distinguished ambassadors: Mr. Pham Viet Anh, the Ambassador of Viet Nam, Mr. Chatri Archjananun, the Ambassador of Thailand, and Mr. Slim Ghariani, the Ambassador of Tunisia.
After the playing of the National anthems of the Netherlands and the respective countries, each ambassador took position next to their flag. Mr. Marcin Czepelak, Secretary General of PCA, addressed the Ambassador of Vietnam and also addressed the Ambassador of Thailand. H.E. Mr. Hatem El Sayed Kamaleldin, Ambassador of Egypt, addressed the Ambassador of Tunisia. The ceremony proceeded smoothly and respectfully.
All speakers lauded and expressed thanks for what the three stellar Ambassadors have achieved for the Diplomatic Community in the Netherlands.
In response to the accolades, the Ambassadors expressed their gratitude by delivering brief remarks.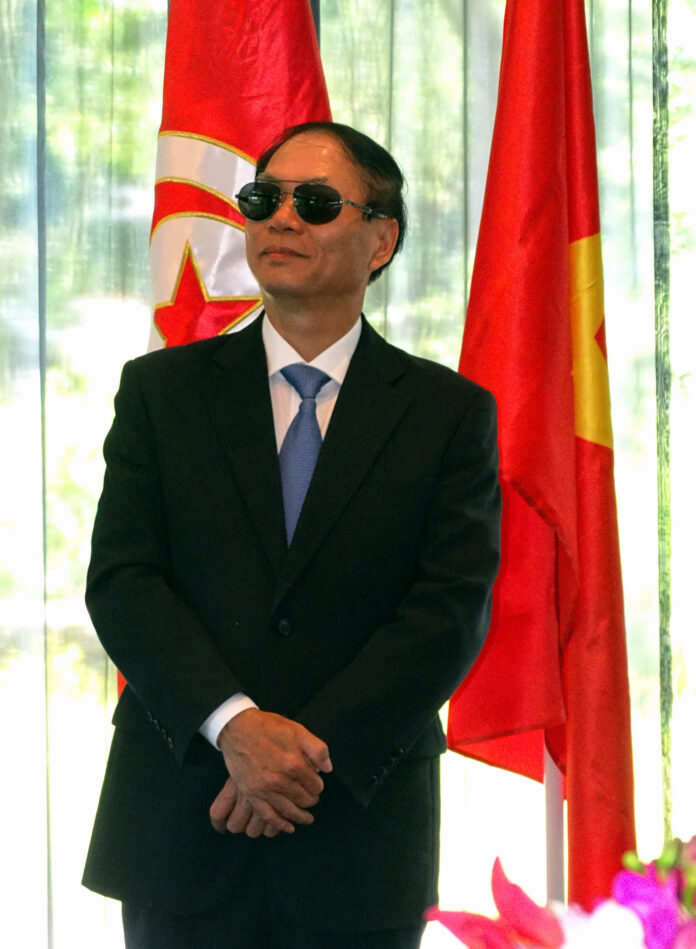 The Ambassador Pham Viet Anh of Viet Nam. "The diplomatic profession include not only the beautiful trips, luxurious etiquette. We have good opportunities to discover more cultures, to make new friends. But, in the other side, we have also difficulties. When we made friends gradually old over the years like old bottles of wine, when we become so close that it will be difficult to forget each other, and then we have to say goodbye. It is very hard.
I remember the famous French song of Jacques Prevert, Les Feuilles mortes (Autumn leaves) sang by Yves Montand. To the delight of the audience Ambassador Pham the sang the song (applause).
Mais la vie sépare ceux qui s'aiment
Tout doucement, sans faire de bruit
Et la mer efface sur le sable
Les pas des amants désunis
But life separates those who love each other
Quietly, without any noise
And the sea erases on the sand
The footsteps of disunited lovers
We are not like the lovers in the song, but I feel like them when leaving you in the Hague. C'est la vie! What stays with me and my wife are the warmth of your friendship, your openness and your kindness.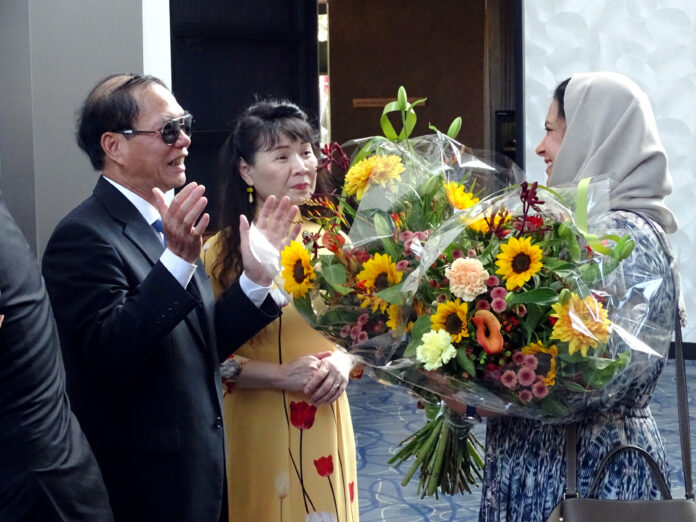 I better understand the country and culture you represent. That all contributes to giving me a full concept of the mission of an ambassador.
When we are back to Vietnam, we will miss all of you very much. Thanks to the Diplomat Magazine, we will still witness yours events.
Diplomat Magazine has a very valuable role for diplomats in the Netherlands. There is like a drink called liqueur in French. Etymologically speaking, that means "Drinks that link hearts together" or heart-to-heart drink.
So today, I have a dream that we have a bigger platform to help us remember each other better. I know that Diplomat Magazine is creating a DiploComunity. I'm looking forward to such a networking platform. Dr. De Lara can explain about it.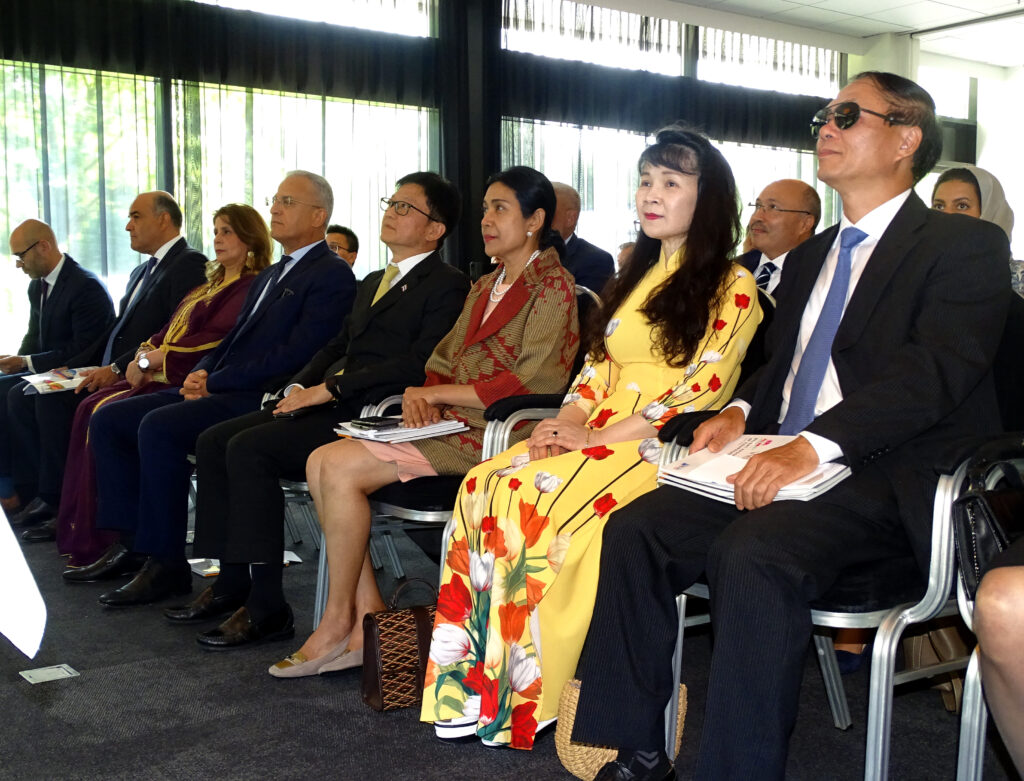 Today, we have a wonderful and emotional event. My wife and me, we would like to express our deep gratitude to Diplomat Magazine and its wonderful team, Royal Leonardo Hotel, Mr. Marcin Czepelak for his kind word. He spoke as a close friend, and more than that, with a fair comment, like in the Court of Arbitration of which he is now secretary general.
My wife and me, we wish you and your family excellent health, much success in our mission contributing to honor human relations and bring nations and people closer together"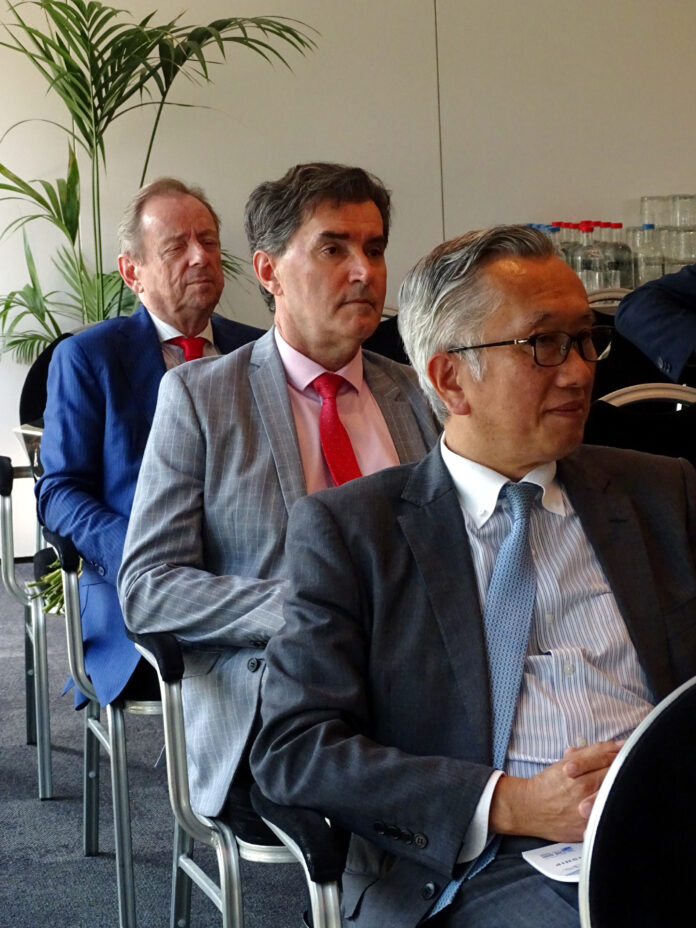 Mr Chatri Archjananun, Ambassador of Thailand. "Thank you all for being here. It is my honour and privilege to stand before you today. As I am the last person to speak, I will be very brief. First, I would like to thank Dr. Mayelinne De Lara for hosting this wonderful ceremony.
I would also like to express my gratitude to the people of the Netherlands for their friendship and support extended to me and my team during my time here. Indeed, It has been a truly remarkable experience to work in both difficult and good times.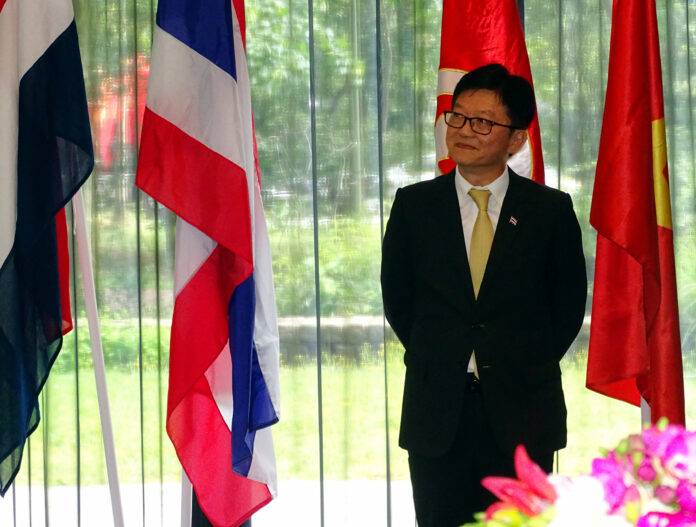 Our two nations share a long history of cooperation and friendship for more than hundreds of years, and it fills me with great pride and enthusiasm to further strengthen the bonds between our countries. This strong friendship has paved the way for valuable partnerships, meaningful dialogues, and fruitful collaborations aimed at addressing pressing global challenges such as climate change, sustainable development, and human rights.
As I reflect on this occasion, it marks the end of my chapter in Thai-Dutch relations. Much has been said by H.E. Marcin Czepelak about the work during my honourable mission here, fostering collaborations across various fields. However, let us remember that this is not the end but rather the beginning of a new chapter that will be written by my successor.
With the mixed emotions of that, I have to leave. I will definitely carry cherished memories with me and remain optimistic about the future of our relations. Thank you once again. Dank u wel."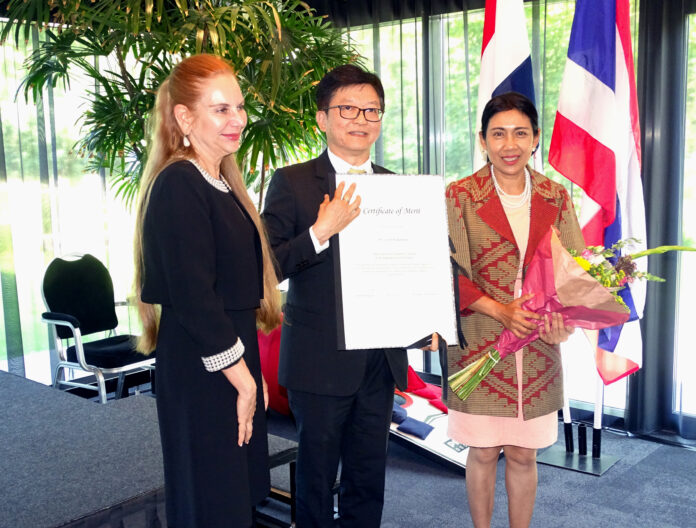 Ambassador Slim Ghariani of Tunisia. "Allow me, first of all, to thank my colleague Ambassador Hatem El Sayed for his presentation and kind words. He truly conveyed a lot of emotion while speaking about myself and Tunisian diplomacy. What I want to share here is that I have always tried my best to serve the interests of my country, Tunisia, and enhance its bilateral relations with the Netherlands. Additionally, I had the responsibility of representing Tunisia's interests within international organizations based in the Kingdom.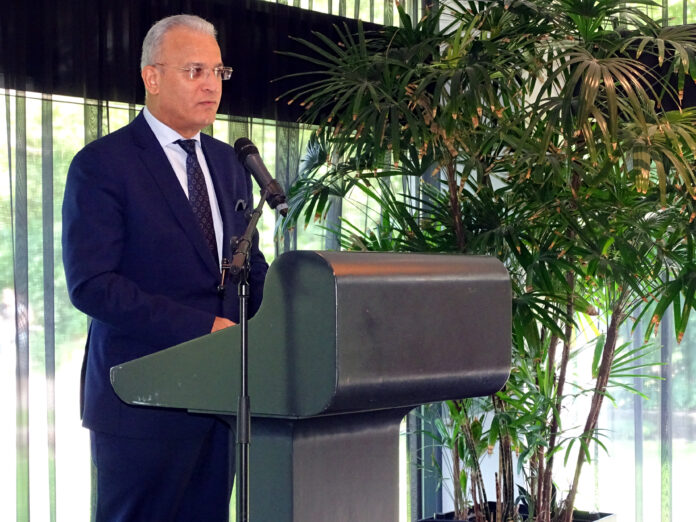 As ambassadors, we all aspire to achieve success in our missions when appointed abroad. However, assessing and measuring success can be done through various criteria. One might consider high-level official visits arranged, investments brought to the country, the improvement in bilateral trade exchange, or successful promotion of tourism for their country.
Indeed, there are numerous parameters and criteria that contribute to accomplishing this task. Personally, a major parameter I have used to gauge my performance is the volume of connections and networking I have built during my term. Seeing such a supportive audience of colleagues and friends bidding me farewell on the eve of summer holidays, July 13, fills me with satisfaction and happiness, knowing that I have earned your esteem and consideration.
Now, I would like to express my gratitude for the organization of this ceremony, especially to Diplomat Magazine. This fantastic magazine covers diplomatic life and events in the host country. It has been a valuable source for me to learn about my colleagues serving in The Hague, their respective cultures, experiences, and their connections with the Netherlands. I must mention Dr. Mayeline De Lara, the publisher of Diplomat Magazine, who has displayed great professionalism and innovation in her efforts.
From holding chess competitions to bike rides, receptions for cigar smokers, musical and dancing shows, and culinary days, she has significantly enriched our diplomatic life and fostered closer relationships among us. Even when I am back in Tunisia, I plan to follow the evolving diplomatic activities in the Netherlands through the electronic version of the magazine.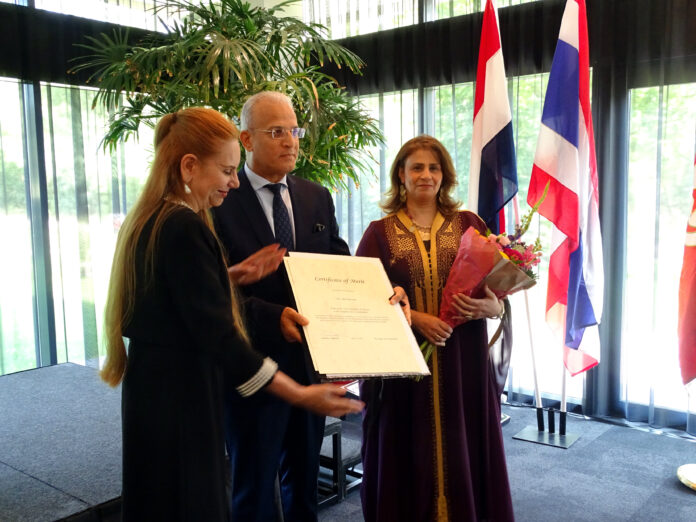 As I prepare to leave this beloved country where my family and I have spent pleasant times, I am delighted with the excellent nature of political relations and cooperation between Tunisia and the Netherlands. I hope to witness more positive developments, particularly after the recent visit of Prime Minister Rutte to Tunis and the upcoming ministerial trips from The Hague to our capital, planned next autumn.
In conclusion, I want to express my gratitude to Diplomat Magazine once again for their thoughtful gesture towards departing ambassadors, and I thank all of you for being present today to bid farewell to us. Thank you very much, and I hope to meet you someday, somewhere, perhaps even in Tunisia, whether you come to serve there or simply as tourists."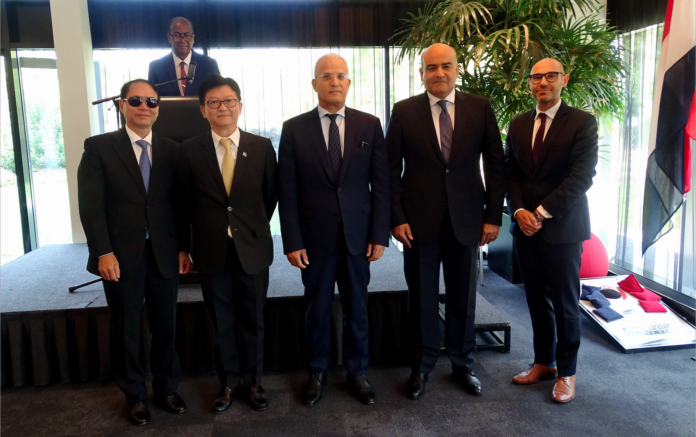 Dr Mayelinne De Lara, Publisher of Diplomat magazine, presented the Ambassadors with their Certificate of Merits, and each spouse was offered a bouquet of colourful summer flowers.
Diplomat magazine has acknowledged the commendable efforts of the Leonardo Royal Hotel The Hague in facilitating events of this nature. The magazine has expressed gratitude for the esteemed collaboration of the hotel, recognizing its indispensable role in bringing such events to fruition.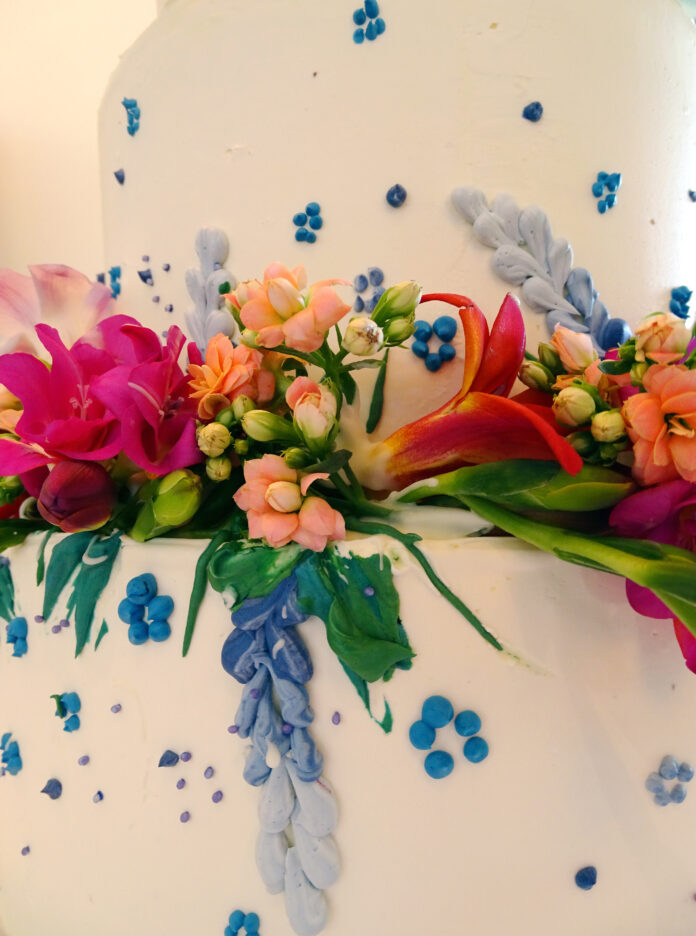 The Ceremony of Merits, although serene, concluded with a joyous reception, including the cutting of a cake and a photo session.