Sarina Missot – Get your vision.

After a while of looking around in one of Sarina Missots (1981) overwhelming hallucinations of lines, color and movement, you increasingly see that you are not surrounded by chaos. There is structure and direction in these spatial installations of video, drawings and paintings that may at first sight seem erratic, but the experience has no beginning or ending. Wander around, let yourself get pulled around by all the visual impulses. Imagine an unrestrained theatre, a show by freaks and free spirits that consumes you. Colored light and a thundering drone surprise you, yet there is such freedom and this grand lust for life that you gladly surrender yourself to it. There is so much to unearth that you want to keep discovering, looking and learning more.
Something like this is what Sarina Missot feels when she is working. Blue and red seamlessly melt into the punk rock she plays and the exuberant spectacle in her mind. She wants to get carried away by her work, but she also wants the viewer to be overwhelmed by giving him a similar experience abundant in colors, patterns and visual effects. She also makes the spectacle from her mind more explicit by adding film and photos she takes at punk rock 'n' roll shows, or even by hosting actual performances with the work. Walls, ceiling and virtually  everything seems to enter the space, all of which is warm-bloodied and alive.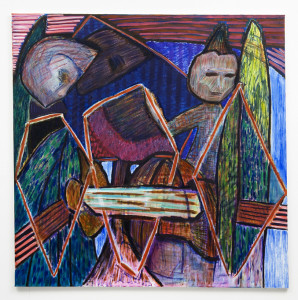 Missot grew up in a house full of batiks, masks and wajang dolls. Her mother was born on the island of Java and taught 'folk painting'. This heritage laid the foundation for a broad, also non-Western perception on things. The impulsive way of drawing Missot had as a child, at art school turned into a more deliberate choice for following impulses. She took on an intuitive approach which is  regularly paused for contemplation. She lets herself get swept by what she sees and feels whilst working, but invariably she takes a moment to critically study what she has formed. And that in turn leads to a response, often in a constructive form of destruction: tearing, cutting or over painting. Some pieces disappear whilst others are combined with something old and given a new role. In this way, Missot works on several things at a time and in some cases, years on end. The titles she gives reflect this. Pieces that are closely connected, like the ones in the series Get Your Vision, all get the same title. Only the years that follow it are changed.
What is presented in the end is not necessarily a static whole, since she constructs the works out of pieces of paintings in combinations that change with every location. A clear and 'finished' result is not something Missot is looking for. Surely beauty can seduce for a moment, but it doesn't hold your attention like something that has lived. Like a visible struggle of some duration with form and material.
The work calls upon the viewer to actively see, to be open to visual impulses. Get absorbed, walk back and forth, look around as though you just discovered vision.
Skulls are one of the few recognizable and recurring elements. For Missot it is a very rich symbol that does not necessarily represent only death. It is where your entire identity, all your feelings and thoughts are formed. So skulls may also represent life and the abundance of possible experiences.
A space filled by Missot is a refuge, a free and vivid theatre in which you have a part.
Lynne van Rhijn, 2013
Sarina Missot is Fine Arts Editor for Diplomat Magazine. She works and lives in The Hague.
www.sarinamissot.nl