By John Dunkelgrün.
Diplomat Magazine's fine arts Editor.
ARTANA Latin American fine art.
Miguel Wetzel Gayoso,
Los caballos de paso,  The paso horses of Peru.
When people think about horses and Latin America usually the first thing that comes to mind are Argentina's Gauchos. However the horse has a very important place in all of the continent. It was thanks to the horse that Europeans were even able to colonise it at all and for over three hundred years it was almost the only method of transportation other than walking. Peru has even bred its own special race of horse, the caballo de paso. It was bred for long distances and high altitudes. It is of medium size and has a wide chest to accommodate the large lungs necessary for the high altitudes. It is very elegant both in appearance and movement, proof of its Arabian bloodlines. However the most notable quality is its ambling gait. The way the caballo de paso walks and (sort of) trots,  affords the rider a much smoother ride, which on long trips is less tiring for both horse and rider.
Miguel Wetzel (Lima 1951) was brought up next to a cavalry barracks where as a little boy he became fascinated by the sheer elegance of these horses and their riders. He became an artist and – like many Peruvian art students – was first trained as a water colorist. Watercolors can be painted very fast, which is useful when trying to capture posture and movement. He paints his horses and riders and paints nothing else: no background, no clothes, no saddles or other accoutrements. It is not even clear whether his riders are women or men. He is merely interested in capturing the movement and the position of rider and horse. Often he achieves this by painting his subjects in different positions in the same painting.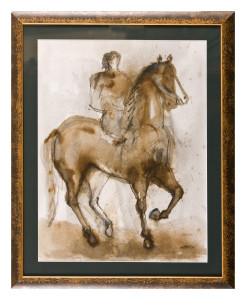 Wetzel is also an accomplished sculptor, whose three-dimensional works are abstract … unless you know of his main artistic interest. Then you will perceive elements of his equine world even in an otherwise fully abstract work.
It is said that for any deep specialisation one needs ten thousand hours of experience.
Wetzel has spent that several times over on his horse paintings and has become the maestro par excellence of bringing the caballo de paso to life.
John Dunkelgrün
ARTANA latin american fine art