Picture: President Danilo Medina (Dominican Republic), Raul Castro (Cuba) and President  Nicolas Maduro from Venezuela, minutes before attending the CELAC in la Havana. 
 By Roy Lie A Tjam.
On Tuesday 28 January, President of Cuba Raúl Castro opened the II Cumbre de la Comunidad de Estados Latinoamericanos y Caribeños (CELAC) = second) Community of Latin American and Caribbean States (CELAC) summit in Havana, 28-29 January 2014. The summit brought together representatives from the 33-nation group.
On Wednesday participants will sign a more than 80-point declaration covering issues; support Argentina's claims over the Falklands; condemn US blockade of Cuba, declare the area a region of peace and free of colonies, and probably call for Puerto Rico to join Celac.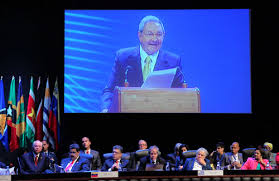 Dominican Republic (DR) President, Danilo  Medina, delivered an energetic speech before the chiefs of State and heads of governments. He  unequivocally made his country's position  clear on the protection of human rights. Medina  was alluding to  Haitians residing in his country. President Medina reiterated that Dominicans have been the people most in solidarity with Haiti, and he cited that there are nearly a million Haitians living in the DR. However, the Dominican Republic will not accept any foreign infringement in her  internal immigration affairs, said President Medina during his address in la Havana.