By Bonnie Klap, Editor in Chief.
This month the Diplomat Magazine Netherlands celebrates its first year anniversary. From its  small and humble beginnings, operating  with just a handful of volunteers, this publication has transformed  into a thriving and well known Online-magazine (soon glossy printed magazine), boasting tens of thousands of readers every day and counting. Although the success of Diplomat Magazine can be attributed to the hard work and enthusiasm of its entire team of volunteers,  it is fair to say  that the invisible and driving force behind Diplomat Magazine is its Honorary Associate Publisher Dr. Eugenio Matos.  I would therefore like to take the opportunity  to elaborate on the varied skills and talents of this unique diplomat.
Dr. Eugenio Matos, Minister Counselor of the Dominican Republic Embassy in The Hague and – in cooperation with  several Heads of Diplomatic Missions accredited to The Netherlands, is a volunteer co-founder of the Diplomat Magazine Netherlands. Recently he was also involved in the launch of Diplomat Club Wassenaar, a spin-off of the hugely successful monthly DMG , Diplomats Meet and Greet, of which Dr.Matos was also a driving force. It is evident  that he is a tireless supporter of the entire Diplomatic Community of The Hague and a great connector of people. Although highly  educated, he holds  a PhD in Civil law in the DR, a Bachelor's degree in law from the University of Ottawa, Masters degree in Diplomacy and Public Administration in UK, and currently recipient of a Executive Master Degree scholarship from the Government of Taiwan,  Dr. Matos has never neglected his great musical talent as violinist.

From left on the picture, some of 20+ ambassadors who attended the concert  T.H. from Guatemala Jorge Alfredo Lemcke Arevalo, Kazakhstan Mainyura Saudabaeva, Tunisia Karim Ben Becher , El Salvador Vladimiro P. Villalta, Honduras Mauricio Ricardo Aguilar Robles, Israel Haim Divon, Ukraine Olexander Horin, Switzerland Markus Börlin together with Dutch Harpist Emilie Bastien and Dominican Republic violinist Eugenio Matos.
Eugenio Matos started his advanced violin studies at age 13 at the National Conservatory of Music in Santo Domingo,  Dominican Republic, joining the National Symphony as one its youngest members only few years later. He officially represented his country overseas, such as Puerto Rico, Uruguay, Venezuela, Brazil, USA and Canada amongst others. His unmistakable talent has earned him scholarships  from impressive music schools, such as the world famous Julliard School of Music in New York and in  Russia. During his diplomatic posting in Canada, Dr. Matos performed as guest violinist at embassies in Ottawa such as the US,  Spain, Mexico, Italy, Finland,  Peru the EU, to name a few. In 2003 he was invited by Maestro Carlos Piantini to join the Dominican Symphony Orchestra in New York as well as later on in Valladolid, Spain. He also had the honor to be invited by the Dominican Republic Embassy in Ottawa to perform as a violin soloist at the University of Ottawa in the occasion of the 50th Anniversary of  diplomatic relations between Canada and the Dominican Republic.
In 2013 International Criminal Court's President Song invited him to perform as guest violinist for this prestigious international organization. His most recent performance was at the magnificent Castle "The Wittenburg" in Wassenaar last May at the launch of the Diplomat Club Wassenaar. Hundreds of guests, distinguished Dutch and International personalities, a large number of Ambassadors and members of the press attended, while Dr. Matos performed renowned pieces of Dvorak, Don Julio Alberto Hernandez (Dominican Republic composer) and Schumann, together with two talented musicians from the Royal Conservatory in The Hague. Although Dr. Matos is modest by nature, his tireless energy and relentless enthusiasm has  enabled  him to establish himself as a prominent and well known diplomat in The Hague. He is a tireless supporter of cultural diplomacy activity as well. Dr. Eugenio Matos is a true Renaissance man,  "A jack of many trades" as per Ottawa-based Canadian journalist Brian Adeba*.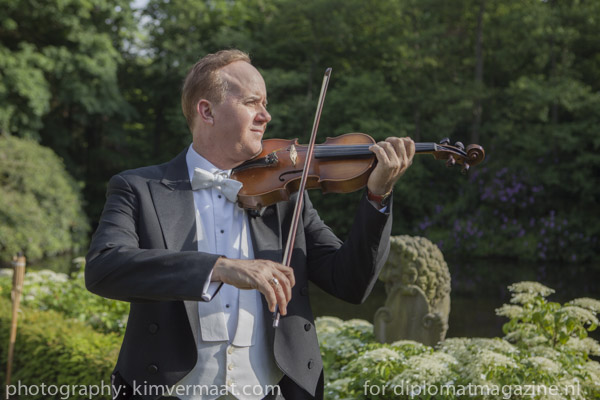 Telegraaf Netherlands.
Diplomat Magazine Netherlands.