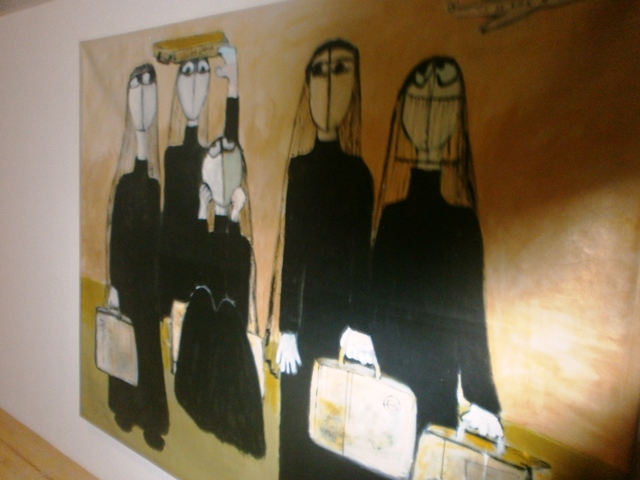 By Baron Henri Estramant.
An exciting and unique art exhibition opened at the Bahrain National Museum in Manama. At the behest of Bahrain's Minister of Culture, HE Sheikha Mai bint Mohammed bin Ebrahim Al Khalifa, about twenty percent of the items belonging to the private collection of Her Royal Highness Princess Jawaher bint Majid bin Abdulaziz Al Saud of Saudi Arabia are now on display for the very first time outside of Jeddah, and exclusively not in the Saudi kingdom, but in neighbouring Bahrain.
The vernissage which also took place at the Bahrain National Museum was honoured with the present of several Saudi and Bahraini artists, members of the ruling houses of Saudi Arabia and Bahrain, Bahrain's Minister of Foreign Affairs, HE Sheikh Khalid bin Ahmed bin Mohammed Al Khalifa, Morocco's former Minister of Culture and Foreign Affairs Mohamed Benaissa. A few remarkable aristocratic guests such as HH Princess Sisowath Chansita of Cambodia and her husband Mr Kristijan Cvetić, TRH Prince François and Princess Theresa d'Orléans, Baron Henri Estramant or Karin Adrian von Roques.
The Al Mansouria Foundation was created by Princess Jawaher bint Majid to finance and promote the artistic talent of Saudi citizens. The actual collection is housed at the princess' residence in the City of Jeddah wherein her brother HRH Prince Misha'al bin Majid is governor. Her father, the late Prince Majid served between 1980 and 1999 as "Emir of Makkah" (Governor of the Emirate of Makkah Region). Amongst others, Princess Jawaher is supported by her daughters Princess Dimah and Princess Lama bint Mansour bin Bandar bin Abdulaziz Al Saud as trustees of the foundation.
In the words of the founder Princess Jawaher "for many decades Saudi art remained essentially unknown. I saw a wealth of talent struggling to be heard, so I created the Al-Mansouria Foundation for Culture and Creativity to mentor and support Saudi artists". The collection is composed not merely paintings but sculptures, calligraphy, and video art.  The Al Mansouria Collection "Modern and Contemporary Saudi Art" is on display at the Bahrain National Museum from 6 November 2014 to 6 March 2015.
The Kingdom of Bahrain is noted for being the most liberal, and welcoming country of the Gulf Region. It is a constitutional monarchy under the House of Khalifa (Al Khalifa). The present monarch is His Majesty King Hamad II bin Isa Al Khalifa.
Bahrain has an embassy in Brussels responsible for Belgium, Luxemburg and the EU whereas The Netherlands are handled by the royal mission in London headed by HE Ambassador Alice Thomas Samaan who is yet to present her credentials to the Dutch monarch.
During the investiture festivities for the Dutch royal couple, Bahrain was represented by its heir apparent, HRH Crown Prince Salman bin Hamad Al Khalifa, Deputy Commander in Chief and Second Deputy Prime Minister.
Al Mansouria Foundation: http://almansouria.org/
Bahrain National Museum:  http://www.moc.gov.bh/en/visitingbahrain/destinations/BahrainNationalMuseum