By Roy Lie A Tjam
On January 14 2015, the Trade Office of the Embassy of Pakistan in The Hague hosted a seminar on trade opportunities in Pakistan at the Hilton Hotel in The Hague. The keynote address was delivered by the Ambassador for the Republic of Pakistan to the Netherlands H.E. Mr. Moazzam Ahmad Khan. In his welcome remarks Ambassador Moazzam Ahmad Khan stated that the purpose of the seminar was to inform about the new trade and business opportunities which have emerged in Pakistan after the grant of GSP plus status in December 2013 allowing duty free access for Pakistani products to the EU.
The Ambassador believes that Pakistani exports have become the most competitive in certain fields, a fact which not many businesses and trading houses know. The aim of the seminar was to share knowledge about the trading opportunities available and take advantage of these opportunities to the mutual benefit of Pakistan and the Netherlands. Ambassador Moazzam Ahmad Khan subsequently thanked the Dutch Government for supporting Pakistan's case for the GSP Plus status. As of  January 14 2015, business visa applications will be processed and visas issued on the same day.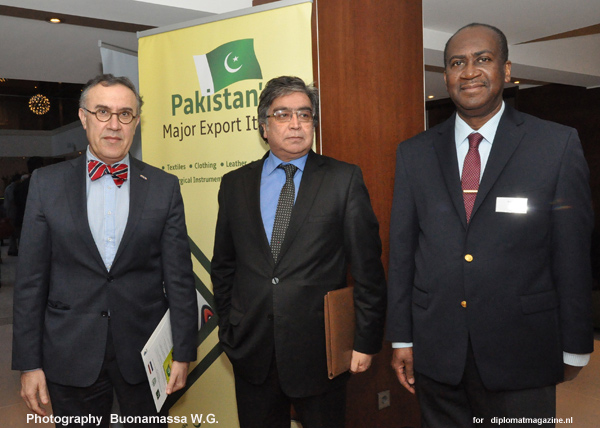 The objective of the seminar was to entice the Dutch business community, namely importers, to purchase Pakistani export products and benefit from the newly acquired "GSP+. The European Union (EU) has granted Generalized System of the Preference plus (GSP+) facility to Pakistan with effect from 1st January 2014. The scheme will cover 6,200 products and under the scheme these products will have duty free access into the European market including the Netherlands. Pakistan's major export items such as textiles, clothing, leather and leather products, foodstuffs and beverages, fruits and vegetables, plastics and articles thereof, medical surgical & precision equipment, vehicles & transport equipment, footwear, metals and chemicals, sports goods, will now have duty free access to EU Markets. Pakistan has a buyers platform with CRS standard in place in order to comply with decent labor conditions. Hema is a member of this platform.
Other speakers at the seminar included the Commercial Attaché, and representatives from CBI-consultants, PUM, the International Trade Ministry of Foreign Affairs and HEMA. The Embassy of Pakistan can look back on a successful seminar.
Expopkistan 2015 in Karachi, 26 February – 1 March 2015 offers an excellent opportunity to the Dutch business community to get better acquainted with Pakistan.