Clemens Unterreiner, Maria Großbauer, Dominique Meyer, Nadja Swarovski – © Wiener Staatsoper GmbH, Michael Pöhn.
Thursday, 20 February 2020, Vienna, Austria: The Opera Ball at the Vienna State Opera was held once more in a dignified manner that makes it one of the most pulchritudinous balls worldwide. Again in partnership with Swarovski, which presented sparkling tiaras designed by Christian Lacroix for the Opera Ball 2020 upon Swarovski's behest.
Since the 1950s, Swarovski has brought brilliance to the ballroom at the Vienna Opera Ball, and has worked with design giants such as Karl Lagerfeld, Dolce&Gabbana andVersace in recent years.
The ball tradition is traced back to soirées, and dances held in Vienna during the namesake Congress that redrew the continent's borders after the Napoleonic wars.
Austria's President Alexander van der Bellen, Chancellery Minister for the European Union and the Constitution, Karoline Edtstadler, the Minister of Finance, Gernot Blümel, Foreign Minister Alexander Schallenberg partook at the event.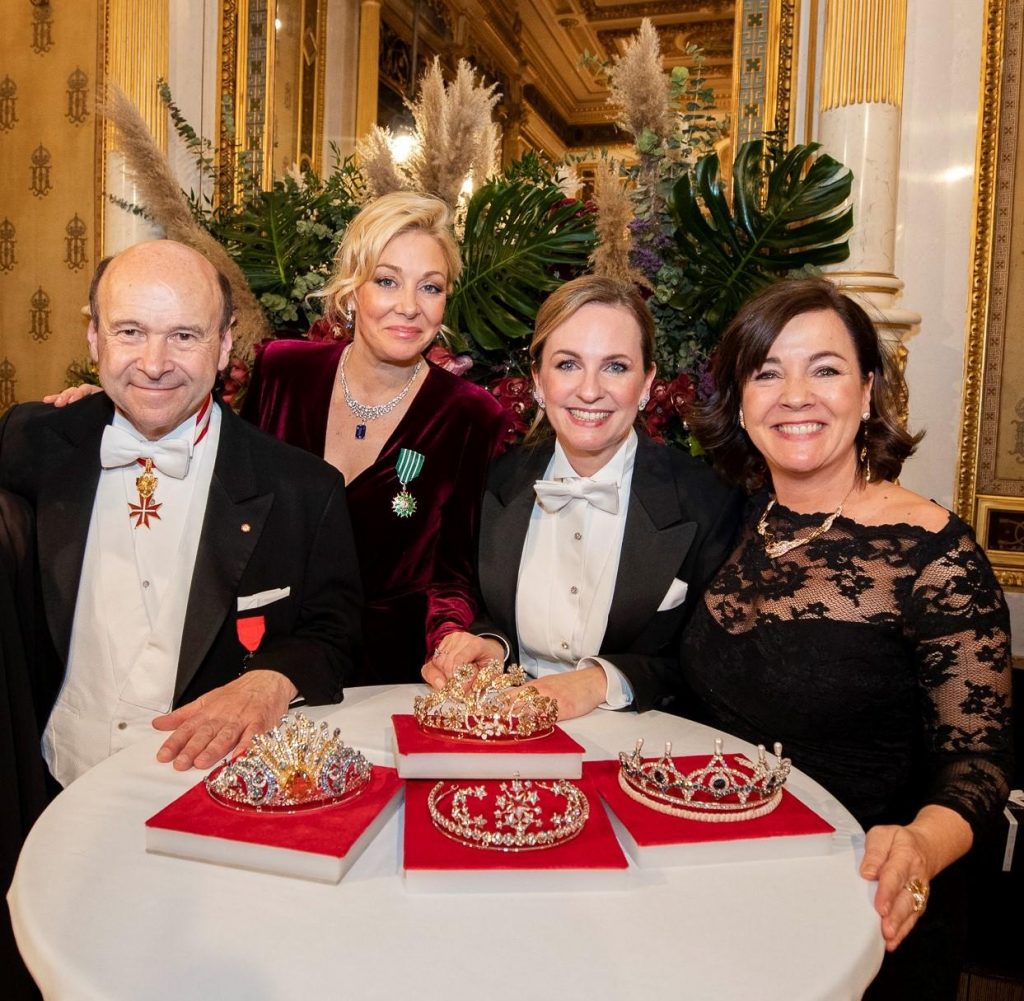 A highlight for the 64th edition of the ball was an unexpected gesture by Chairperson Nadja Swarovski, who surprised Director Maria Großbauer live on ORF TV by presenting her with the four Swarovski tiaras from her years as organizer and creative director (that is those designed by Karl Lagerfeld in 2017, by Dolce & Gabanna in 2018, by Donatella Versace in 2019, by Christian Lacroix in 2020). Swarovski was likewise represented therein by the Senior Vice President for Branding and Communications, Birgit Berthold-Kremser.
For further information:
https://www2.wiener-staatsoper.at/fileadmin/Presse/Opernball_2020/WienerOpernball_2020_en.pdf
Swarovski Tiara for the Wiener Ball: https://www.facebook.com/DACH.Swarovski/videos/2239067603053784/