A chamber music festival – can it be done digitally? The new reality in which we've suddenly found ourselves is challenging us to find new possibilities. We want to investigate what still remains possible, or rather: what has now become possible?
As musical pioneers of the "new normal", Classical Encounters has decided to rise to the occasion. The festival, which has always looked for connection, will also embrace the online encounter! After all, music creates connection and offers solace, elements that are indispensable for both musicians and listeners, especially in these trying times. That's why Classical Encounters is elated and excited to announce its first digital edition: Classical Encounters Online.
Artistic director Eva Stegeman invites everybody who has a monitor and an internet connection to join us for a digital festival on Sunday, May 17, live from the Lourdes Church in The Hague. During the live stream, which will last from noon until six pm, you will be treated to non-stop concerts, brief introductions, a short lecture, interviews, and surprising musical intermezzos, all presented by Dieuwertje Blok.
The online version will be unified under the theme Variations, which was the original theme of the offline edition that was supposed to take place from May 13-17.
The young master pianist Kit Armstrong will perform in his local church in Northern France, playing Bach's Goldberg Variations. The Rembrandt Frerichs Trio will be playing in the Lourdes Church with their own program, just like Erik Bosgraaf and Ernst Reijseger, who will present a program of Bach-inspired improvisation. The Nexus String Quartet (Pieter van Loenen, Eva Stegeman, Hannah Strijbos, Sietse-Jan Weijenberg) will perform – from the Lourdes Church – Beethoven's String Quartet op.74 'Harp' as well as a new piece for string quartet – a world premiere – composed by Rembrandt Frerichs.
We have also compiled a series of short concerts specifically for this online edition. In 'Carte blanche for…', you will hear a number of leading musicians. Violist Sylvia Huang (finalist Queen Elisabeth Competition 2019) will travel to The Hague and play a solo sonata by Ysaÿe. From across Europe, musicians who are much-appreciated guests of our festival will join the live stream from their homes. Violist Gordan Nikolic will play from his living room in Antwerp, cellist Ursula Smith will treat us to Sibelius from England and, from his home in Rosmalen, percussionist Jeroen Geevers will play, among others, the theatrical piece Case History – for one percussionist with trunk.
Our festival will be enriched with several short segments. Leo Samama provides short introductions and will deliver a miniature lecture. Edwin Rutten will offer us some musical solace with his hourly segment 'My musical medicine cabinet'.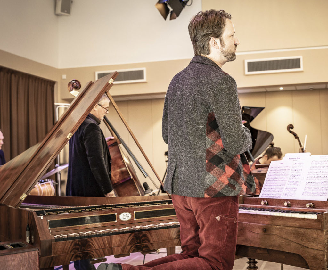 Talent Support has been an important part of Classical Encounters since its founding in 2003. The eleven-year-old violist Adinda van Delft and the 11-year-old recorder player Christiaan Blom will play live from the Lourders Church. Also, a number of young singers from the Academy of Vocal Arts in The Hague will take the stage, led by their artistic director Daniëlle van Lieshout.
All who want to join the festival on May 17 can simply navigate to the festival website. The live stream is available free of charge. Visitors can choose to buy a virtual festival ticket by way of making a donation.
The program is available at www.classicalencounters.nl, which is where you can join our festival as well.
About Classical Encounters
Classical Encounters is the international chamber music festival in the region of The Hague and Leiden. Since its establishment in 2003, Eva Stegeman has curated a surprising and refreshing program every year, with concerts that are characterized by innovative and touching encounters between musicians and audience. The (analog) edition of Classical Encounters was originally planned for May 13-17.