By Alexandra Paucescu.
She enchants everyone with her sophisticated appearance, reminding of a Patrician woman from ancient Rome. It takes seconds to understand she is no ordinary kind.
Born and raised in Bucharest, Andreea Gradinar is a highly educated Romanian, with economic background, a Master in International Law and a PhD in Economics.
'It was my mother's dream that I join the Foreign Service ever since I was little. She was a public servant for more than four decades with a huge admiration for the diplomatic service. Diplomats have always belonged to the intellectual elite and had the enriching opportunity of working abroad' she says.
So she became a diplomat, and that's where fate came in, that's how she met her husband, a career diplomat himself. She remembers: 'It took us four years of friendship to finally decide to start a life together in Vienna, where we were both first posted. It has been an amazing journey ever since, with professional and personal commitments going hand in hand.'
I imagine it hasn't been easy to fulfil all that tasks that a diplomatic career and also a full role as supporting wife and mother usually require. But she has proved it is possible. In fact, women are nowadays increasingly more involved and active. She notices that recently 'an entire narrative about women in diplomacy shifted from "women cannot be employed as diplomatic officers because of their well-known inability to keep a secret" to having more and more women in the Foreign Service and an increasing number of female ambassadors. In the Romanian Foreign Service, we now have a different type of gender issue, having more female diplomats actually.'
She says that diplomatic life is not easy. She constantly misses her extended big family back home. 'It hurts knowing that there are only a few times when I am able to show my support', she says. Also 'diplomatic children are often affected by the constant changes, giving up their friends every couple of years and starting all over again someplace new'. She fully recognizes the toll which many diplomatic families pay, especially the accompanying spouses.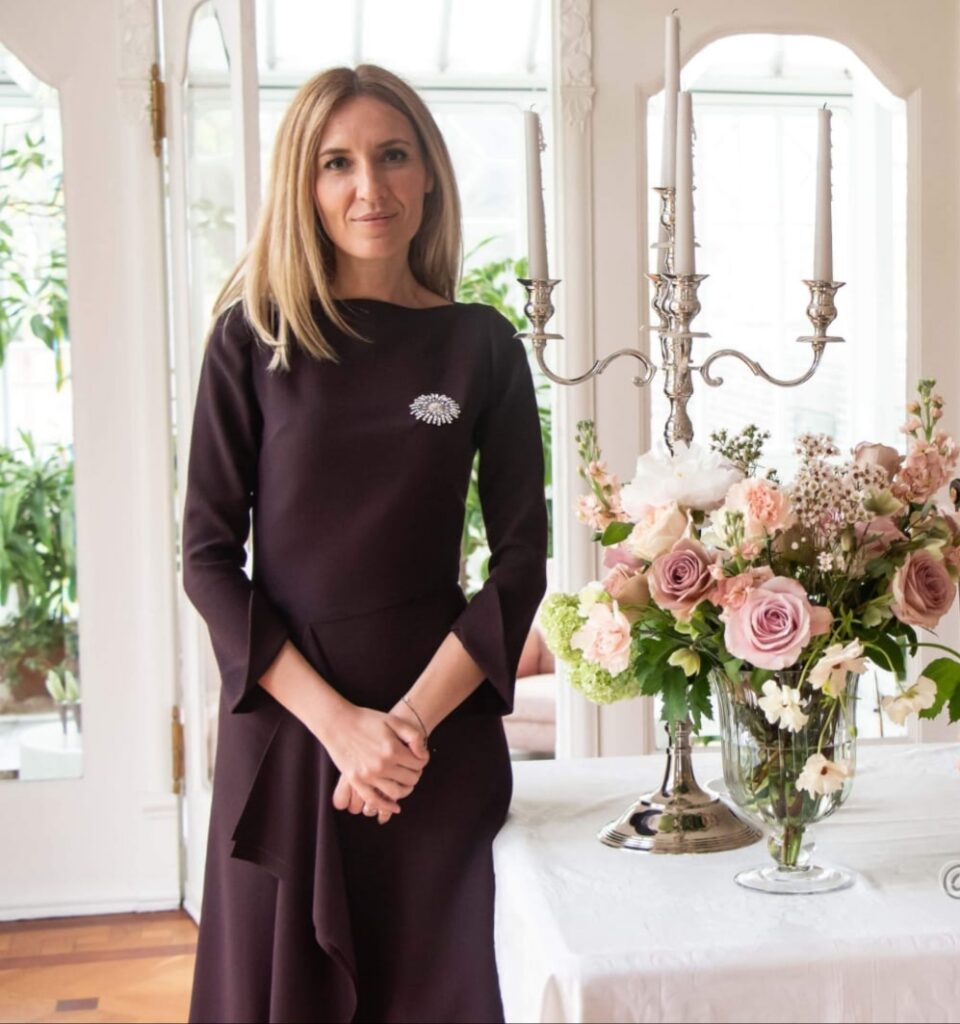 'It is the untold story of the people living this life who are not part of the diplomatic system though. These people are the members of our family who follow us, especially our partners who most often sacrifice their careers for the sake of the family. I know so many of them who have spent a life to become successful and then had to give it all up. If you are not ready to make this sacrifice, sometimes relationships do not last for long. And if the accompanying spouse is male, it's even more complicated. Many of the male diplomatic spouses become main caregivers and take full responsibility of raising family's children. Believe me, the societal misconceptions weigh much heavier on them!'
She though, tells me that, for the moment, being a mother to her beautiful two daughters and a wife is far more rewarding than any of her own diplomatic achievements. Gently, she says: 'I have many reasons to be thankful in life, as I measure happiness in the amount of love that I have received and given back throughout the years, in the number of extraordinary people that I have met along the way and changed the course of my life forever. It didn't really matter where I lived, in Romania or abroad, my family was the driving force that made happiness a possible scenario everywhere'.
Obviously, beyond her aristocratic beauty lies an extremely sensitive and delicate soul. No wonder her passions are related to beauty, nature and arts. I've always been fascinated by her talent when it comes to flowers and decorations. She could have been a marvelous florist or event planner. Everything she touches turns magical and the humblest room gets royal brilliance. 'My passion for flowers started more than a decade ago with my bridal bouquet made by a young and promising floral designer that later became a close and dear friend. Ever since, flowers were markers of momentous events in my life. Throughout the years, they became a way of expressing my feelings, a powerful tool for telling each time a different story and most of all, for telling people how much they meant to me. I think that my creative side succeeded in adding a little extra to the events hosted at our residence. I recently embraced the more airy and light Danish style, combining my favourite flowers, pink peonies, together with many delicate flowers from the garden'. I would also add that fate really has said its word here: her last name after marriage, 'Gradinar', means 'gardener' in Romanian…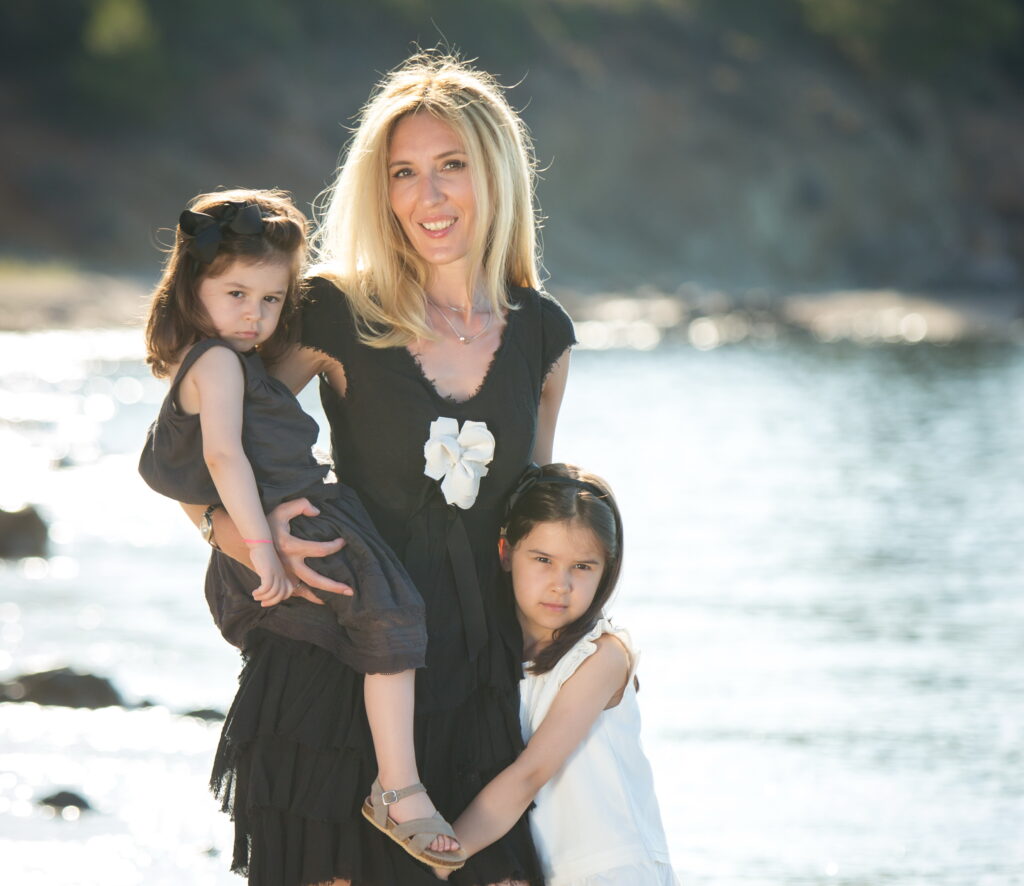 Together with her husband, now ambassador to Denmark since 2016, she proudly welcomed to their beautifully decorated home great personalities, politicians and also royal guests. She confesses that one of her proudest moments was when she hosted HM Margareta, the Custodian of the Romanian Crown and daughter to late king Michael of Romania, to an official Easter luncheon. Other great moments were, as she remembers, being received by HM Queen Margrethe II of Denmark and also being a guest at a gala dinner hosted by the Swedish monarch.
'There is a world full of opportunities unfolding in front of us, we make connections and meet new people every day. There are so many activities where we can play a central role in order to support our partners. In my opinion everything in life happens with a purpose, we just need to be prepared for new challenges. I also believe that kindness is a gift everyone can afford to give. And this is something that I am trying to teach my two daughters, Ana and Alexa, using the power of my own example'.
It is generally said that inside beauty is always seen outside. Indeed, you take a look at her and you see it, you see a refined, cultivated and sensitive woman, like the delicate flowers, that she so much adores.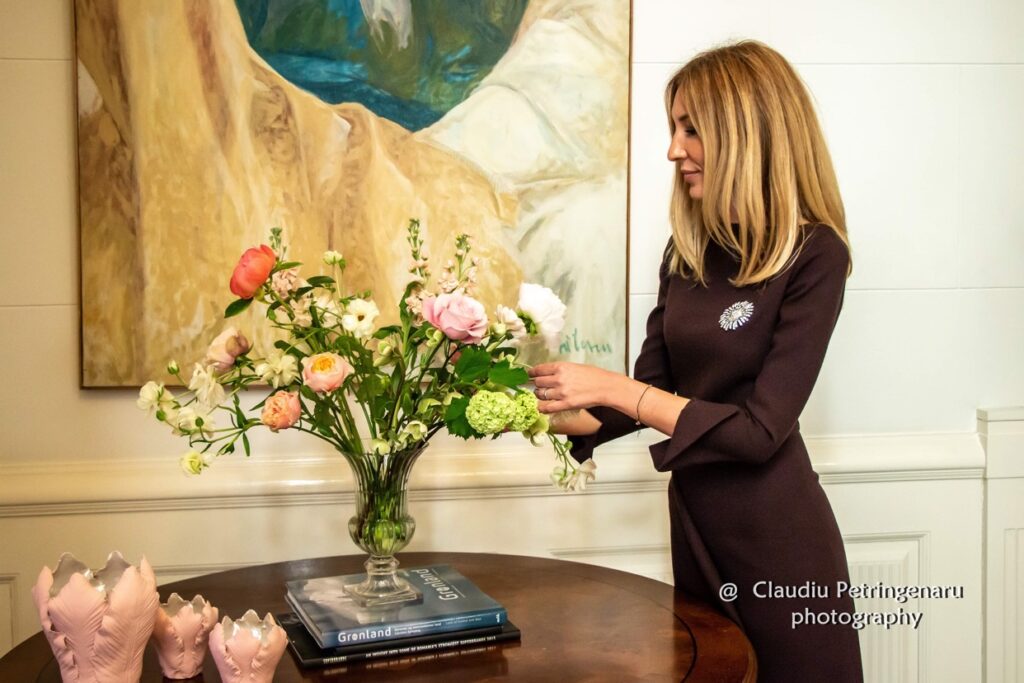 About the author:
Alexandra Paucescu- Author of "Just a Diplomatic Spouse" Romanian, management graduate with a Master in business, cultural diplomacy and international relations studies.
She speaks Romanian, English, French, German and Italian,  gives lectures on intercultural communication and is an active NGO volunteer.