By H.E. Mr. Alexander Shulgin, Ambassador of the Russian Federation
in the Kingdom of the Netherlands
The Russian Embassy in the Netherlands pays particular attention to the maintenance of «The Soviet Field of Honor», the only Soviet memorial complex in the Netherlands, in good order. The remains of 865 Soviet soldiers who died during World War Two in various parts of the Netherlands and in Germany are buried there.
«The Soviet Field of Honor» was officially opened on November 18, 1948. Originally, 101 Soviet soldiers who had died in the nearby concentration Camp Amersfoort were buried there. All of them were mainly from Central Asia (Uzbekistan). The Germans had captured and brought them to the Netherlands in September 1941 to convince the Dutch to join their side in the battle against the USSR. Despite that the Nazis bullied and tortured them, the will of the brave Soviet soldiers was not broken. When the Germans realized that their plan had failed, the prisoners were shot.
After the war the remains of other 764 Soviet soldiers who found their final resting place far away from their home were also transferred to «The Soviet Field of Honor».
I would like to stress that the Russian Embassy in the Netherlands closely follow the development on «The Soviet Field of Honor». Despite the logistical difficulties that arose from the spread of coronavirus infection in the Netherlands, I am pleased to announce that the phased replacement of all the 865 gravestones (planned for the period from 2019 to 2021), was successfully completed on time. One of the reasons for this was the necessity to put the new recovered data on the gravestones of the Soviet soldiers, and to comply with the relevant provisions of the legislation of the Netherlands, according to which gravestones must be replaced every 60 years.
The new stones are almost identical in size with the old ones. Most of them are engraved with the name, surname, date of birth and death of a fallen Red Army soldier.
I'm pleased to inform you this project was financed jointly by the Russian and the Dutch side, the Embassies of countries – former Soviet Union republics, with the involvement of the private investors. In particular, The Russian Federation has allocated 300,000 euros for the three year period (2019-2021).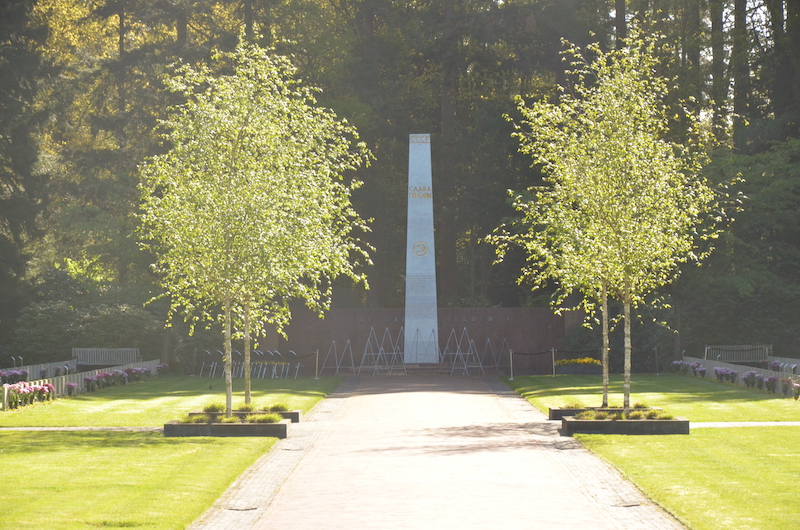 The Russian Embassy in the Netherlands annually holds commemorative events on the territory of «The Soviet Field of Honor» memorial complex, including the celebration of Defender of the Motherland Day (February 23) and the Great Patriotic War Victory Day (May 9). We intend to continue to provide all possible assistance in preserving and maintaining the memorial complex «The Soviet Field of Honor» in excellent condition.