«Lomonosov was a great man. He created the first university; it is better to say, he himself was the first university» – Alexander Pushkin (Russian poet)
In January 2025 Lomonosov Moscow State University will celebrate 270 years. Preparations are underway for a large celebration of this major event. The festivities will begin in 2023. The international programme includes research conferences, exhibitions and science festivals.
We believe that meetings between the international alumni of Moscow State University from many countries and generations will bring back the best memories of student life in Russia in an atmosphere of friendship and mutual understanding. It also presents an occasion to discuss the current topical issues. Moscow State University alumni have always been and remain the intellectual elite of Russia and other countries, demonstrating high standards of Russian education.
Moscow State University was founded in 1755 and is rightfully considered the oldest Russian university. The establishment of a university in Moscow became possible due to tireless efforts of the outstanding scientist, the first Russian academician Mikhail Vasilyevich Lomonosov (1711-1765) after whom it was later named.
Mikhail Lomonosov – Russia's most famous and most impressive polymath – was a scientist, geographer, writer, historian and poet. Coming from a peasant family in Russia's far north (Arkhangelsk region), he was taught to read by a neighbor and had devoured every book in his village by the age of 19, when he walked to Moscow to attend school. He studied in Moscow and Saint-Petersburg before receiving an Academy of Sciences grant to study abroad. He spent almost five years studying in Germany at the University of Marburg (where he learnt philosophy, chemistry, other sciences and theology), and visited the Netherlands in 1740, where he stopped over at Leiden University.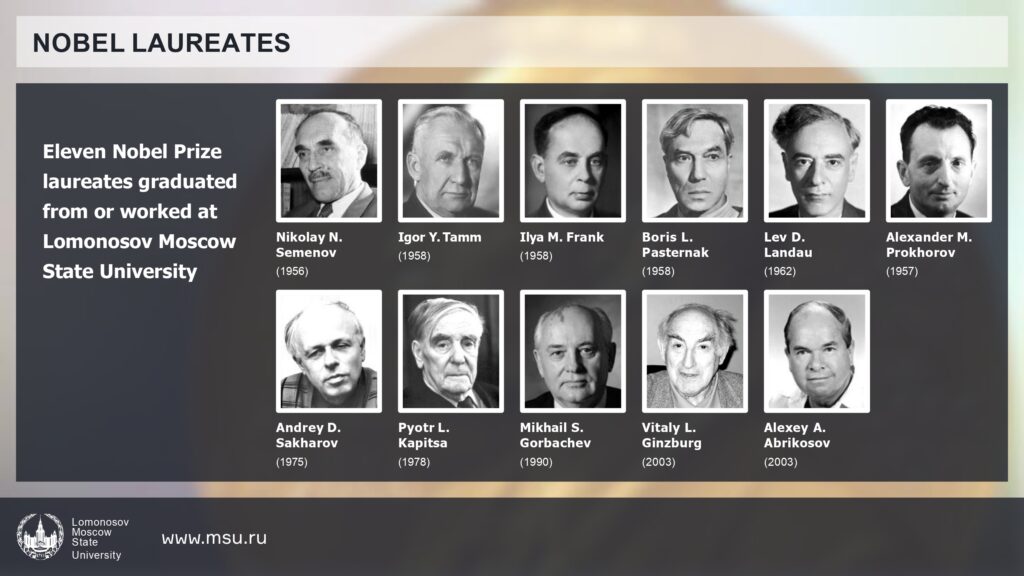 Upon his return to Russia he made a proposal to establish a University in Moscow, thus starting a new tradition of modern high education in Russia. In accordance with the plan of M. Lomonosov, 3 faculties were formed at the University: philosophy, law and medicine. All students began their studies at the Faculty of Philosophy, where they received fundamental knowledge in the field of natural sciences and humanities. Education could be continued in the field of law, medicine or philosophy. Unlike European universities, Moscow University did not have a theological faculty. The reason for this is that Russia already had a special system of education for preparing priests of the Orthodox Church. The professors taught not only in Latin – the commonly recognized language of science at that time – but also in Russian.
In the first half of the 19th century, Moscow University played a leading role in the public life in Russia. The traditions of free-thinking were promoted by the student circles of which V. Belinsky, A. Herzen, N. Ogarev and N. Stankevich were part. Nearly 1,500 students studied history and philology, physics and mathematics, law and medicine at the MSU at that time.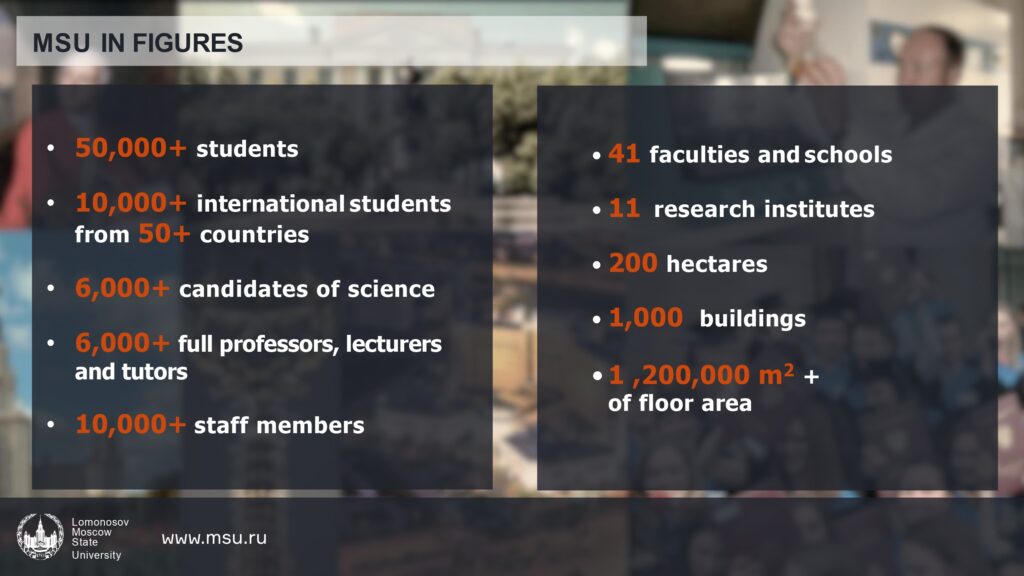 In the first half of the 20th century, the university was one of the centers of advanced scientific knowledge and spiritual life in Russia. The names of prominent Russian thinkers of the late 19th – early 20th centuries are associated with it: V. Solovyov, V. Rozanov, S. Bulgakov, P. Florensky. Famous figures of the leading political parties of Russia studied or taught at the university.
After the Second World War the need for enlargement of the University became apparent. In the late 1940s and early 1950s new university buildings were constructed on Lenin (now Vorobyevy) Gory. On September 1st, 1953, they opened their doors to students.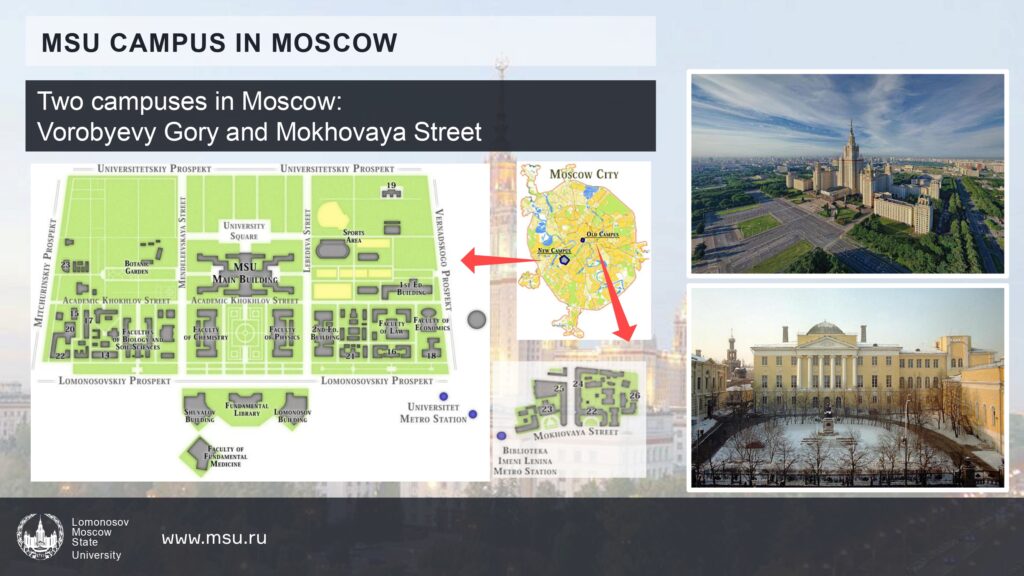 Lomonosov Moscow State University has become a major international university preparing undergraduate and graduate students. One of the first preparatory faculties in our country to teach Russian to foreign students (now it is called the Institute of Russian Language and Culture) was established in 1959 at the university.
Today Lomonosov Moscow State University is the largest classical university in Russia. MSU has 41 faculties, 40 research institutes, a Medical Research and Education Center, a Scientific Library, 4 museums, a Botanical Garden and a Science Park. It has branches in other cities in Russia and abroad. The total area of ​​the MSU campus on «Vorobyevy Gory» in Moscow is 1,200,000 square meters. The campus territory can be compared to a city within a city – there is everything a student needs: libraries, reading rooms, lounges, printing services, post office, laundries, a beauty salon, hairdressing salons, first-aid posts, a pharmacy, canteens, cafes, grocery stores, gyms, swimming pools, stadiums, courts, bicycle and roller skate rental, parks and car parks.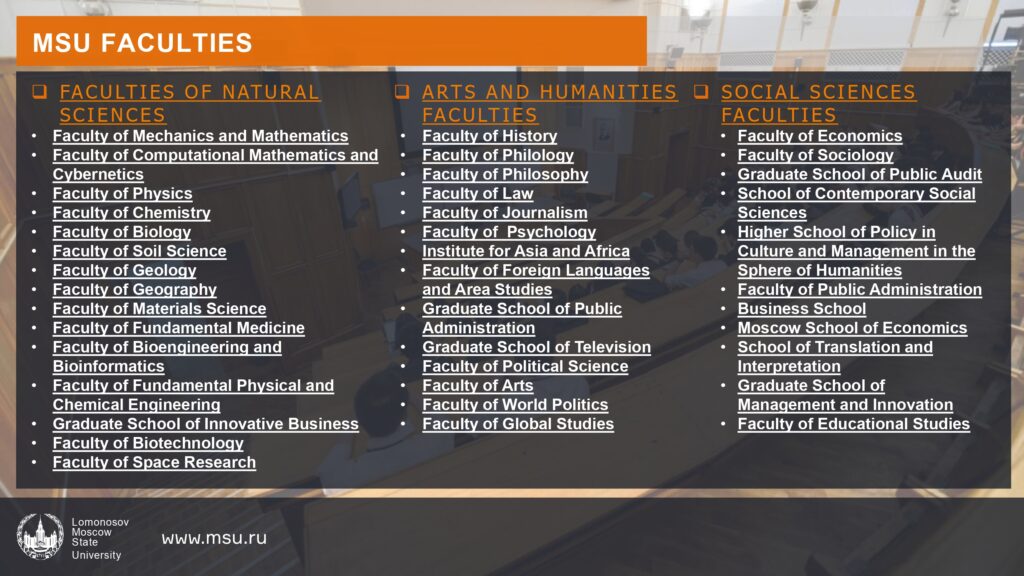 Lomonosov Moscow State University is also the leading scientific center of the country. In 2021, 7 scientific and educational schools were established at MSU: "Fundamental and Applied Space Research", "Preservation of the World Cultural and Historical Heritage", "Brain, Cognitive Systems, Artificial Intelligence", "Molecular Technologies of Living Systems and Synthetic Biology" , "Mathematical methods for the analysis of complex systems", "Photonic and quantum technologies. Digital medicine", and "The future of the planet and global environmental changes."
As one of the pillars of fundamental education, Moscow State University has made a significant contribution to developing international humanitarian cooperation, bringing up a constellation of outstanding scientists and scholars, state persons, politicians and public figures holding various posts in foreign countries.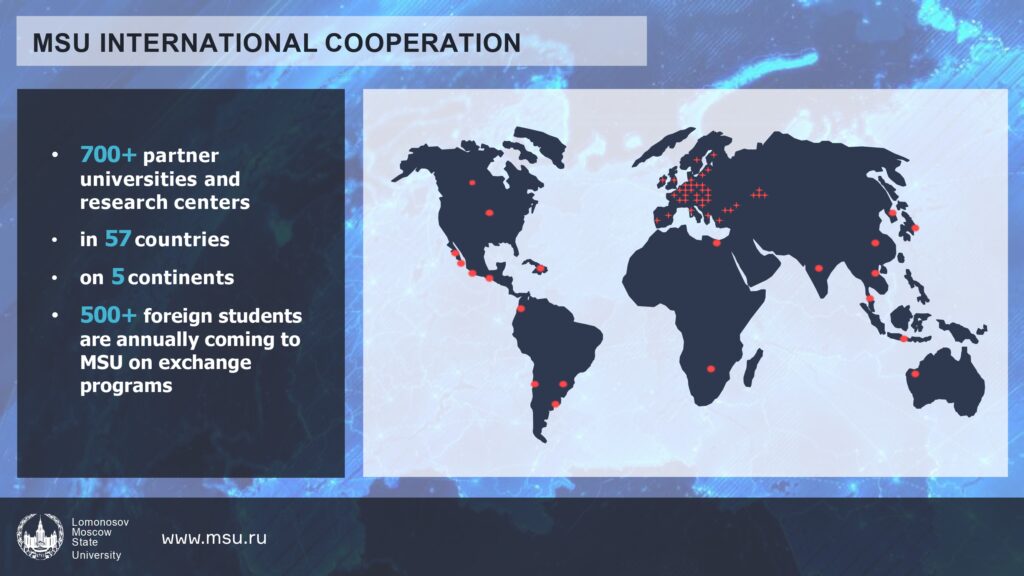 Nobel laureates, laureates of the State Awards of the USSR and Russia have worked and are still working at Moscow State University. Among Russian Nobel Prize laureates, eleven were graduates or professors of the MSU. Students of Moscow State University won multiple Russian and international awards in various subjects, and its graduates are in high demand both on the Russian and international labor market.
We invite all interested parties to take part in the celebration devoted to the 270th anniversary of Lomonosov Moscow State University.