NEW YORK– MIPAD, Most Influential People of African Descent, a global civil society in support of the United Nations International Decade for People of African Descent, hosted its annual event – Most Influential 100 Recognition Week 2022, following the opening of the 77th UN General Assembly in 2022. This 2022 edition featuring Global 100 Under 40 and Global 100 Law & Justice was organized in partnership with CNN.
Geovanny Vicente-Romero, writer, CNN en Español columnist, strategist and professor at Columbia University was recognized as one of the 100 Most Influential People of African Descent (MIPAD) on the Sidelines of Un General Assembly, alongside global leaders such as New York City Mayor Eric Adams, Costa Rican former Vice President and current President of the UN's Permanent Forum of People of African Descent Epsy Campbell, Bidco Africa chairman and Kenyan tycoon (industrialist) Vimal Shah, among other young leaders of African descent from across the globe.
Geovanny said, "Beyond thrilled to be name one of the Most Influential People of African Descent, alongside leaders such as New York City Mayor Eric Adams, Kenyon businessman Vimal Shah and former Vice President of Costa Rica Epsy Cambell".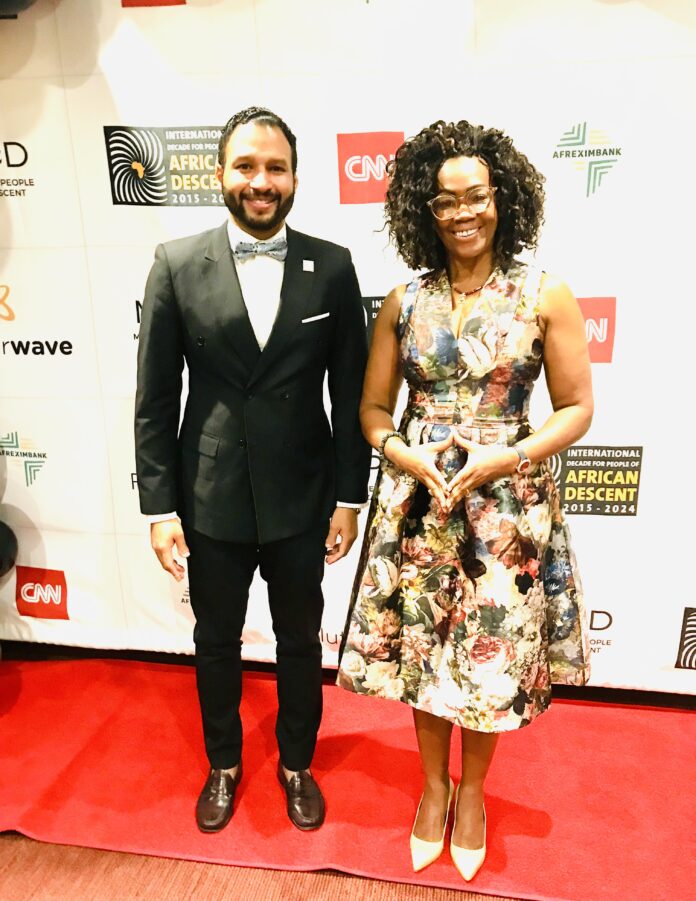 Based in Washington, D.C., Vicente-Romero writes an internationally acclaimed column for CNN and teaches Strategic Communications for Professionals at Columbia University's School of Professional Studies (SPS).
Currently, he serves as Chief Advisor in Strategic Communications for the Inter-American Institute on Justice and Sustainability (IIJS), an international advisory institution in Washington, D.C. Geovanny publishes investigative and analytical articles on political communication, democracy, development, human rights, governance, elections, the environment, and the role of women in society. He founded the Dominican Republic Center of Public Policy, Development, and Leadership (CPDL-RD). Geovanny earned a masters degree in political communications and strategic governance from The George Washington University among other degrees in law and public administration from Spain and Dominican Republic. Geovanny is the recipient of the Dominican National Youth Award for professional excellence, the nation's highest honor for people 35 and under. 
In November 2022, he was appointed to Columbia University's Diversity, Equity, Inclusion, and Accessibility (DEIA) Committee as a member representing the Columbia Faculty.
In 2022, Geovanny Vicente-Romero, was recognized as one of the He-For-She Champion for The Denim Club, a group of male figures that work to close the gender equality gap by promoting equity and more opportunities for the recognition and visibility of female leadership. At the same time, Vicente-Romero joined the G100 as Global Advisor on Mentoring & Motivation a committee.
Kamil Olufowobi, CEO,MIPAD said, "Congratulations are in order for all MIPAD Honorees for their outstanding contributions and service towards the advancement for people of African descent worldwide." Olufowobi also said that the global lists are in continuation of the group's effort towards highlighting and showcasing the positive contributions made by people of African descent worldwide. "This celebration is a milestone year in MIPAD's journey. MIPAD working in support of United Nations and in partnership with a leading global media company like WarnerMedia sets the stage for us to further amplify global black narratives to showcase the many untold stories of our struggles and triumphs in every corner of the world, sometimes in unexpected places and high positions," he added.
The United Nations Department of Global Communications also invited honorees to the film screening that will mark the culmination of the recognition week. An episode of the series, "Enslaved: The Lost History of the Transatlantic Slave Trade".