Thursday, 19 January 2022, Dakar, Republic of Senegal: At the Palace of the Republic, HE President Macky Sall received for a stately accreditation ceremony the Ambassador of Malaysia, HE Dato' Zainal Izran bin Zahari who conveyed President Sall the personal regards of both, His Majesty The XVI Yang di-Pertuan Agong of Malaysia as well as Prime Minister Anwar Ibrahim.
For Dato' Zainal his tenure in Senegal becomes a first ambassadorship since he entered the diplomatic service in 2002. From Senegal he shall likewise serve as non-resident head of mission for The Gambia, Mali, Cabo Verde as well as Burkina Faso.
Ambassador Zahari previously served in the capacity as Deputy Permanent Representative at the Mission of Malaysia to the United Nations, and other international organizations based in Vienna, Austria from 2019 through the end of 2022. Between 2016 and 2018 he went back to headquarters, and served in the South Central Asia Division in his country's foreign ministry (abbreviated as KLN for its initials in the Malay language).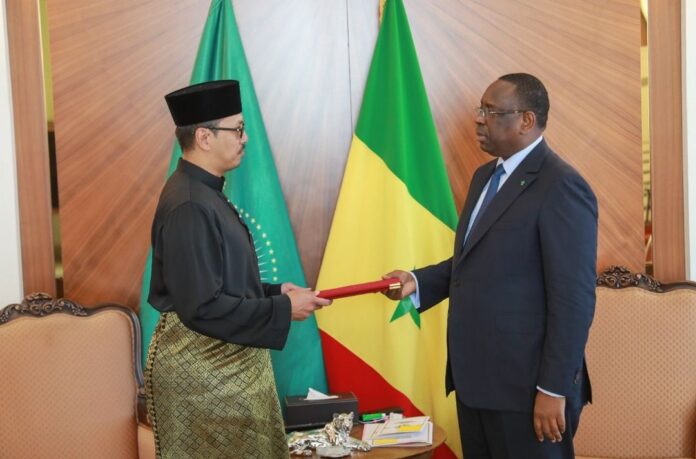 Between 2013 and 2016 he was posted in Brussels wherein he was Deputy Head of Mission at the Permanent Mission of Malaysia to the European Union, and Embassy of Malaysia to the Kingdom of Belgium, and non-resident embassy to the Grand Duchy of Luxembourg.
Throughout his career Dato' Zainal has also served as a diplomat in Sweden as well as Papua New Guinea.
Ambassador Zahari was knighted by the Regent and Crown Prince of Pahang Darul Makmur, HRH Tengku Hassanal, and is bears the honorific Dato'.
For further information