Over the past few years, the MENA Trade Dinners have been established as some of the most successful networking events of the year, with a main focus on the relations between the Netherlands and the MENA (Middle East and North Africa) countries.
On March 29, 2023, the Netherlands-Middle East and North Africa Business Council, in collaboration with Nyenrode Business University and their partners, MKB-Nederland and VNO-NCW, organized the thirteenth Middle East and North Africa (MENA) Iftar Trade Dinner. This year the dinner was organized during Ramadan, and the discussions were followed by an Iftar dinner, after sunset.
In addition to representatives from the business community, many Dutch ambassadors in the Arab countries and also ambassadors of Arab countries to the Netherlands have been present to this diplomatic event, as well as representatives from the Ministries of Foreign Affairs and Economic Affairs. Mrs. Erica Schouten, Deputy Political Director of the Netherlands Ministry of Foreign Affairs and Dr. Sjoukje Heimovaara, President of the Executive Board of Wageningen University & Research have delivered the Opening Speech and Keynote Address, respectively.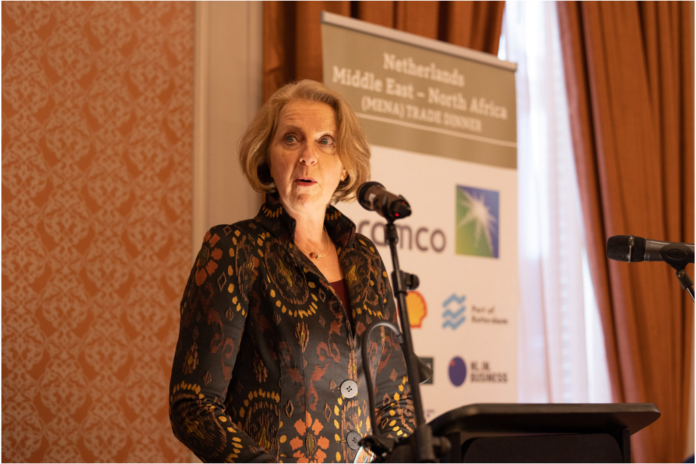 The main subject of discussion was the recent report of the Intergovernmental Panel on Climate Change (IPCC), which states that global emissions of greenhouse gases and consequential global warming have continued, despite latest efforts, with a 1.1 degree increase on average temperature. This global warming effect is particularly alarming for the MENA region, as the most arid and dry region on earth, with disastrous implications: increasing aridity in North Africa and deepening droughts in West Asia, unprecedented heat waves, a rise of the sea level and the livelihood of many vulnerable people being irreparably affected.
According to the speakers, since the 1970s, in Iraq half of the arable land has been already wasted as a result of the progressive salinization of the soil. Meanwhile, food security is endangered by the increasing demand, because of the sharp population growth. The Russian war in Ukraine has also exposed the vulnerabilities of the global food supply chain and threatened the food security of many countries dependent upon the import of cereals and fertilizers.
MENA is the region most impacted by the current food crisis. The Gulf Cooperation Countries, for example, import about 85% of their food, with rice and cereal imports at almost 95% of their needs. According to the IMF Managing Director, Kristalina Georgieva, 141 million people across the Arab world were exposed to food insecurity last October.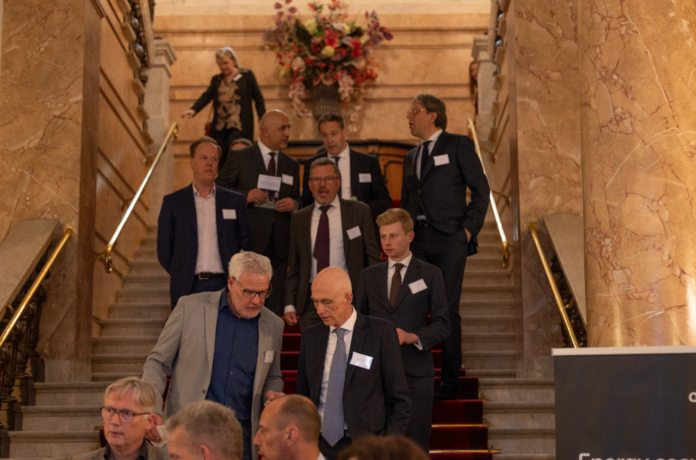 Food security needs attention everywhere, but especially in the MENA region. For MENA to achieve a more stable food supply situation, different policies need to come into place, food production and consumption systems within MENA need to adapt and also food waste must be stopped.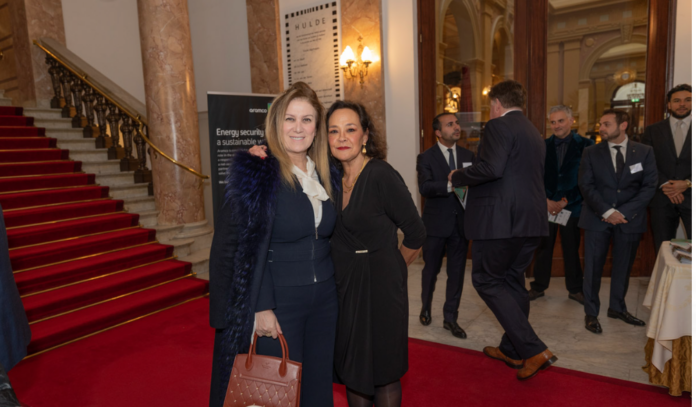 Globally, one third of all food is wasted; also 30% of all land, water and energy used in production are wasted. The amount of waste could be drastically reduced by using smart apps and food chain initiatives, better storage conditions and also changing the consumption patterns. One example could be diversifying consumption from wheat to other grains such as sorghum and millet, which are more resistant to heat and droughts.
But one of the most important needed transitions would be the one towards the consumption of more plant based proteins and less meat. Animal based products need up to 5 times more resources, land and water than for an equivalent in plant based proteins. Production of beef even requires up to 20 times more. That is why it is now considered that by adapting to a diet with fewer animals based proteins, the self-sufficiency in food production would be significantly increased.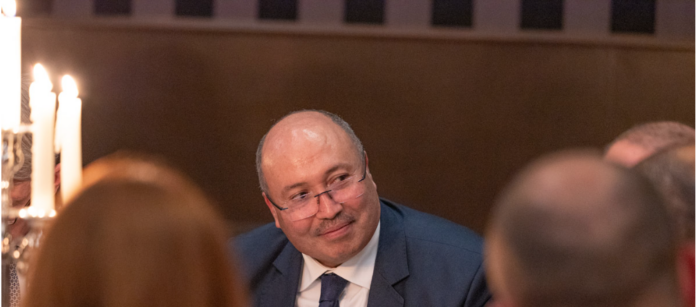 Food production worldwide is responsible for around 30 percent of all greenhouse gases. At the same time it is the system most vulnerable for the effect of climate change. Experts warn that we need to act decisively and fast to prevent entering into a disastrous downward spiral.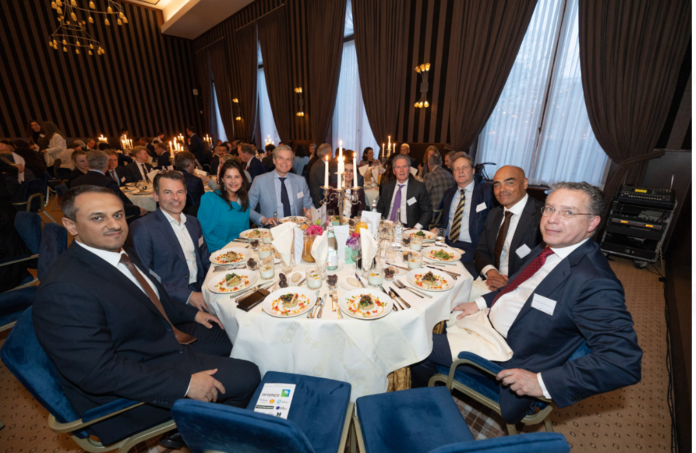 Agriculture in MENA countries should focus on increasing its domestic food production capacities while using its resources more efficiently. Meanwhile there is a need for further investment in agricultural research and modern technologies, water efficiency needs to increase, heat and salt tolerance also need attention. Early results from a project in the Estidamah Research Centre for protected horticulture in Riyadh, Saudi Arabia, developed with support from Wageningen University & Research experts, show that water savings of up to 90 percent can be achieved in local tomato farming. Instead of using 168 liters of water for the production of only one kilogram of tomatoes, only 5 liters of water were needed for an equivalent production, when using high-tech greenhouses (reusing the condensed waters to further irrigate the crop). Technology can consistently increase production.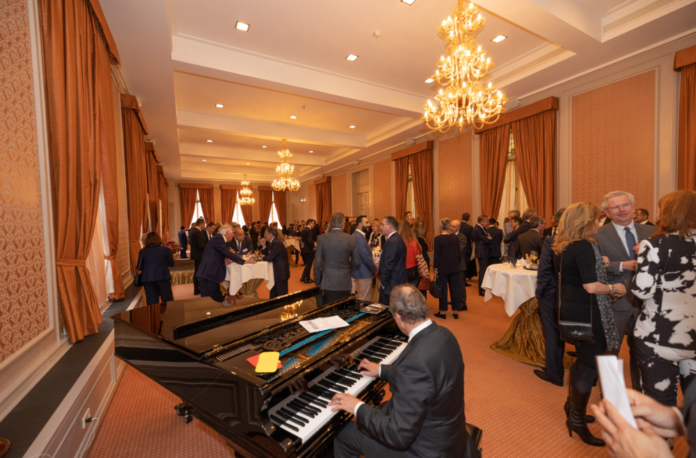 The Center for Horticultural Excellence in Agadir, in the Kingdom of Morocco, was recently opened, as a result of a very close cooperation between the governments of the Netherlands and Morocco, and the strong mobilization of various Dutch and Moroccan private players, allowing for a sustainable and integrated development of the horticultural sector in Morocco.
Gains can also be made by using more high quality seed material and varieties. That is why Seed NL is facilitating the seed sector transformation in Africa. In Egypt for example, high quality seeds for new varieties of strategic crops already contribute to a more resilient food production.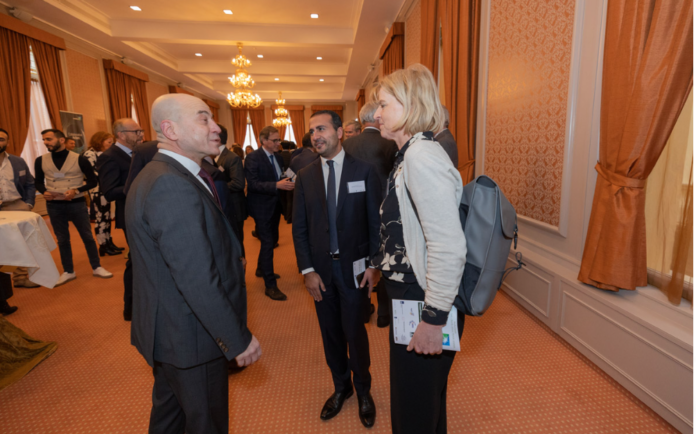 However, every choice we make has untold benefits but also tradeoffs. High-performance greenhouses provide great water efficiency but cost a lot of energy. All in all, to really transform the food system, a multidisciplinary approach is needed.
Wageningen researchers together with the ones from the University of Science & Technology and the National Agriculture Research Center in Jordan, with the International Center for Biosaline Agriculture in the UAE, and Greenport Holland, designed a new policy, in order to assist policy makers and other professionals to navigate the tradeoffs between water and energy efficiency, between food security, affordability and safety. With this dashboard, the effects and tradeoffs of certain policies and investment decisions can be weighed. The results of the project were presented during the Water-Energy-Food (WEF) Summit at the World Expo in Dubai.
The dashboard allows any user to gain insight into the effectiveness of interventions, and to assess what is their impact on the overall water, energy and food security for a defined region. This can contribute to the development of sustainable policies. Currently, further extension of this dashboard is explored, but reliable data on the local production, trade and consumption are needed. For that, it has to be a coordinated effort.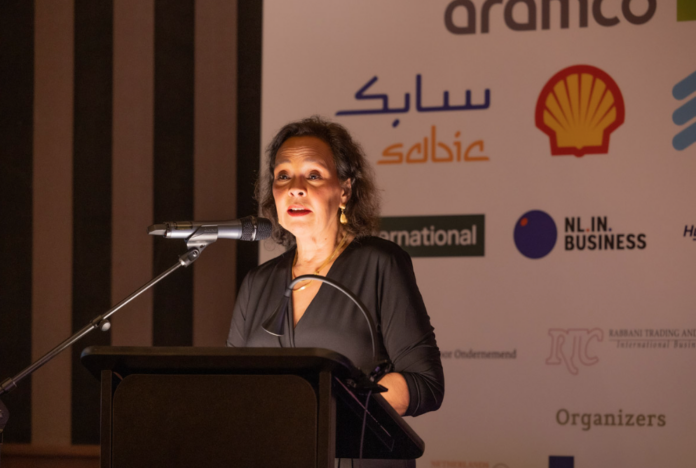 Young people (aged under 30) constitute more than half (55 percent) of the population across MENA. They have demonstrated resilience to shocks and have led positive change in their communities across the region. They are equipped to build a more skilled workforce in the agricultural sector using their creativity and entrepreneurial spirit and developing innovative solutions. But the youth needs further quality education. Young generations are the key to a sustainable, bright future, for MENA and for the world!
Photography Kim Vermaat