Vietnam Trade Office in the Netherlands organized a booth to promote Vietnamese agricultural products and foods at the Embassy Festival on September 2, 2023
The Embassy Festival is a prestigious cultural event organized annually by the event organization Prooost in collaboration with the city government of The Hague at Lange Voorhout Central Park, The Hague.
This year, the festival, by chance, is held on the occasion of 78th anniversary of the National Day of Vietnam, 2nd September.
At this festival, the Vietnam Trade Office in the Netherlands in colloboration with LTP Import Export BV, Vietnam Food Europe BV (Miss Linh) and Linsan Imex to promote Vietnamese agricultural and food products such as fresh, canned fruits, regional confectionery, snack products such as dried and soaked cashews, canned desserts, and dried foods for special Vietnamese dishes such as vermicelli, noodle, rice paper, seaweed and many kinds of spices.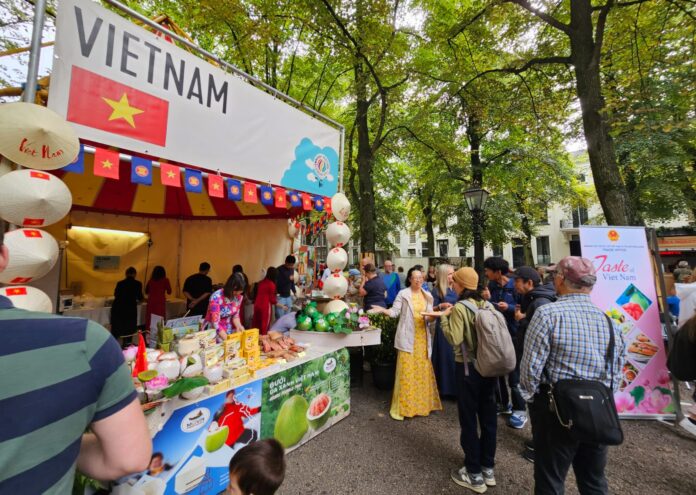 Vietnamese brand coffee beans, powders and instant were also introduced at the festival and enjoyed by many visitors. In particular, for the first time, fresh coconuts and green pomelos were promoted and introduced at the festival.
Many visitors were surprised at the fresh, delicious coconut with a sweet taste, very convenient to use, came from Vietnam.
Dutch visitors even did not know that Vietnam has a big grapefruit with green skin, juicy red-pink flesh, sweet and sour taste, completely unlike the yellow-skinned pomelos imported from China that they have ever eaten.
The Vietnamese Pavilion also attractted lots of visiotrs because of the "Vietnamese brand" dishes such as "nem ran", "bun cha", "banh my" … In addition, non-food products environmentally friendly, meeting EU green standards such as straws, cups, plates and coffee filters are also introduced by Vietnamese businesses at the festival.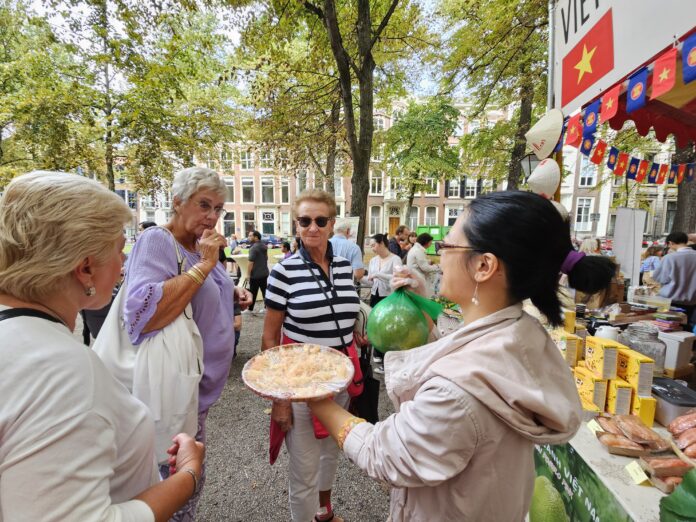 This year, Embassy Festival welcomed the largest number of visitors ever, thousands of visitors came to enjoy food, ethnic music, traditional costumes, dance, martial arts, fine and crafts which presented and introduced by the Embassy and businesses from more than 50 countries.