In an ongoing effort to strengthen the relationship between the German Federal States and Malta, Dr. Vanni Xuereb, Malta's Ambassador to Germany, continued his series of official visits by travelling to the Free and Hanseatic City of Hamburg and Schleswig-Holstein.
On August 29th, Ambassador Xuereb was warmly received at Hamburg's City Hall, where he engaged in a productive dialogue with Almut Möller, the State Councillor and Plenipotentiary of the Free and Hanseatic City of Hamburg for the Federal Government, the European Union, and Foreign Affairs. The conversation encompassed crucial topics, such as the post-pandemic landscape and Russia's war on Ukraine. Economic dynamics within both Malta and Germany were also thoroughly explored. Central to this exchange were shared concerns, particularly the unique challenges faced by smaller nations and the pivotal role of renewable energy in shaping a sustainable future.
The following day, on August 30th, in Kiel, Ambassador Xuereb visited the renowned German Naval Yards. During his visit, he met with Rino Brugge, the Chief Executive Officer, and other senior officials of the company. Ambassador Xuereb received a comprehensive briefing on the shipyard's endeavours and had the privilege of a personal guided tour of the facilities. This immersive experience provided valuable insights into the shipyard's operations, unveiling futuristic projects aimed at enhancing renewable energy capacity through wave power harnessing. Through the well-rounded presentation, the Ambassador gained a deeper understanding of the shipyard's commitment to innovation and sustainable energy solutions.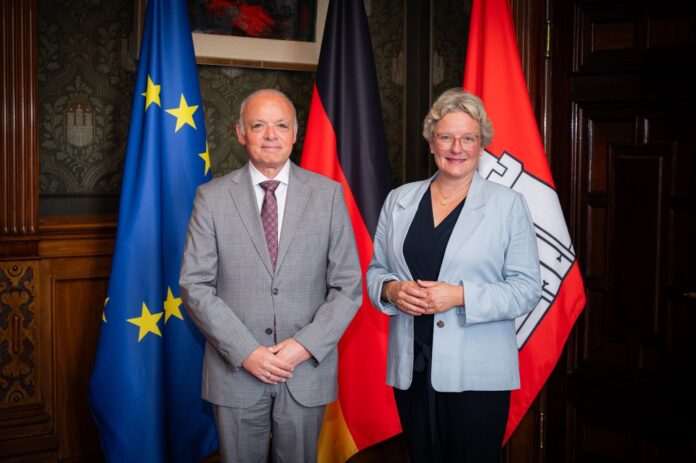 Later that day, Ambassador Xuereb was received by Daniel Günther, the Minister President of Schleswig-Holstein. The discussions were marked by a shared enthusiasm to cultivate a meaningful partnership across various sectors, with a specific focus on education and renewable energy. Ambassador Xuereb highlighted Malta's unwavering dedication to providing world-class education to students worldwide, emphasising the island nation's role as a sought-after hub for language learners. Beyond the classroom, Malta's rich cultural heritage and hospitable environment offer immersive experiences that enrich the educational journey.
As the meeting concluded, Ambassador Xuereb reiterated Malta's steadfast commitment to a more sustainable future, showcasing ongoing initiatives that exemplify the nation's dedication. Recognizing Schleswig-Holstein's commendable progress in the realm of renewable energy, the Ambassador emphasized the potential for a robust partnership that would mutually benefit both regions.
Ambassador Xuereb was accompanied by Mr. Johann Stefan Reith, Honorary Consul responsible for Hamburg, Schleswig-Holstein, and Mecklenburg-Western Pomerania, as well as Mr. Mark Abela, Deputy Head of Mission.
For further information
Embassy of Malta in Germany: https://missionsforeign.gov.mt/en/Embassies/ME_Berlin/Pages/Me_Berlin.aspx