The 74th Anniversary of the Founding of the People's Republic of China was marked by an exceptionally well-attended reception hosted by His Excellency Ambassador Mr. Tan Jian and Mrs. Jiang Xiaoyan at the Chinese Embassy in The Hague. The event held special significance as it was the first time in three years that Ambassador Tan had the opportunity to celebrate his nation's day with such grandeur, owing to the challenges posed by the COVID-19 pandemic.
The reception witnessed the presence of eminent personalities, including heads of international organizations, ambassadors at large, diplomats, Dutch officials, and hundreds of other distinguished guests to name a few Prof. dr. Jan Anthonie Bruijn, President of the Senate, Ms. Yvette Van Eechoud, Deputy Director General of Foreign Economic Relations of MFA, Mr. Wouter Jurgens, Director for Asia and Oceania, MFA and Ambassador Fernando Arias, Director-General of the OPCW
This momentous occasion served as a reminder of the incredible journey that China has undertaken since its founding in 1949. The transformation that China has undergone in these 74 years is nothing short of miraculous, with significant changes reflecting its dedication to development and progress.
In 1949, China's per capita GDP was less than USD 100. Today, it has soared to over USD 12,000, an exponential growth rate that has substantially improved the quality of life for its citizens. This remarkable achievement is even more impressive when you consider that China's population has tripled during this period.
One of the most commendable accomplishments of China in recent decades is its resounding success in poverty alleviation. Over the past four decades, China has lifted more than 850 million people out of poverty, setting an unparalleled example of humanitarian achievement. This historic milestone showcases China's commitment to improving the well-being of its citizens.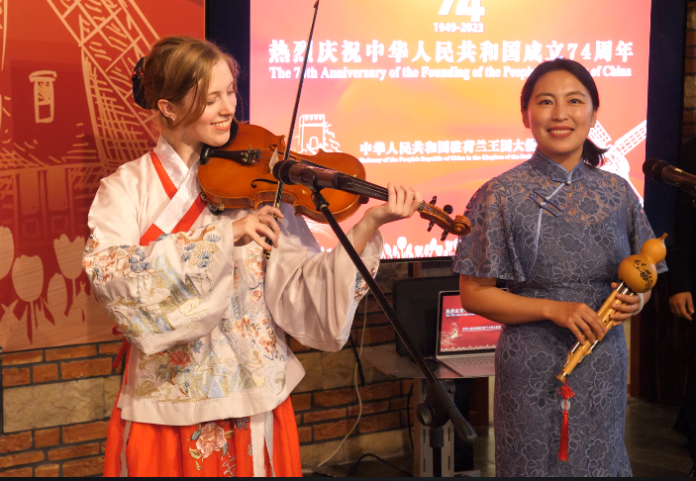 China has also emerged as a global economic powerhouse. It currently stands as the world's second-largest economy and is the primary trading partner for over 140 countries and regions. This economic prowess has been a significant driver of global growth and stability, especially during challenging times.
Despite recent negative reporting and pessimistic projections about China's economy, Ambassador Tan Jian offered a different perspective. He highlighted that in the first half of the year, China's economy recorded an impressive growth rate of 5.5%. Moreover, according to the IMF's World Economic Outlook, updated last month, China is expected to maintain a growth rate of 5.2% for the year, contributing significantly to global economic growth.
Ambassador Tan emphasized that "China continues to be the main engine for global economic recovery and growth. The nation's commitment to sustainability and innovation is evident through its production of batteries and electric vehicles, contributing to a greener and more prosperous future."
Furthermore, the resilience, potential, and vitality of the Chinese economy remain unwavering. Its fundamentals remain robust, and it continues on an upward trajectory. "China's determination to build socialism with Chinese characteristics, while fostering mutual learning between civilizations, showcases its openness to global cooperation and shared development.
China remains firmly committed to its state policy of reform and opening up to the outside world. This commitment will only deepen and expand, with a renewed focus on promoting private businesses and attracting foreign investments. The nation's goal is to achieve high-quality growth through structural reform, emphasizing consumption, innovation, and green development."
With a population of 1.4 billion and a rapidly expanding middle-income group of 400 million, China presents itself as not only a massive market but also a source of tremendous opportunities for the global community. The nation's dedication to development, poverty eradication, and sustainable growth makes it a vital player in shaping the future of our interconnected world.
During the well-attended celebration of China's 74th anniversary, several Dutch and Chinese artists performed.
Bass solo The Amorous Land by Mr. Zhou Hanqing.
Song For a Beauty by Ms. Jin Xin and Ms. Fischer Mirthe.
Horse Racing by Ms. Sun Zheng.
The Canals of Amsterdam, or in Dutch, Aan de Amsterdamse grachten by Ms. Yang Siqi.
As China commemorates its 74th anniversary, it stands as a testament to the remarkable progress it has achieved and the unwavering commitment to a prosperous and harmonious future. Its journey of transformation is an inspiration to nations worldwide, reminding us all that progress, resilience, and cooperation can overcome challenges and lead to a brighter tomorrow.