Hashim Thaci, President of the Republic of Kosovo. Photography by Frank Jansen.
By H.E. Mr. Hashim Thaçi, President of the Republic of Kosovo.
The Hague is a special place in the modern history of Kosovo. It is a place where dictator Milosevic died in jail, where he was sent after the Kosovo war. I firmly believe peace and justice are two fundamental issues for every society, in particular for those in transition. The Hague is also a place where Kosovo independence was confirmed as legal at International Court of Justice. After this Advisory Opinion in 2010, the political dialogue between Kosovo and Serbia finally commenced.
The dialogue led to a historic agreement in Brussels, exactly five years ago, following more than a hundred years of conflict. This was the first agreement and hopefully not the last, as a final agreement between Kosovo and Serbia confirming normalization and to start the reconciliation process between the two states and two peoples is long awaited.
The Hague is of course also the place where a part of the Kosovo justice system is now based. Kosovo has always proven itself ready to cooperate with International justice. We are proud of our struggle for freedom and have nothing to hide or to be afraid of when coming face to face with the truth. No one from Kosovo ever tried to escape or hide from the justice – unlike other countries in the region.
We are celebrating 10 years of independence this year. Only ten years ago, we were declared the youngest republic in Europe, and we can look back with pride on the achievements we have made. Given our starting position, it has been an immense challenge, and we have naturally had our ups and downs.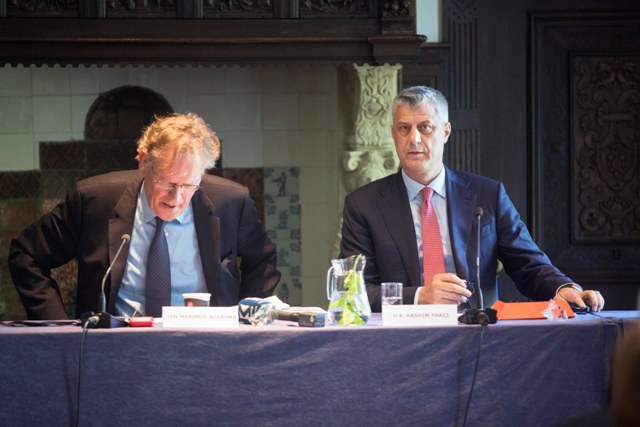 Kosovo is however a success story. Have no doubt about it. If one compares it to other to other post-war and post conflict situations; namely Rwanda, Bosnia, Iraq, Afghanistan, Syria, and Libya, these countries have sadly suffered infinitely more tragic out comes in terms of human lives and material losses.
The World Bank recently issued an encouraging report on economic growth, and mentioned Kosovo as one of the front runners in the Balkans. Projected growth for 2018 is almost 5 percent, the same goes for 2019. Last year, we signed new investment deals worth over 1 billion Euros which we hope will assist us in reaching our goals, especially in the energy sector.
Like all countries in the region, we certainly have our share of problems, that of corruption in particular. However, according to Transparency International, Kosovo has made significant improvements in this area during 2016 and 2017. According to Freedom House, Kosovo is the only country in the region that saw democratic standards improve consecutively during the last 5 years. We have also had incidents with radical extremism, but have dealt with these effectively thanks to a strong performance by the Kosovo police force and Kosovo intelligence.
Unfortunately, Kosovo still has issues of perception in some circles; both the far right and the far left appear to have a dislike for our country. The far left because they consider us to be a product of EU and American imperialism, and the far right because they think we are a product of Muslim expansion.
Simultaneously, these groups seem to ignore the fact that Albanians have always presented a very European, tolerant, and secular society. Kosovo is the only European location where Jews before and during the Second World War were able to find refuge.
Therefore, I argue that both the far left and right interpretations are not correct.
As previously mentioned, Kosovo is a success, but still faces many challenges, much like all Western Balkan countries. I would like to point out three most important ones:
First, completing the dialogue with Serbia, wherein I am open to find solutions. Reaching a solution is feasible, but time is scarce. Both Kosovo and Serbia wish to be part of EU and we are both aware we need to recognize each other for this to happen. The EU will not accept our two countries if these issues remain present. A legally binding agreement is required. I know that it will be extremely difficult for both sides, and above all for Kosovo. I am however convinced that the dialogue and the agreement is the only way forward. For two years I have been committed to contribute to the truth and to reconciliation, and have in correlation with this created a commission of truth and reconciliation.
The second challenge for Kosovo is financial. We have growth but we need to create more jobs.
We need to focus on new economy and new opportunities. It is not easy and we still need to do more structural reforms. A key factor here is investments in education in order to secure a blooming economy and a good foundation for the generations to come.
The third and final challenge relates to Kosovo's integration into NATO and the EU. This is why we work on the fulfillment of the democratic criteria in politics, economy and legislation today. A tight-knit relationship with the EU and NATO both is and will remain important for our country, as well as our surrounding ones in the time to come. Kosovo and its neighbours are ultimately European nations and remain an issue to be put on the agenda not only for ourselves, but for the entirety of Europe, and its membership is not an issue of technical nature, but a strategic one.
In conclusion, Kosovo looks fondly at the future in International affairs. Not only have we come far in recent years, breaking barriers and fighting misconceptions as well as making important progress in several sectors, but also aspire to further mend the bond between ourselves and other nations in the years to come, inviting to communicate and in hopes of reaching goals that have been long-awaited. Ultimately, reconciliation should not and cannot come for Kosovo and by Kosovo alone, this outcome requires cooperation by the entire region as a whole.
————-
Photography by Frank Jansen.