By Roy Lie Atjam
Wine and spirit connoisseurs assembled at the Leonardo Royal Hotel (The Hague) on Monday, November 1 2021 for the second edition of the exclusive Diplomat Wine and Spirit Extravaganza. Embassies celebrated their wine and spirits industry at the soiree and used the occasion to promote their products to the Dutch market. It ended up being an excellent tasting and sales experience.
Over the years Diplomat magazine has promoted various wine producing countries: Portugal, Spain, Tunisia, Lebanon, Hungary, South Africa, Czech Republic, Armenia, Bosnia & Herzegovina, Greece, India, Kosovo, Luxembourg, Mexico, Moldova, North Macedonia, and others.
The countries that were featured at the show this year were: Chile, China, Georgia, Guatemala, Peru, Russia and Tunisia.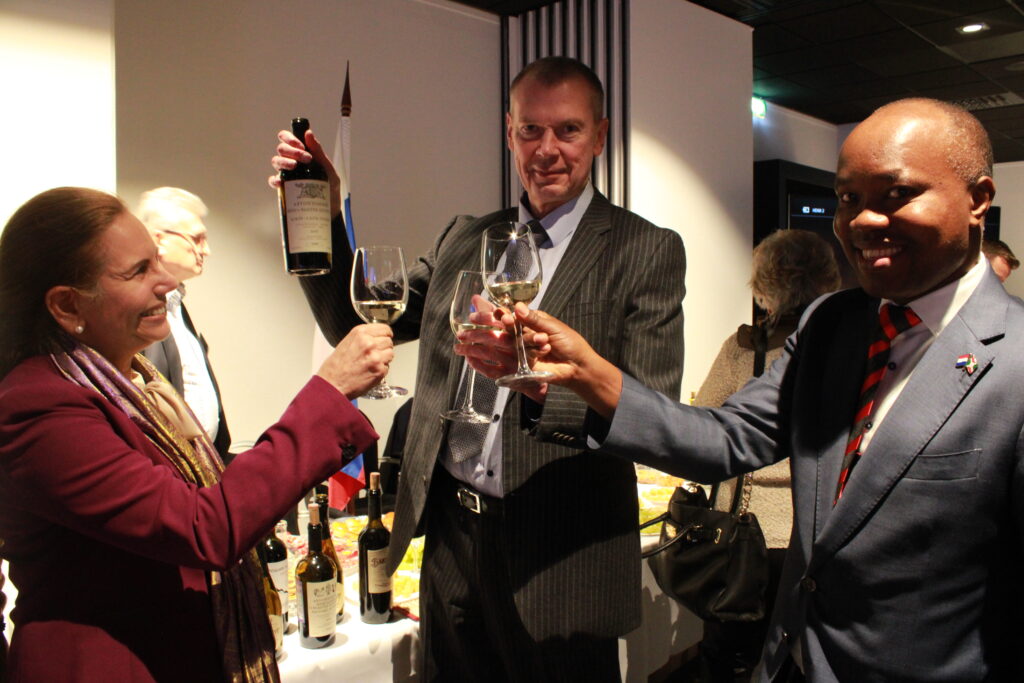 Ambassadors and representatives of participating countries addressed the guests, among them the Russian Ambassador H.E. Mr. Alexander Shulgin.
"Tonight, the Russian side has the honor to present two exceptional Russian wineries: Valery Zaharin and Lefkadia Valley.
Wine is not a simple product to make – it requires a continuity of generations. The winemakers of Valery Zaharin company stand on the shoulders of their ancestors. The history of winemaking in Crimea is centuries old, it dates to the Russian Empress Catherine the Great who authorized the development of national wineries there.
Our second group of wines comes from Lefkadia region in the South of Russia. More than 15 years ago local wine lovers got the idea that was simple and crazy at the same time: to create an outstanding Russian wine of world quality. And they achieved the goal – in 2019 Lefkadia Valley became our first wine to score 91 points on Robert Parker's scale of the Wine Advocate magazine.
And finally, to make this evening even more memorable, we bring you as well Russian number one premium vodka brand – Beluga. I dare you to try it. You can hardly ever find a better vodka than Beluga.
I really hope that you will enjoy this evening, that the conversations will flow and as a result we could all let down our guard a bit and become a little closer. In the end that is what today's world really needs."
H.E. Mr. Jorge Skinner-Klée Arenales, the Ambassador of Guatemala, declared the following: "Guatemala is world famous for its quality products like coffee, cardamom, cocoa and, of course, rum.
Guatemala's diversity enables it to make a rum that is unique and certainly among the best in the world. In fact, Guatemala's rich volcanic soil, along with the varied landscape and numerous multi-climates, create perfect conditions for producing virgin cane which is used to distil and then age rum. Thereafter, the temperatures of the highlands at 2,300 meters above sea level, permit to age rum giving it its remarkable signature.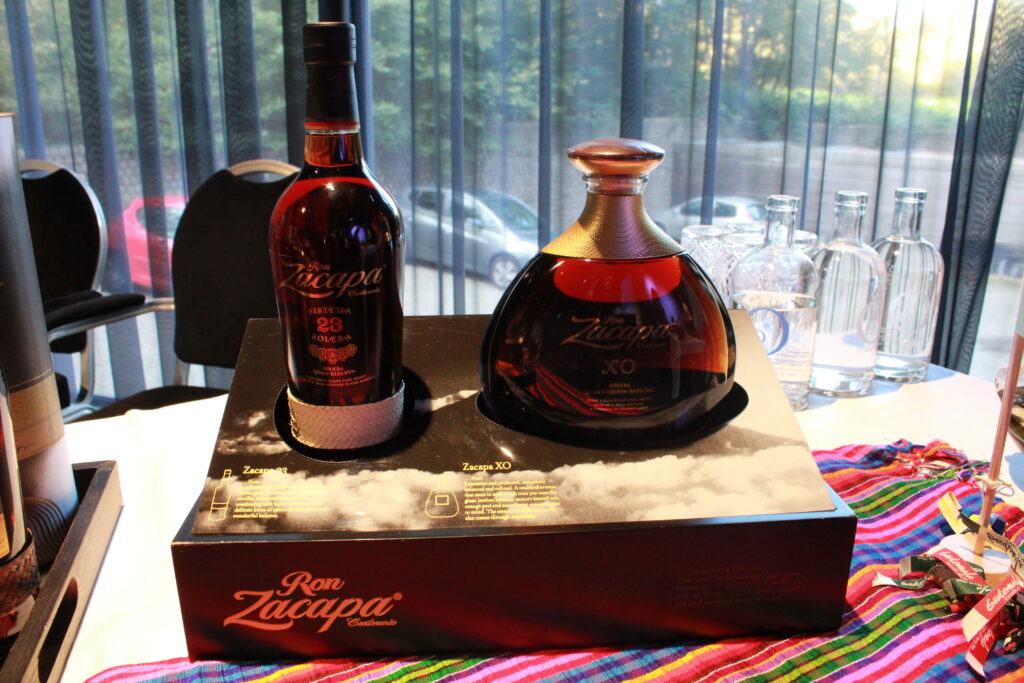 This is what makes Guatemala's rum among the most elegant, complex and expressive in the world. Once again, thank you very much for joining us today. We kindly invite you to come to our stand and try the taste of Guatemala, the land of eternal spring, and it's unique rums."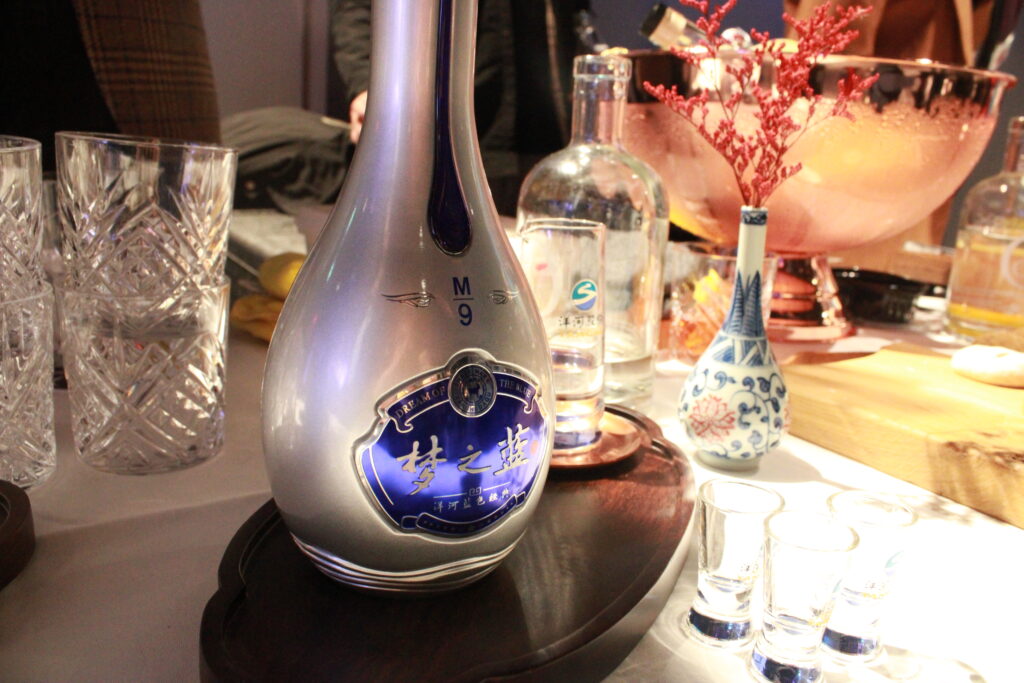 Ambassador of China, H.E. Mr. Jian Tan expressed: "I think if we drink enough Baijiu, we can solve anything" said former US Secretary of State Henry Kissinger when he visited China in 1974. Even being the most-drunk spirit in the world, Baijiu is little-known beyond China. A sip of this intriguing Oriental spirit gives you an unforgettable taste in the mouth and a peak into Chinese culture."
At the Embassy of China' stand guests had the opportunity to taste the famous Baijiu, in fact the best seller liquor in hearth and a mayor representative of Chinese culture. Artall Culture Trading importer of Chinese spirits, notably Baijiu from Yangue Destillery, served cocktails and also the liquor on its own. Artall have been selling Yanghe brand of baijiu in the Netherlands since 2018 and exporting it from the Netherlands to other European countries.
The Ambassador of Tunisia, H.E. Mr. Slim Ghariani, when on to say: Tunisia might mainly be renowned to some of you for its weather, beaches and three-thousand yearlong civilization. But Tunisia has also a history with wine dating back over 2,000 years. In fact, the first vines planted in Tunisia dates back to the Punic era, when the city of Carthage was established. Wine production continued after the Romans occupied Carthage in 146 BC.
Indeed, it is no coincidence that one of the most highly rated wines in Tunisia (Magon) is named after Mago, the Carthaginian agronomist who wrote the first guide on how to make wine. This red wine is cultivated in Mornag, in the northeastern part of the country. This region honors the Carthaginian Magon, the worshipped Master of agronomy, who cultivated his grapes near the village of Majus in the south of Carthage and certain rules of whom are nowadays still used.
Wine production slowed down somewhat when Islam arrived but saw a revival at the end of the 19 th century, when large numbers of Italians came to Tunisia, followed by the French. Most Tunisian grapes are the same as the ones you would find in the south of France, like Cabernet-Sauvignon, Carignon, Syrah and Mourvèdre for wine, and Chardonnay, Muscat, Ugni and Sauvignon for whites.
Today, Tunisia produces some fantastic wines and boasts seven AOC's "Controlled Designation of Origin", including the Magon (AOC Mornag, Syrah and Merlot).
Tunisian wines just keep getting better and are winning gold medals at international competitions.
Donated with unique geology and climate, Tunisia can satisfy all demands in terms of wine production. Tunisia produces white, red and rosé wines that represent true quality, by international standards.
Finally, I would like to invite you to taste our excellent wines. I hope that Dutch wine exporters and restaurants that distribute a wide variety of wines will consider adding Tunisian products to their supply.
The Ambassador of Chile, H.E. Mr. Hernán Salinas Burgos, "Chile is a paradise for wine production thanks to its high temperatures in summer and cold winters. In addition, the Andes Cordillera provides irrigation through snowmelt and a natural barrier against pests and diseases.
The climatic effects help the vines to have a slow maturation process while preserving the acidity in the fruits and producing wines with very good natural acidity, excellent coloring, and balance.
There are 800 active wineries in Chile, more than 11 thousand producers, and 394 wine exporting companies, of which 76% are small and medium enterprises.
Chile has one of the world's broadest programs for accrediting sustainability and 79 wineries have earned Wines of Chile Sustainability Code certification. Between them, these wineries account for 80% of the bottled wine exported from Chile. These bottles are easy to identify on any shelf around the world due to the distinct "Certified Sustainable Wine of Chile" seal they display. This sustainability code has been earned by all types and sizes of Chilean wineries from small-scale producers to large national cooperatives.
Wine accounts for a significant contribution to the Chilean economy, representing 0.5% of the GDP and employing over 100,000 people in direct work, of which only 53% work in the vineyards. The wine industry is one of the most relevant industries for our country.
Finally, Chile is the leading exporter in the Americas and the fourth largest in the world after France, Spain and Italy."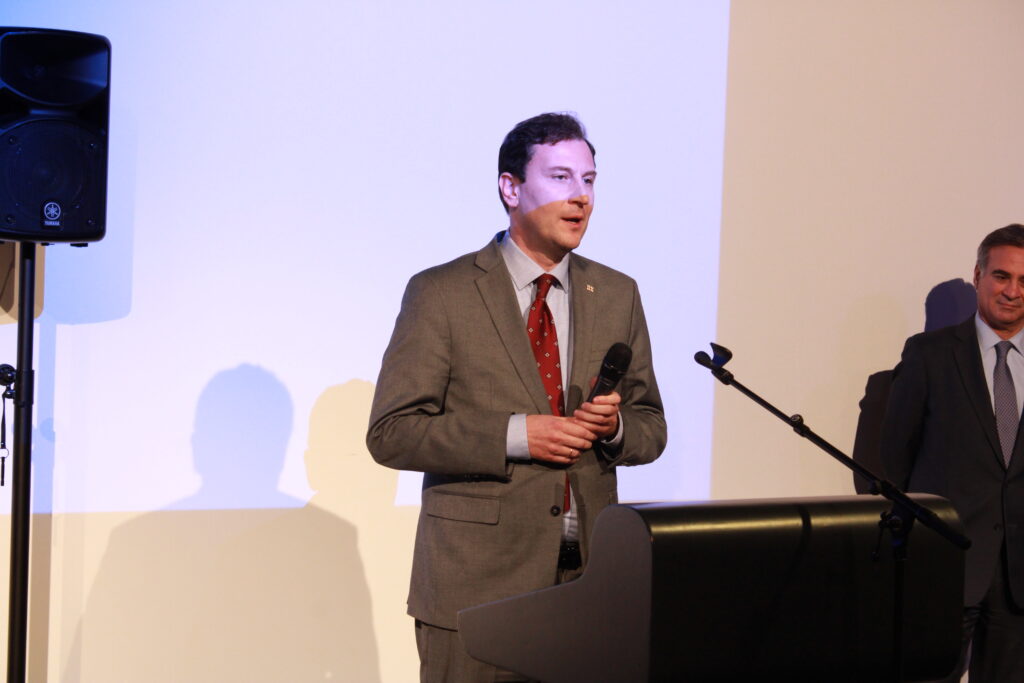 Another speaker was the Georgian Ambassador Mr David Solomonia, talked about centuries-old winemaking culture and unique methods. "Archaeological evidence suggests that wine has been made in Georgia as far as 8000 years ago. To put this into context, Georgian viticulture is older than the great pyramids of Giza.
Numerous displays related to centuries-old winemaking practices have been kept well and alive. Georgia's climate and territorial conditions are perfect for growing grapes. There are more than 500 endemic grape species, from which the best-quality wines are produced.
Central to Georgian wine making is Qvevri – large earthenware, egg-shaped clay vessel in which grapes are fermented with their raw materials, thus producing rich, structured, tannic wines. Qvevri is buried underground to maintain a steady temperature and to let the wine age. It is carefully crafted from locally sourced clays and this technology is a product of accumulated ancestral knowledge and experience. There are many samples of Qvevri which age more than a century and are still in use.
Qvevri is kind of a living symbol of the Georgian viticulture and also a reminder, that wine making in Georgia is an indigenous tradition. In 2013, Georgia's winemaking method of fermenting grapes in Qvevri has been inscribed on the UNESCO List of the Intangible Cultural Heritage of Humanity."
Mr. Cesar Larrain, Minister Counsellor of the Embassy of Peru, expressed: "Peru is represented by the company FIA International of Mrs. Myriam Jara, a pioneer company in the export of Pisco, our flagship distillate, in the Netherlands and with a decade of experience in the Dutch market. Along these lines, we will present a wide variety of Pisco types and brands from the most prestigious vineyards of Ica, department of the south-central region of Peru, as well as from the Arequipa region.
Likewise, we shall present a selection of Intipalka wines, from the renowned Queirolo vineyards, also located in the aforementioned department of Ica, Peru."
Many of the invitees were able to appreciate the gustation of wines and spirits from countries both ancient and modern. The occasion also created fine opportunities to network and create new potential partnerships.
Admission to the Diplomat Wine and Spirits Extravaganza was by invitation. Entertainment was provided by the Daniel Nicholas Jazz Band which contributed to create a convivial atmosphere.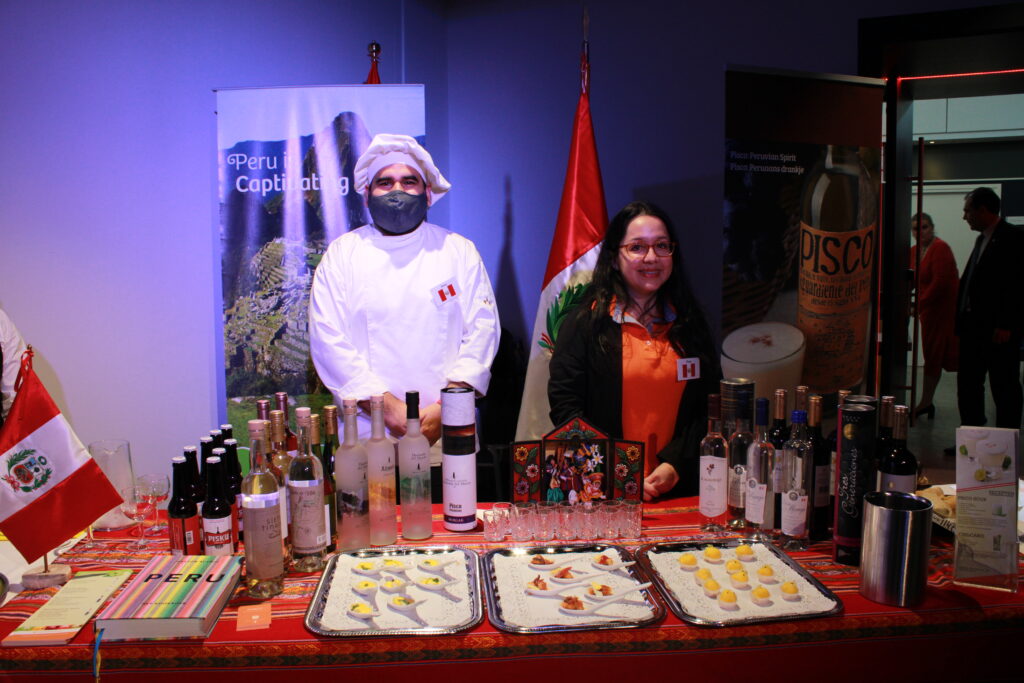 The impromptu participation of H.E. Mr. Juan Bautista Duran, Ambassador of the Dominican Republic, with his rendition of My Way augmented the ambiance even further.
Approximately 250+ persons attended the event. Among the invitees were importers, sommeliers, wine bars and shops, restaurants, members of the press, Ambassadors and representatives of participating and none participating countries such as Costa Rica, Belarus, Burundi, Ghana, Philippines, Tanzania South-Africa and USA.
Diplomats Wine and Spirit Extravaganza Edition 2021 has for the second time been a resounding success. The wide selection that was available, the elegant décor, the program and staff, whose professionalism and attention to detail were beyond compare making the evening an outstanding one.