By Jorge Marinho, Júlio Ventura, Guilherme Guimarães

Cultural Diplomacy
Cultural diplomacy is currently a dynamic sphere of academic research (What is Cultural Diplomacy? What is Soft Power?). Even though the term cultural diplomacy is relatively recent, this reality has been in place for several centuries (What is Cultural Diplomacy? What is Soft Power?). Throughout history, interaction among peoples has amounted to an exchange of languages, religions and arts, for instance, thus enabling improved relations among differing groups (What is Cultural Diplomacy? What is Soft Power?).
Maria Regina de Mongiardim (February 2021, pp. 39-40) states that cultural diplomacy currently comprises a priority strategic importance, with political, economic and even security implications. This author points out the relevance of cultural diplomacy, as concerns countries' international prestige and projection (Mongiardim February 2021, p. 38). Using a multiplicity of means, said diplomacy includes formal and informal aspects related to initiatives undertaken by national governments and by several parties involved (Moita, et alii May 2019, p. 58 / Mongiardim February 2021, pp. 38-39).
The European Union, which includes Portugal as a member-state, has created a Cultural Diplomacy Platform (Relações Culturais Internacionais). In 2020, after four years, this served as the basis for creating a global cultural relations platform, comprising participants such as the Goethe Institute, the University of Siena, the European Foundation for Culture and the international contemporary performing arts network (Relações Culturais Internacionais).
For Portugal, language diplomacy (that is, lusophony) is a complement to cultural diplomacy, within a context that goes beyond the Community of Portuguese-Speaking Countries and the Portuguese Diaspora worldwide (Mongiardim February 2021, p.41). Under this diplomatic domain, Portugal relies on the Camões Institute, which is linked to the Foreign and Culture Ministries (Mongiardim February 2021, p. 41). This institute also engages in artistic activities (Mongiardim February 2021, p. 41). The Portuguese Budget for 2021 contains various sections pertaining to streamlining cultural diplomacy and internationalizing Portuguese Culture (OE 2021, pp. 13 / 24). This document highlights visual and performing arts in order to ensure Portugal's international projection (OE 2021, p. 14). In 2022, then-Portuguese Foreign Minister Augusto Santos Silva stressed Portugal's ability to disseminate its heritage, arts and artists in 70 to 80 countries on every continent, while then-Culture Minister Graça Fonseca felt that Cultural Diplomacy is of strategic importance projecting the nation (Portugal Projecta a Sua Cultura em Mais de 70 Países February 8, 2022) .

Art Diplomacy
While Art Diplomacy is certainly one of the oldest forms of diplomacy and international relations, only recently has it been studied at academic level (Cohen July 12, 2019). Experts acknowledge that Art makes cultural diplomacy easier and more effective, creating empathy and overcoming obstacles such as language (Nazarian September 5, 2019). We should point out Art's ability to humanize (McCulloch-Lovell September 4, 2005). The Academy for Cultural Diplomacy considers that Art can serve as an instrument for influencing the atmosphere of intercultural relations (Art as Cultural Diplomacy. About the Program). Art diplomacy contributes to mutual understanding and toward respect for foreign beliefs and cultural values (Grincheva 2010). On the international stage, Art can be linked to soft power, while being used for determining attitudes toward other countries (Nazarian September 5, 2019). Shoqiran (September 14, 2016) states that Art can lie at the basis for joint political projects. This author considers that Diplomacy, together with culture and Art, permeates society (Shoqiran September 14, 2016).
Art can serve to both disseminate cultural heritage and identity while constituting a neutral meeting point for artists, audiences and people involved in cultural management (Art as Cultural Diplomacy. About the Program). Natalia Grincheva (2010) feels that Art, to the extent it has always represented national culture and tradition, is notably featured in cultural diplomacy practices. According to Marta Ryniejska-Kiełdanowicz (2009), Art and culture correspond to the forefront of many countries' promotional initiatives. This way, such countries construct a positive image aimed at achieving political goals (Ryniejska-Kiełdanowicz 2009).
Artists engage their audiences emotionally (Canales), which is of interest to foreign governments seeking to influence hearts and minds through music, cinema and the media in general (Doeser, Nisbett 2017, p. 9). It should be stressed that the success of cultural diplomacy initiatives somehow involves artists who are familiar with certain aspects that go beyond their customary performances (Renewing Canada's Cultural Diplomacy). For example, on an institutional site of Brazil's Federal Government, Cultural Diplomacy is linked to Visual Arts, Music and Literature (Cultural Diplomacy Themes).
The U.S. Administration's Bureau of Educational and Cultural Affairs seeks to create lasting relations between that nation and other countries: this allows Americans to gain access to international artists, while sharing the culture of U.S. visual and performing arts with international audiences (Cultural Diplomacy).
Consulate-General of Portugal in Newark, U.S.
Throughout its history since its founding in 1143, Portugal has forged relations with peoples on every continent (História). According to Portuguese Ambassador Júlio Vilela (February 2021, p. 85), in the case of Portugal, we cannot separate consular activity from immigrants, given that, historically, this is a country of outward migration. According to data provided by local authorities and, in the absence of such data, based on consular registrations, on December 31st, 2018, the Portuguese community living abroad was estimated at around 5.4 million Portuguese nationals and descendents, distributed as follows:
56.7% in the Americas
30.1% in Europe
7.5% in Africa
4.9% in Asia
under 1% in Oceania (Vilela February 2021, p. 93).
Over time, consular activity has evolved to support integrating Portuguese nationals living in host countries; as such, this fosters their civic and political prominence (Vilela February 2021, p. 82).
It is wise to envision the long-term goals of Foreign Policy (Lopes 2017, p. 33). An analysis of the programs of Portugal's 16 governments, from 1974 to 2019, reveals a few topics that have constituted foreign policy priorities, such as the following:
– fostering Portuguese language and culture
– transatlantic relations
– Portuguese communities scattered all over the world and modernizing consular services (Vilela February 2021, p. 89).
Consular activity is a gateway to presenting Portugal as a modern, innovative country, attracting tourists and enhancing ties linking Portuguese immigrants and their descendents to the nation (Vilela February 2021, p. 96). Technological development should benefit services provided by consulates, in an automated and simplified manner, without compromising the country's security (Vilela February 2021, p. 99).
Given the considerable size of the Portuguese community in the Americas, there is an extensive consular network (Americas). At the Portuguese Government's Diplomatic Portal, the American community of Portuguese descent (some 1.3 million people) is presented as being well integrated in the U.S. (Americas). The New York Times has published several pieces where Newark is characterized by a notable Portuguese presence, in demographic and cultural terms (Levy October 6, 1995 / Shepard October 18, 1979). This is indicative of Newark's importance, as part of the History of Portuguese immigration to the U.S., mainly in the 20th century, which is still being felt in the 21st century. In September 2021, Portuguese President Marcelo Rebelo de Sousa was in Newark, having symbolically visited the Sport Club Português (Mano September 21, 2021).

The importance of Cultural Diplomacy in relations between Portugal and the U.S. is certainly recognized by diplomats of both countries. For instance, the U.S. Ambassador to Lisbon is depicted as a cultural diplomat (Levine, Randi Charno – Portuguese Republic – November 2021), while Portugal's Consulate-General in Newark shows interest in organizing cultural events (Monteiro). This consular post wants to be more than a document-generating instrument. For such purpose, it needs to be close to the Portuguese community and its recreational clubs, while joining in artistic events, for example, as revealed by Consul-General Pedro Monteiro in an exclusive interview. This diplomat feels that the opening, at Newark's Consulate-General, of José Rodrigues Miguéis Hall, named after a writer from the Portuguese Diaspora who lived in the New York area, serves to create an official, neutral venue for hosting a variety of events within the Portuguese community.
According to Pedro Monteiro, while cultural events organized by Portugal's Consulate-General in Newark are chiefly geared to the Portuguese community, they can also reach out to Americans. To Pedro Monteiro, artistic initiatives undertaken by the Consulate-General contribute toward maintaining emotional ties between its audiences and Portugal. This diplomat acknowledges that, in the U.S., people of Portuguese descent feel a very strong sentimental affinity to Portugal, despite the geographic distance and generational aspects (second and third generation). These highly positive sentiments regarding Portugal surprise Pedro Monteiro, when thinking of immigrants who left their country of origin due to lack of conditions that would have otherwise enabled them to stay. According to Pedro Monteiro, this is why the emphasis given by Portuguese nationals living in the U.S. to positive things describing Portugal (while putting negative aspects on the back burner) is a more emotional attitude than a rational one. This Consul-General's work experience leads him to conclude that esthetics and emotions are important in the diplomatic context, particularly notable when involving Art.

Pedro Monteiro appreciates the works that endure over time, which leave their mark, as can be seen on a Newark street, with an azulejo glazed tile panel depicting Amália, a renowned singer of fado (typically Portuguese music). This diplomat highlights a fado festival that took place in the last few years, prior to the COVID-19 pandemic, in collaboration with Portugal's Consulate-General in Newark. As Pedro Monteiro states, this consulate has also collaborated with the New Jersey Performing Arts Center (NJPAC) in promoting events that include fado, making Mariza known to the American public.
In assessing his work as Consul-General in Newark from September 2018 to March 2022, with regard to organizing artistic activities, Pedro Monteiro underscores the negative impact of the COVID-19 pandemic, to the extent that, for instance, events could not be attended in person. This diplomat feels that the Portuguese community, chiefly older folks, hardly buy into virtual initiatives, that is, online. Pedro Monteiro acknowledges that there needs to be improvement in linking the Consulate-General in Newark to a certain audience comprising young people of Portuguese descent, by disseminating messages via communication channels which are actually used more often by the target audience. This diplomat already has cultural / artistic programming ideas to be put in place by the Consulate-General, in the latter half of 2022, including, for instance, documentaries made by Portuguese nationals.
The Camões Institute, in the Newark area, as stated by its local representative in an exclusive interview, aims to make cultural resources and activities available to Portuguese and American communities. This representative, José Carlos Adão, makes particular reference to cooperation protocols between the Camões Institute and Rutgers University (Newark), which look to conduct research into Portuguese Literature. In the view of José Carlos Adão, events related to said literature seek not only to strengthen the ties that join the community of Portuguese people and those of Portuguese descent to its culture, but also to disseminate Portuguese authors to Americans. Within this context, according to José Carlos Adão, events are organized in partnership with local basic, secondary schools and universities enabling direct contact with authors and their works.

Conclusion
Throughout History, Art has been significantly present in relations among peoples, even contributing toward overcoming differences, through activities organized by public or private organizations. Art can serve to manifest a certain identity of countries and to project these on the international stage. In order to bring all this about, artists are vital, of course.
Art Diplomacy, within the broadest sphere of Cultural Diplomacy, is characterized, among other aspects, by being able to emotionally engage its audiences. This type of engaging can prove to be particularly effective in pursuing certain objectives, in the short and, mainly, in the medium to long term, by way of influencing people's hearts and minds. Art runs deep and, at times, in a subtle manner, in various spheres of society.
Portugal's Foreign Ministry currently stresses the strategic importance of the nation's artistic heritage. For example, Pedro Monteiro, Portugal's Consul-General in Newark, and José Carlos Adão, representative of the Camões Institute in that same U.S. city, aim to organize artistic initiatives, including Literature, reaching not only Portuguese immigrants and people of Portuguese descent, but also to Americans. Pedro Monteiro acknowledges that the highly positive view that Newark's Portuguese community has of Portugal, a country which they left for lack of conditions enabling them to stay, is due to emotional factors more than to rational ones.
According to Pedro Monteiro, the COVID-19 pandemic made it difficult and, in some cases, impossible to organize live events. This diplomat concedes that, on the one hand, Newark's Portuguese community, chiefly among older folks, does not easily buy into online events, and that, on the other hand, the Consulate-General has to improve communication with young people of Portuguese descent; to this end, the most appropriate communication channels need to be used. Pedro Monteiro would like for the consular post not to be viewed merely as a document-generating instrument.
About the authors:
Jorge Marinho, Research supervisor. PhD in Communication Sciences, BA in International Journalism.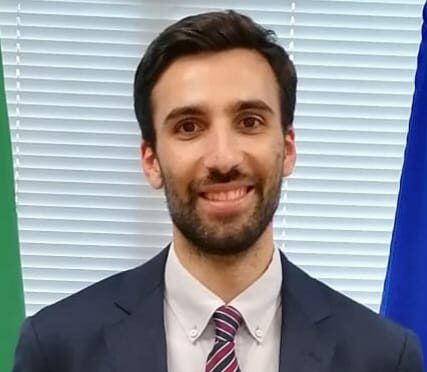 Júlio Ventura, BA in Law, MA student in Political Science and International Relations at the Portuguese Catholic University (Lisbon, Portugal), intern at the Consulate-General of Portugal in Newark, New Jersey (United States of America).
Guilherme Guimarães, BA in Law, MA student in International Law at the Portuguese Catholic University (Porto, Portugal), intern at the Consulate-General of Portugal in Newark, New Jersey (United States of America).
______________
This article has been originally published in the online magazine Marinho Media Analysis on April 7, 2022: http://www.marinho-mediaanalysis.org/articles/cultural-and-art-diplomacy-the-example-of-portugals-consulate-general-in-newark-new-jersey-united-states