Images and text by John Dunkelgrün
Of course it helped that the weather was just perfect, nice and sunny but not too hot. Walking towards the festival I was greeted by nostalgic Turkish music and the general bustle of happy people, a lot of happy people from untold nationalities.
The Voorhout was crowded but not uncomfortably full. People were just enjoying themselves, looking at the many stands with signature local products and eating. I should have written that in capitals.
People were standing in very long lines for food, especially for the many different types of grilled meat on skewers. Some were eating food from one stand or drinking while standing in line for another. These lines were sometimes over 50 meters long! But there was no pushing or other unpleasantness, people were just happy to be there. The foods of Armenia, Georgia and South Africa were especially popular.
The crowd liked the music of a Taiwanese trio almost as much as the food. Their music, while exotic to European ears, was very accessible in a way that matched the mood of the afternoon.
South Africa had one of the larger stands with quite a big crew. I asked one of the crew members why there wasn't a single black person on the stand. He said that it was because of the difficulty for black people to get a visa for the E.U. To get a visa you need bank statements, proof of being able to support yourself for three months, a statement from your employer and much more. For most black people that was an impossible hurdle.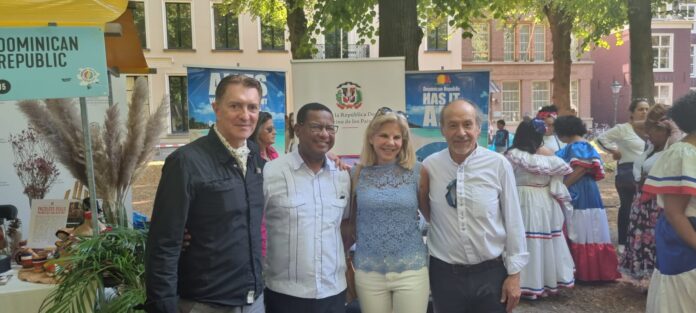 By far the most elegant lady on the festival grounds was Mrs. Le Thi Hien Anh, the wife of H.E. Mr. Viet Anh Pham, ambassador of Vietnam, you can see her posing in front of the flags of the ASEAN Member States in the main picture.
All in all it made many people looking forward to the Embassy Festival 2023