Friday, 17 March 2023, Berlin, Federal Republic of Germany: Eurogroup President and Irish Minister for Public Expenditure, National Development Plan Delivery and Reform Paschal Donohoe was in Berlin to celebrate the Irish national day, Saint Patrick's Day, and used the opportunity for meetings in Frankfurt, Cologne and naturally Berlin, the days prior to the actual St Patrick's Day holiday.
He started his visit by paying a call on the European Central Bank (ECB) President Christine Lagarde, where he presented her with the national emblem – the shamrock. The same evening, he attended a reception hosted by Ireland's Consul General in Frankfurt, Anne-Marie Flynn, held in the Deutsches FilmMuseum, with several hundred guests in attendance. The following day, he had a great exchange with students at the Frankfurt European School where he fielded questions about his favourite football team.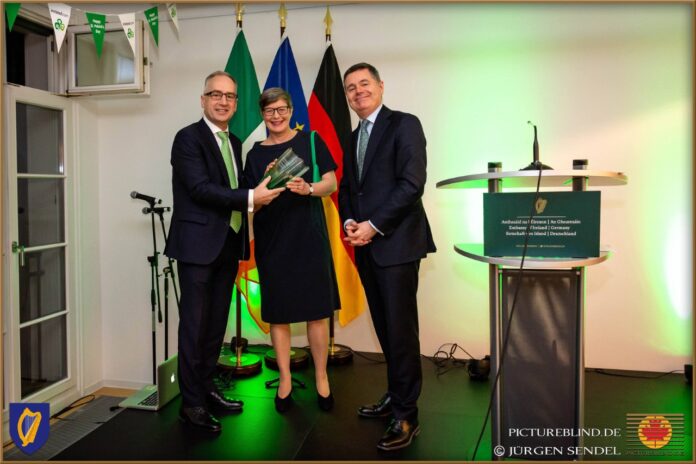 Travelling on to Cologne, he attended a national day reception hosted by Ireland's Honorary Consul General in Cologne, Brigitte Wagner-Halswick, featuring a strong contingent of business people in attendance.
In Berlin, Minister Donohoe had the opportunity to meet with key interlocutors, including Federal Minister of Finance, Christian Lindner; State Secretary at the Federal Chancellorship Jörg Kukies; as well as the Chair of the Bundestag Finance Committee, Alois Rainer.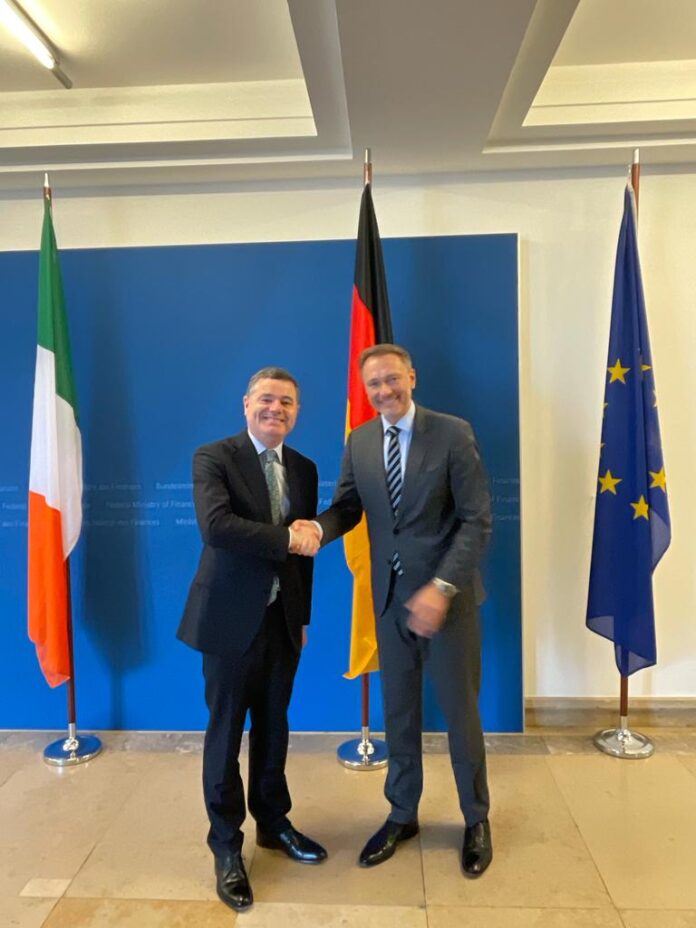 Ambassador Dr Nicholas O'Brien hosted two receptions at the embassy's chancery in Berlin, such is the popularity of the Irish national day. At lunchtime, a reception was held for the diplomatic community, and key official and business contacts. In the evening, there was a party atmosphere to the reception for the Irish community. The Ambassador recalled the strength of the German-Irish relationship within the context of shared membership of the European Union.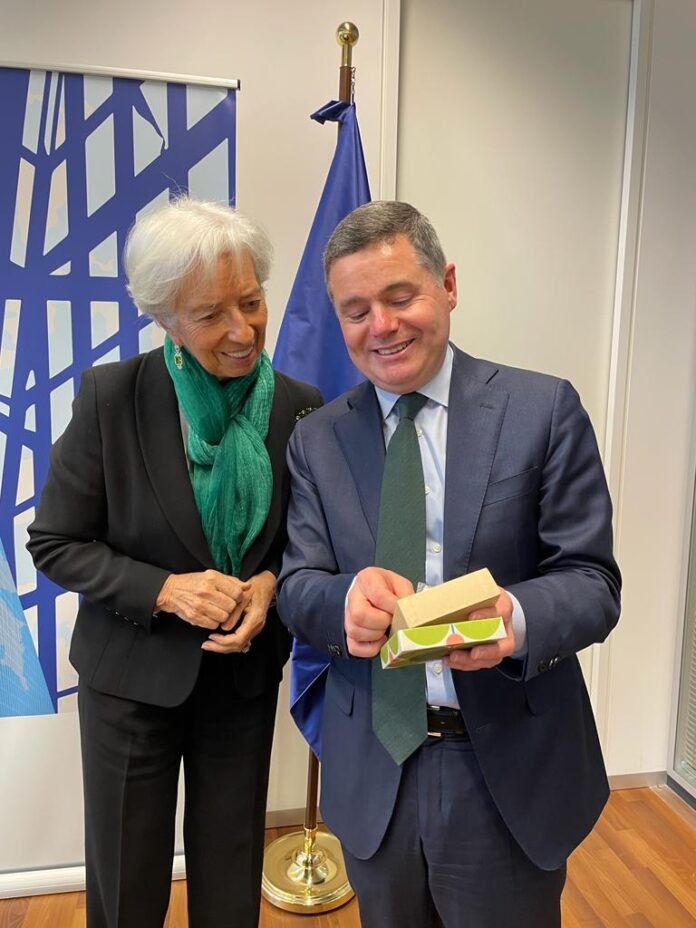 Minister Donohoe acknowledged the contribution which Ambassador O'Brien has made to Irish foreign policy both in his current role and his previous role as State Secretary in the Finance Ministry. The Minister spoke about several commemorations, which Ireland will celebrate this year, namely i) 100 years as a nation engaged on the international stage, ii) 50 years of EU membership and iii) 25 years since the Good Friday Peace Agreement was signed.
Concluding his remarks at the official reception, Ambassador O'Brien presented the annual 'Ambassador of Ireland – St Patrick's Day Award' to Prof. Dr. Katharina Rennhak of Wuppertal University for her contribution to the deepening of relations between Ireland and Germany and specifically her work on promoting Irish Studies in Germany.
For further information
Embassy of Ireland in Germany: https://www.dfa.ie/irish-embassy/Germany/
———
Images courtesy of the Embassy of Ireland in Germany – when noted photography was Jürgen Sendel