By Roy Lie Atjam
The Embassy of the Peoples Republic of Bangladesh celebrated its 52nd anniversary of Independence. The actual date is 26 March, however, festive activities have been moved to April 28. Scores of friends of Bangladesh, the diaspora, diplomats and others came by to felicitate H.E. Ambassador Riaz Hamidullah, and participated in the celebratory evening.
Among the Ambassadors attending were: Algeria, Morocco, Palestine, Ireland, Costa Rica, India, Papal Nuncius, Ghana, Rwanda, Lebanon and others.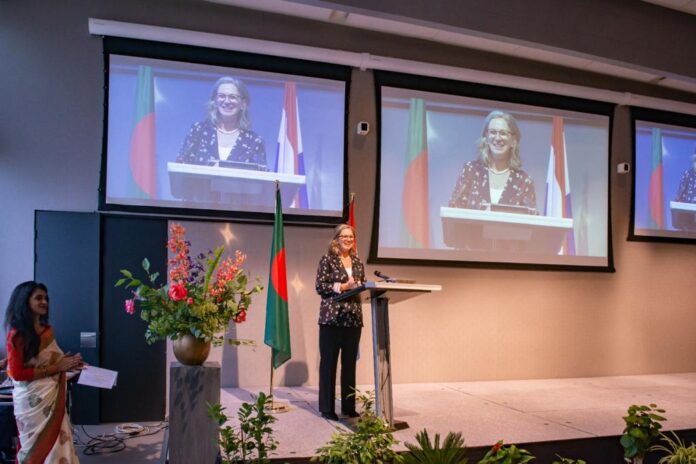 Ambassador Riaz Hmidullah delivered a welcome speech. Mrs Brigitta Tazelaar, Deputy Director General International Cooperation at the Ministry of Foreign Affairs of the Netherlands, also delivered an address.
Welcome Remarks by Ambassador Riaz Hamidullah.
" I welcome you all to the celebration of the 52nd Anniversary of independence of Bangladesh. We were actually to congregate on 26th March – on our National Day – but could not due to unavoidable circumstances.
Past one year has seen steady advancement in our engagements. While I must not bore you with the details, yet let me say that all underline the ways the people in the two deltas – Netherlands with 17 million, Bangladesh with 170 million – understand each other in respect of shared values and turning challenges into opportunities.
This shared appreciation connects Prime Minister Sheikh Hasina and Her Majesty Queen Maxima as well as Prime Minister Mark Rutte – in conversations on global justice, peace, women and girls or climate change.
As I often interact with visiting University students, I explain how the Dutch and Bangladeshis connect irrespective of our diversity in endowments or capacities. Our two peoples champion resilience, adaptation and innovation in battling the limits of nature. On a lighter note, the two far-away people connect for their 'can do' attitude. Even though when the Netherlands is the 16th largest economy while Bangladesh the 35th largest, globally.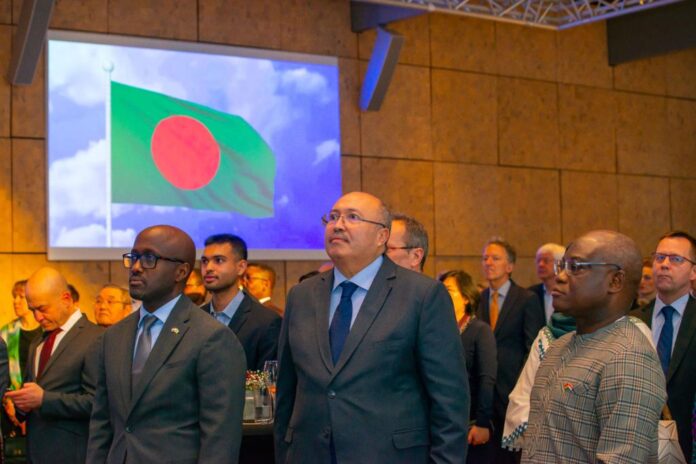 Last August, Deputy Director-General, Birgitta Tazelaar, was in Dhaka to finalize the bilateral Cooperation Strategy with Bangladesh. As she returned, I was pretty scared to ask of her impressions. I was certain that terrible road traffic in Dhaka would top her accounts. Her first word however surprised me, "it was all about vibes." Much relieved I was!
Dutch – Bangladesh collaboration commenced with water sector. Even pre-dating our independence. To bring up the stories as also the potential, last year, we wrapped up a unique Water Photo Contest with Deltares last year. That stirred many Dutch as well. We would shortly present few of the 1,600 images that emerged out of that Contest.
As Bangladesh moves beyond a shirt-to-ship story or, beyond one and half billion dollars bilateral trade, Bangladeshi entrepreneurs and conglomerates are increasingly keen to tie up with Dutch peers, drawing on Dutch knowledge – technology – innovation. Newer modes of collaboration are emerging, in areas ranging from agriculture to culture. Last year, together with several Dutch entities, entrepreneurs and manufacturers from Bangladesh converged in Den Haag and Eindhoven to stitch collaborations.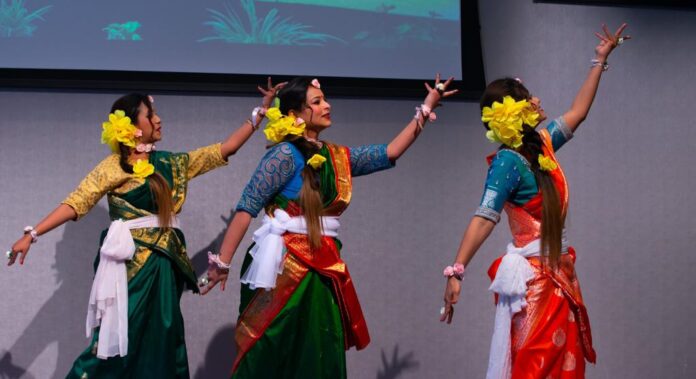 For instance, around 100 Bangladeshi digital companies are engaged with their Dutch peers; Brainport in Eindhoven is exploring Bangladesh, especially on design-thinking; RVO has so far carried out 8 Market Scans. This June, a Dutch Trade Mission will be in Bangladesh; Bangladesh Government is engaged with Wageningen University on shaping three interventions, on the pathway for Transformation of Bangladesh Agriculture.
This February, Bangladesh Delta Plan moved to the next ten years' Phase; Dutch impact investing community is showing growing interest; Dutch Orange Corners inaugurated its first Hub in Asia, in Dhaka, this February.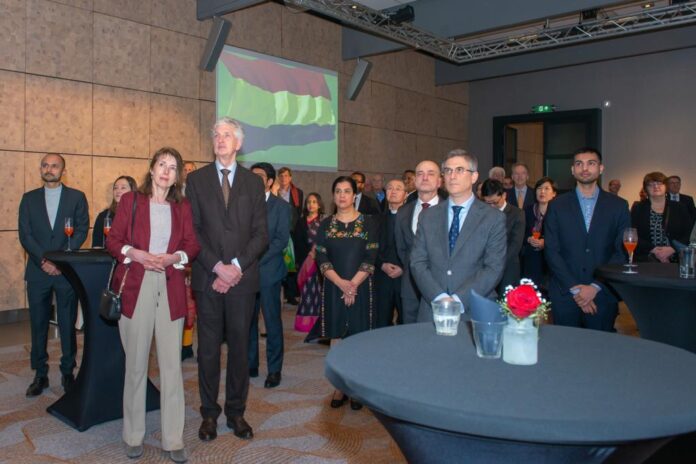 And, we now look forward to the Fifth Foreign Office Consultations, on 21st May, as Secretary-General Paul Huijts leads the Dutch side to Dhaka.
In order to present the sights – sounds – finer aspects from Bangladesh, the Embassy would be having you all at the Best of Bangladesh event in Westerpark Amsterdam, on 4th and 5th September.
At the global level, Bangladesh and the Netherlands engage, driven by a vision of shared prosperity – not just for the two peoples. As much as it is on securing justice and accountability for the Rohingyas, it is also in building global convergence on sustainable development – water – climate change – responsible business.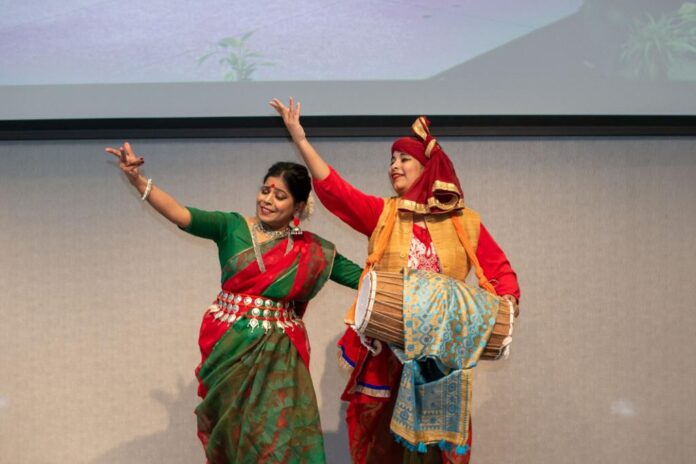 Frontiers in Art and Culture also beckon prospects. Growing number of younger Bangladeshi filmmakers are bringing their films to IDFA and other Dutch Film festivals. That is why, outside this Ballroom, we present select 12 art works from the Embassy's collection!
These are to illustrate many 'improbable' that can be unpacked or turned around, as we celebrate Bangladesh, over music and food, this evening.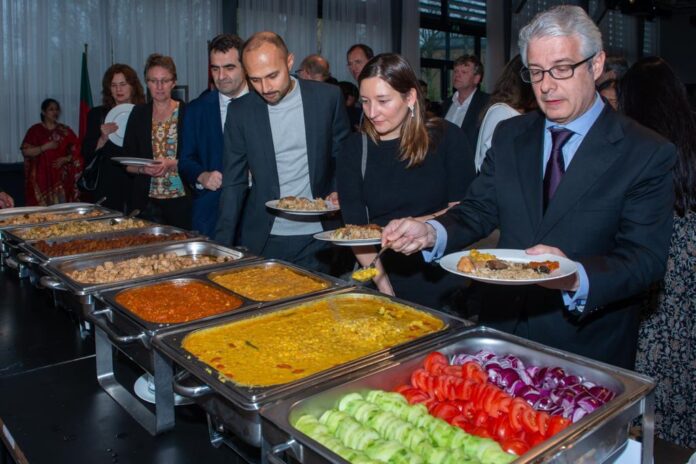 In presence of all Dutch friends in the audience, let me pay tribute to all women and men – entrepreneurs – NGOs – Foundations from the Netherlands who contributed to our widening canvass of friendship and engagements. And, continue to do so. They battled sun and rain in a humid delta with their Bangladeshi peers and friends. Together, Bangladesh wishes to advance the ties with the Netherlands to the next levels.
Let me conclude wishing good life and well-being to His Majesty King Willem Alexander and Queen Maxima and the People of the Netherlands. Joy Bangla. "