Launched in South Africa, and ongoing in Brazil, the project was recently selected by the Netherlands Nationaal Programme Open Science
By Luciana dos Santos Duarte
I was painting at a Buddhist sanctuary in Koh Yao Noi, Thailand, with other artists from around the world, sponsored by the NGO World Peace Initiative. At the top of the mountain on this peaceful island, just me and an artist from South Africa, Ricky Lee Gordon, were creating our artworks. One of the canvases I did was a crown like a carnival mask, in reference to the shut down in Bangkok, on the revolutionary day of 13/01/2014.
Once, we made a Secret Santa out of time, and my colleague got my name. On his knees, Ricky handed me a Nelson Mandela t-shirt, happy to have pulled off "someone with a political conscience". I have never had a man on my knees happy to give me something. Coincidentally, we took the same flight to Ethiopia. And from there, I returned to Brazil with an inspiration – not artistic, but political. In the same year, I found out about a social project that had started in Cape Town, called The Street Store.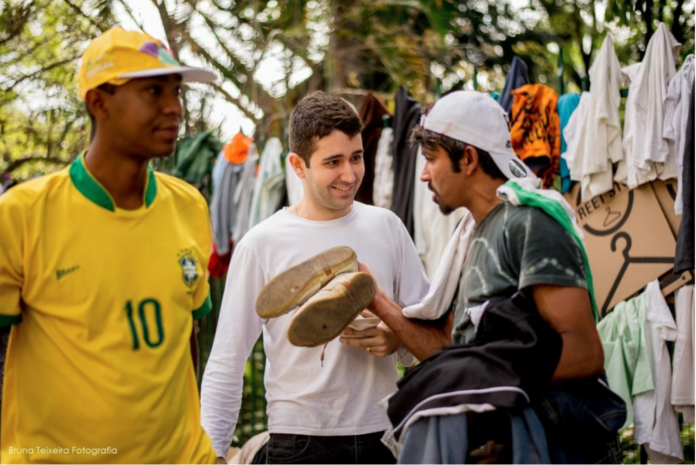 In early 2015, I published on my fashion website about this project. I wrote that my engineering students were going to run this street store for the homeless, where everything is for free. Twenty students would be volunteers working as if they were salespeople, and a few homeless would choose clothes according to their taste, subverting the logic of donation (normally from top to down). However, a newspaper in Belo Horizonte, one of the largest cities in Brazil, published a note as if they had interviewed me. In the sequence, other printed newspapers published about the project. I received about 30 emails a day from people wanting to be clothing donors or volunteers.
Thus, I resized the project to have 100 volunteers on the 1st edition. We served more than 800 homeless people in one day, with hundreds of clothes. That year, I counted to 100 reports about the project, on TVs, radios, magazines, and websites, then I stopped counting. The media (and History) focus the narrative on the heroic individual, which has always bothered me. Because I believe that a true leader never puts him/herself above the group. So, I asked a volunteer to take the lead and attend the journalists, and I would be backstage, sorting clothes, and doing internal communication. My best student (who became a friend) handled the logistics.
From 2015 to 2019, we held 10 editions, with more than a thousand registered donors, hundreds of volunteers, and thousands of clothes for hundreds of homeless.
Talking about large numbers is so little compared to all the wonderful stories we lived. Homeless people who chose a perfect suit and thus got a job as a security guard, or as a waiter. Boys chose backpacks to carry their books to school. A woman chose clothes for her entire family. One of our most helpful customers since 2015 was Gleisson. He gave me an origami flower made from cigarette paper in 2016, we hugged, and he told me he was wearing an ankle bracelet, he was arrested in the semi-open regime for robbery. In 2018, when I last saw him, he told me he was working, he was free.
Another great pleasure was seeing fancy clothes from brands such as Gucci, Prada, Dior, Louis Vuitton, all for free for them. Robin Hood, in his own way, must have felt as I did about giving from the (white) rich to the poor.
In the 5th edition, a group decided to pick up most of the clothes before the store opened. At the same moment as the riot, a sensationalist TV arrived to record it and tried to blame the lack of policing. But I reminded all 100 volunteers, and the journalists, of how Jean Valjean, the thief from Victor Hugo's Les Miserables, had been received by the bishop. After serving the sentence of 19 years in prison for stealing bread, one day he is hosted in by the bishop, but in the middle of the night, he steals the religious' valuable silverware. However, the police caught him and took him back to the bishop, who said: "But did you take just that? I gave to you much more!" The police immediately set Jean Valjean free, who was now aware of his dignity. Mercy, Merci.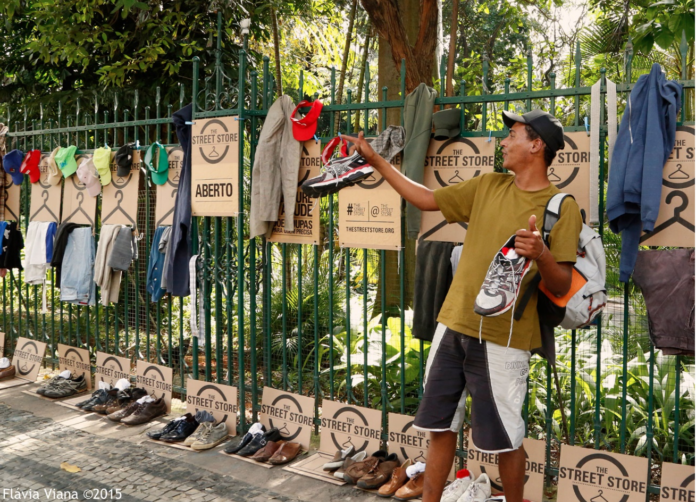 The way we carry out The Street Store received an award in the Generosity category by the Brazilian Architects, in 2015. In 2022, the project was selected by the Netherlands Nationaal Programme Open Science. In 2023, the two main leaders who flourished, my friends Leonardo Máximo and Priscila Prado, held the 11th edition of the project in Belo Horizonte. And I tell this story in The Hague, of how Nelson Mandela continues to appear multiple times on t-shirts, wearing many Gleissons the way they like. Obrigada!
Information:
The Street Store Belo Horizonte: https://www.instagram.com/thestreetstorebh/
Ethical Fashion Brazil: https://ethicalfashionbrazil.com/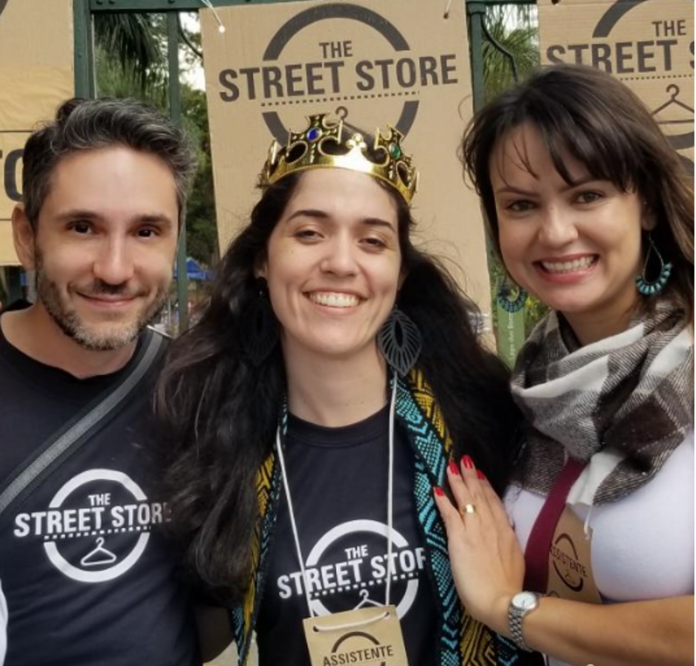 About the author:
Luciana dos Santos Duarte is a PhD researcher, International Institute of Social Studies