By Alexandra Paucescu
As diplomats, we are always the image of our own countries while abroad. Sometimes we meet people that never heard of our country; other times we do things to improve its image or just make it more popular or admired.
Naglaa Elkhawanky is from Egypt, the country of one of the oldest ancient civilizations in the world, dating back to 3100 BC, home to many famous ancient monuments, a country that needs no more presentation. However, she is one of the most active diplomatic spouses that I have met so far, always passionately speaking about her country and presenting its maybe less known treasures to the world.
Born in Cairo and with a Bachelor degree in English, French and Arabic literature and linguistics, this educated lady continued her studies over the years, while traveling the world with her diplomat husband.
She recalls: 'I got married right after my graduation and we moved to Japan just ten days following our wedding. Japan remains one of the closest postings to my heart because we started our family there. My two daughters were born in Japan, making it a country with a lot of special moments and memories to cherish. Japan was a very interesting country to live in as it has one of the richest civilizations in its region, with a unique culture and traditions that are respectfully kept and preserved. We also lived in the United States of America, Belgium and Germany. In between our foreign postings, I worked in Egypt as a TV reporter, interpreter and tourist consultant'. And that is maybe how I explain her natural talent for representing Egypt with such professionalism and class.
'Coming from Egypt, which is visited by tourists from all over the world, I was exposed to many languages throughout my childhood, making me keen to learn thoroughly more than one. I believe that studying a language can help you gain a deeper understanding and appreciation of the culture and people associated with it, as well as help opening a communication channel between people from different countries. Therefore, I studied Japanese and German during our posts in Japan and Germany, which provided me with an open door to both societies and cultures'.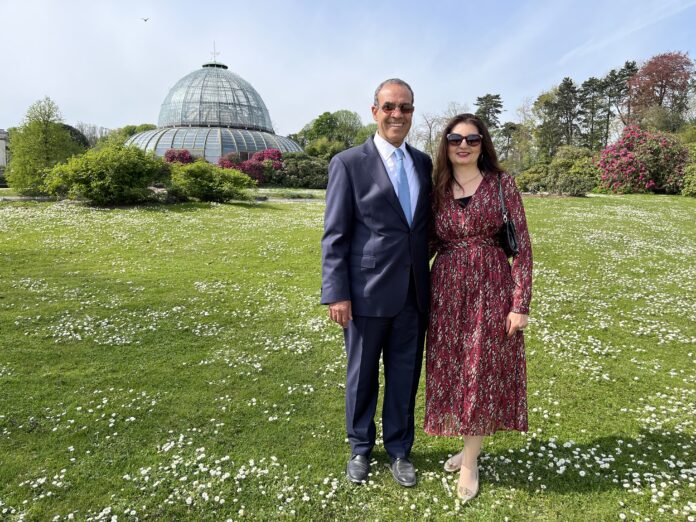 Life offered her the opportunity to see the world and get to know and fully understand different cultures, while never forgetting her own roots. You can understand how much she truly loves her country when you hear her speak about it, or, if you are lucky, you get to participate in one of her interesting diplomatic lectures.
Egypt, a North African country of 112 million people (living in 27 governorates but only on 7.8 % of the total land area), has always been described as a magical land, the land of the pharaohs, of the great pyramids that hide priceless treasures and secrets and of a civilization that is even now, thousands of years later, looked at with admiration but also shrouded in mystery. I have to confess that I have always been fascinated with it and, as a child, I was simply devouring any book related to Egypt. The country inspired countless stories and blockbuster movies for years. It has also the most beautiful and interesting underwater life that I have ever seen.
Naglaa adds, during our conversation: 'it's worth mentioning that the first diplomatic correspondence and archives have been found in Egypt, dating back to the 13th century BC. While many people are aware of Egypt's ancient history, I would also like to mention that over the past ten years Egypt has achieved remarkable political, economic and social progress, accelerated steps to improve the quality of life of its people and build a robust economy as well as strengthening its foreign relations and advancing as a leader in renewable energy development. A New Administrative Capital, just 35 km east of Cairo, is nearing completion. Located on a total area of 700 square kilometers, this city will help strengthen and diversify the country's economic potential, by creating many new opportunities for housing and employment.'
She is a true diplomat, by all means. She completely understands her role in the family dynamic but also as a diplomatic spouse, while she successfully fulfills it.
'While we are abroad, I represent not only myself, but the image of Egyptian women who have played an active and prominent role throughout our history. This mission by itself is a huge responsibility. As diplomatic spouses, we have the precious opportunity to interact with the society of the hosting country, to promote our own with its culture and traditions, through events or being involved in charity programs and activities which have a positive impact on the society.
"Behind every successful diplomat is their spouse", I find this role very powerful and rewarding, complementing the role of my husband. We work into forging close relationships with the diplomatic community and the society, thus introducing our country in the best way possible to people from other countries and different backgrounds. In all the countries I have served, I really enjoyed organizing events about ancient Egyptian history, Egyptian women, culture, traditions, food and tourism. The feedback is always rewarding and many people who attended those events decided to visit Egypt afterwards. I also raised my three children on the principle that they don't just represent themselves, but also the Egyptian youth'.
She is for sure an example of class, modesty, wit and multicultural intelligence, but above all she is a proud inheritor of her famous ancestors, a representative that honors the land of pyramids and pharaohs.

About the author:
Alexandra Paucescu- Author of "Just a Diplomatic Spouse" Romanian, management graduate with a Master in business, cultural diplomacy and international relations studies.
She speaks Romanian, English, French, German and Italian, gives lectures on intercultural communication and is an active NGO volunteer.