This year we celebrate ten years of close cooperation between Diplomat Magazine and Leonardo Royal hotel, where many great diplomatic events were hosted, over the years.
On this special occasion, we asked Mr. Patrick Aarsman, General Manager, to tell us more about it.
'When I started as General Manager of the Leonardo Royal Hotel The Hague Promenade in 2017, there was already a collaboration in place, hosting the annual Diplomats after Summer Drink. However, there was an immediate connection and the cooperation was quickly expanded. We now welcome dozens of diplomatic events and delegations every year'.
Mr. Aarsman has reminded us also about the history of the Promenade Hotel (the initial name), which goes back to 1818. Due to its favorable location, facilities and proximity to many embassies in The Hague, the hotel has always played a prominent role in the diplomatic community.
'The world cannot do without diplomacy, many conflicts have been prevented worldwide and much collaboration has been started and strengthened. It's all about respect and being able to listen to each other and this is what we can generally learn from the diplomatic community. However, the conversation must take place and that is why we are so proud of our Food Festivals (4 to 6 Food Festivals per year), in collaboration with embassies and the Diplomat Magazine. This offers the opportunity for diplomacy and getting to know each other better in combination with authentic food and drinks'.
The hotel hosts dozens of diplomatic events and is generally preferred for overnight stays for many diplomats visiting from abroad.
In addition to the Food Festivals, the hotel hosts National Day receptions, press conferences, business lunches or other get-together events for the diplomatic world in The Hague. Leonardo Royal hotel is also the main location for all the Diplomat Magazine events.
'Indeed, we found in Leonardo hotel a trustworthy partner. The hotel management has always had the vision, the flexibility and also the willingness to listen to our ideas and respond affirmatively to our requests' added Dr. Mayelinne De Lara, Publisher of Diplomat Magazine.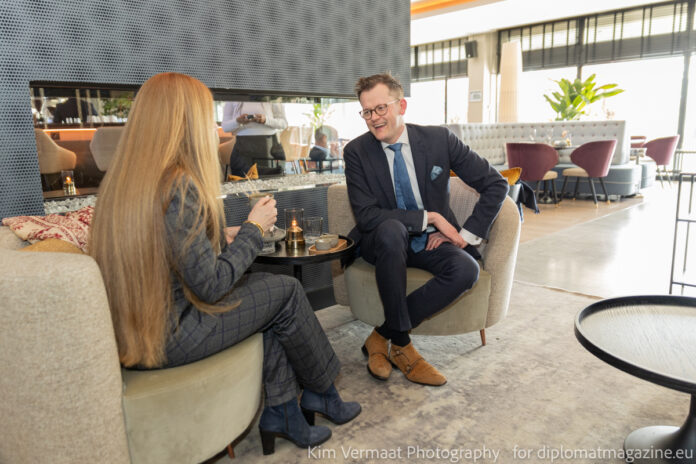 'We proudly continue to organize and host diplomatic events. In addition, we have been open for over a year with our restaurant concept LEO'S International Flavors, which is fully inspired by the authentic dishes we make in collaboration with the embassies. In addition, last year we renovated our entire lobby and kitchen. We continue to develop and we are now building a live cooking unit, for live cooking during breakfast, demonstrations or for the future food festivals'. (Patrick Aarsman)
Mr. Aarsman also told us that quality and above all, flexibility were some of the main keys of this fruitful collaboration between the hotel and the diplomatic community. 'There are often many last-minute changes and we can respond very well to this. Our knowledge of the diplomatic community is an advantage that has led to many successful events. We also offer a wide range of facilities in a quiet location, with good accessibility and great security options'.
Over the years, Leonardo Royal Hotel became the main hub for diplomatic life in the city. Its high standards for quality have been the initial reason but the openness to the multicultural world and the attention to details has certainly made the difference.
As a Dutch saying goes 'Reputation comes on foot and goes on horseback', Leonardo Royal Hotel has earned its good name and intends to keep it.
'We belong to each other, in the sense that the hotel opened its doors to us from day one. We enjoy new ideas and we love surpass ourselves when repeating our flag formulas. The diplomatic corps is our first counterpart, we listen to their projects and adapt their insights taking into account their needs and objectives. My goal is to keep innovating, elaborating new events, building new diplomatic bridges, increase public diplomacy opportunities for embassies. Together we achieved beautiful things and I hope that this collaboration will be maintained for many years to come!' (Dr. Mayelinne De Lara)