By Alexandra Paucescu
She has that fine and distinguished attitude that most French women have. I remember perfectly the first time I saw her, at a New Diplomatic Year reception, during my 'German years'. But life in the diplomatic world takes you from one place to another and it is often that you don't get the chance to properly meet a person or to discover her completely. This is what happened to us, but, luckily, nowadays technology and social media can be a big help and bring people from great distance to just a click away. And that's how I discovered her beautiful life story.
French Sylvie Teisseire-Klause studied literature and linguistics and had decided to become a teacher. But she met her German diplomat husband 38 years ago on 'neutral ground' as she puts it, in England. From then on, life took her to Bonn and later to Warsaw, Washington DC and London, with Berlin as their home base.
'We fell immediately in love with Poland, our first posting. A lively and joyful spirit and a strong sense of community can be found in Polish culture; not to mention their warm hospitality, their love for music and dance. America made also a deep impression on our entire family. Our children mostly grew up there as teenagers, and we all appreciated the country's diversity, its natural beauty and breathtaking landscapes, its vibrant, enthusiastic and cheerful society, we cherished the country's openness and the fact that people are non-judgmental'.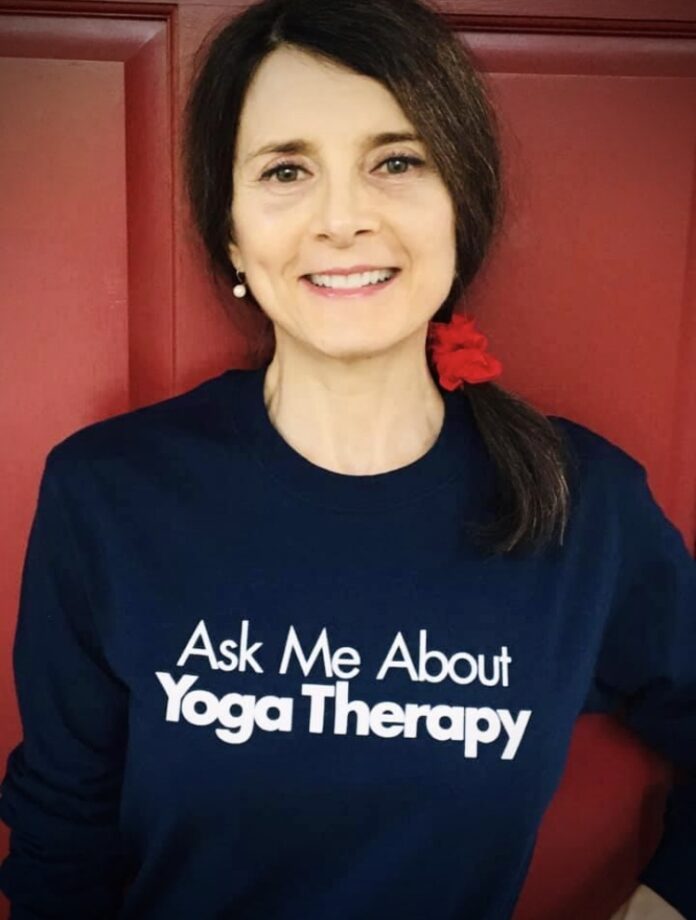 When asked about her profession, she tells me: 'as for many diplomatic couples, our different postings did not always make it easy or possible to pursue my initial career, which is why I kept on studying and changed my job twice. '
She worked for the network of Lycée Français abroad, then, while in DC, she decided to take a career change and follow her other passion: yoga. 'I taught yoga in the corporate world, in schools, spas and gyms, at the German Embassy to colleagues in the lunch breaks. I started my own studio, specialized in Hatha and Raja Yoga, and kept on studying Yoga philosophy, ancient texts and Sanskrit till 2018, when I did my Advanced Teacher's Training to become an Acharya (post graduate degree). Everything came to a standstill when Covid hit, but there again, I jumped at the opportunity to start a new training, a three-year program to become a certified Yoga Therapist.
Teaching yoga for more than a decade has increased my general interest in the human body, the mind and health in general and the whole process convinced me it should be more accessible to everybody. Yoga Therapy is a holistic and powerful way to help people cope with their very specific, individual health issues. Not a lot of people in Europe know about it. We are half way between physiotherapists and psychotherapists, as we work and focus on the body-mind connection. It is an emerging job on the Old Continent, but it is very popular in the USA and even covered by Medicare when the one-on-one tailor made sessions are designed to support the patient with cardiovascular diseases and mental health (PTSD, depression, anxiety, stress, etc).
I got my credentials from the International Association of Yoga Therapists when we moved to London. In the months following our settling in the UK, I worked on my professional website and a new adventure started… but I never stop studying: I am a teacher forever and a lifelong student!'
As a very active person, she loves turning her hobbies into useful projects, ranging from leading and organizing diplomatic tennis group's activities to raising funds for local charities. 'As a marathoner, I run to raise awareness and money to support various causes. I hike a lot too (another fund raiser), which is at the same time a very pleasant way to discover a country. I have always done a lot of volunteer work: teaching (catechism) or helping in the different parishes or local humanitarian organizations we happened to belong to over the years. I am convinced that we are blessed to be able to give, and as diplomats we are definitely givers'. Such a nice way to put it!
She embraced change as the only constant in her life, which she filled with things and activities that brought her joy. She raised three confident, independent and accomplished children and built her own happiness, embracing a cosmopolitan attitude while permanently improving social skills and cultural experiences, but also sticking to diplomatic protocol.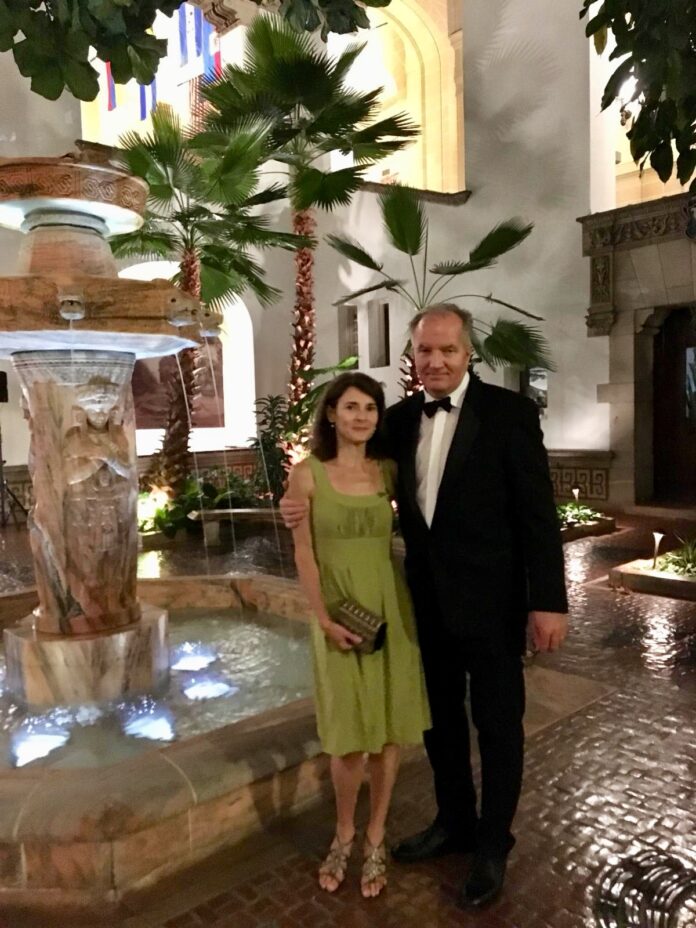 'I have always found the international diplomatic community very supportive and empathetic, because yes, there can be challenging times… It has been a great comfort sometimes and I am grateful for all I've learned from such a diversified group of individuals, who all share the same concerns, from our representative and supportive roles to our necessary resilience, our learning new languages, our adapting to new circumstances, our enjoying similar interests and the motivation to engage in altruistic actions and projects.
It goes without saying that the smaller the country the easier it is to connect. Some diplomatic colleagues or people we came across turned into lifelong friends and technology allows us to maintain a close and lasting connection when far away. To me, these friendships are priceless. Meanwhile, we always try to offer our guests the opportunity to get to know our country. With our German-French background, we try to combine both cultures, especially when it comes to cuisine and wines!
Outsiders might not always see the work we do as spouses, all the planning, orchestrating, logistics… but even if we work behind the scenes, they do appreciate the result. We have roles of representation and supportive roles… sometimes we would wish to be a bit more supported ourselves. Sometimes it takes time to initiate a project and before it has even had the chance to grow and develop, you have to move again… and complaining about that drawback can be taboo… That is why I like to stick to those lines: No regrets, just lessons. No worries, just acceptance. No expectations, just gratitude… and then, life will smile back at you!'

Sylvie fondly speaks about her parents who shaped her personality and welcoming nature, which helped tremendously in the diplomatic life. 'We used to have a lot of guests at home. My parents are wine lovers and epicures. I learned everything from my mother as far as "l'art de recevoir" (the art of hosting) is concerned. Even today, at the age of 81, she still takes it to heart to treat her guests the best she can and emphasizes hospitality. It has always been an honor and a delight to carry on in her footsteps, and follow that exquisite tradition by hosting our guests in that warm and thoughtful manner'.
She is grateful for the life she lived, for the many interesting people that she had the chance to meet, from the Late Queen Elisabeth II to President Obama and other charismatic world leaders.
She thinks that 'diplomacy promotes peace and so does yoga. Everyday my husband and I dedicate ourselves to promote actions and goals that recognize our individual and collective responsibility to foster peace and make this world a better place… each of us differently'.
In the end, Sylvie wisely concludes: 'Happiness is nothing to look for and find. It is work, we create it. Joy or rather "la joie de vivre" is a medicine. So, make your own joy, every-single-day. And share, share, share!'
About the author:
Alexandra Paucescu- Author of "Just a Diplomatic Spouse" Romanian, management graduate with a Master in business, cultural diplomacy and international relations studies.
She speaks Romanian, English, French, German and Italian, gives lectures on intercultural communication and is an active NGO volunteer.