By Roy Lie A Tjam
A Ceremony of Merit was held by Diplomat Magazine at the Carlton Ambassador Hotel on Tuesday 13 January 2015 in honor of the departed Indonesian Ambassador to the Netherlands, H. E. Retno L.P Marsudi.

Ambassador Marsudi's stint came to an end in October 2014, after serving almost three successful years. She was Indonesia's first female Ambassador to the Netherlands.
When Ambassador Marsudi was asked by the Foreign Minister to choose one of the vacant posts at that time, she opted a posting in the Netherlands.
At the ceremony the testimonial was delivered by Dr Bernard Bot, former Minister of Foreign Affairs in the Netherlands and the current President of the Carnegie Foundation. Dr Bot referred to Ambassador Marsudi as: "An ambassadors' Ambassador". 
Bot dwelled on the centuries old historical ties between the Netherlands, the former colonial power and (independent) Indonesia. Scores of treaties have been concluded and implemented by the parties. Furthermore, Dr Bot referred to Prime-Minister Mark Rutte's visits to Indonesia which started a new epoch (Joint Declaration on a Comprehensive Partnership Indonesia – Netherlands) in the bilateral relationship.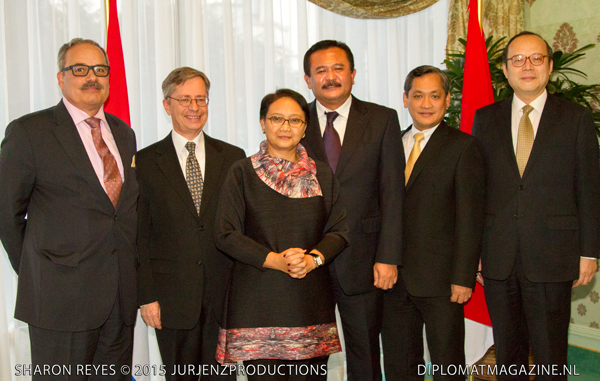 Subsequently Ambassador Marsudi was presented with the Certificate of Merit by Baron Henri Estramant. Her Imperial and Royal Highness Archduchess Johanna of Austria, Royal Princess of Hungary and Bohemia, Princess of Croatia, presented the bouquet of flowers to Her Excellency Retno Marsudi.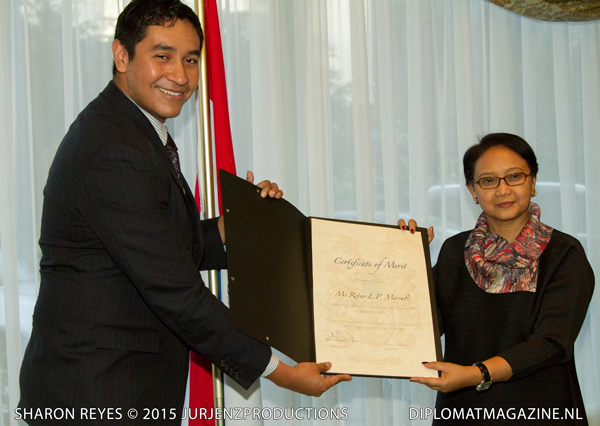 In her acceptance speech, Minister Marsudi thanked the diplomatic community, Dutch officials and the Indonesian diaspora in the Netherlands. Several MFA personalities were in attendance including the former Asia Director, Mr. Karel Hartogh.
As for her new position as Indonesia's first ever female Minister of Foreign Affairs, she elaborated on her vision and mission for the country and on diversity, with the emphasis on taking Indonesia's foreign policy to the Indonesian people.
The Minister recognizes that the man in the street in Indonesia is unclear about their country's foreign policy and what it means to them, and she aims to change this situation for the better.
Indonesia's Foreign Policy Minister Marsudi indicated her modus operandi will be "down to earth" focusing on four main areas, namely:
a. Protecting the sovereignty of Indonesia
b. Protecting Indonesian nationals/citizens
c. Economic diplomacy
d. Maintaining Indonesia's active role in regional and international fora.
Later that day, the Ambassador for Malaysia in the Netherlands, H.E. Dr Fauziah Binti Mohd Taib, at her residence, hosted a reception for her departed colleague and friend, Retno Marsudi Dr. Fauziah Binti Mohd Taib, particularly expressed her gratitude for Ambassador Marsudi's cooperation in connection with the MH17 crash last year.
Her outstanding vigor and craftsmanship has been a huge asset to all. Ambassador Fauziah Taib also indicated the closeness between Indonesia and Malaysia; countries sharing the same language, same customs and similar cuisine.
Several ASEAN and other ambassadors came to bid farewell to their much esteemed colleague. The Hague will be missing a luminary. May she fare well in her new role of foreign Minister of the Republic of Indonesia.